When I got to Linden Square on the 108, I was already ready to go back. So I was pretty happy to see a 109 coming along a few minutes after I got off the 108. The 109 spends most of its time on Broadway, and heads through Everett on its way back to Sullivan. So let's get right to it.
We started out heading down Lynn Street, then turned onto Eastern Ave, which was a residential neighborhood. This turned to industrial wasteland on one side and a big cemetery on the other. We turned onto Broadway, still with the cemetery on one side. After a short industrial stretch on both sides of the road, it became a mixture of houses and businesses.
There was a small common, then a high school, and then it went back to houses and businesses. When we reached Glendale Square, it became all retail, and the businesses stuck around past there (with a few houses in between). In Everett Square, there were once again all businesses, as well as some bus connections.
After that, we made our way around a rotary, and it became almost pure industrial. We sped through here without making any stops, since industrial wastelands aren't usually hotspots for ridership. There was a massive power plant on one side and a huge windmill on the other, then we went over a bridge into Boston. After a few more industrial buildings, we turned into the Sullivan Square busway.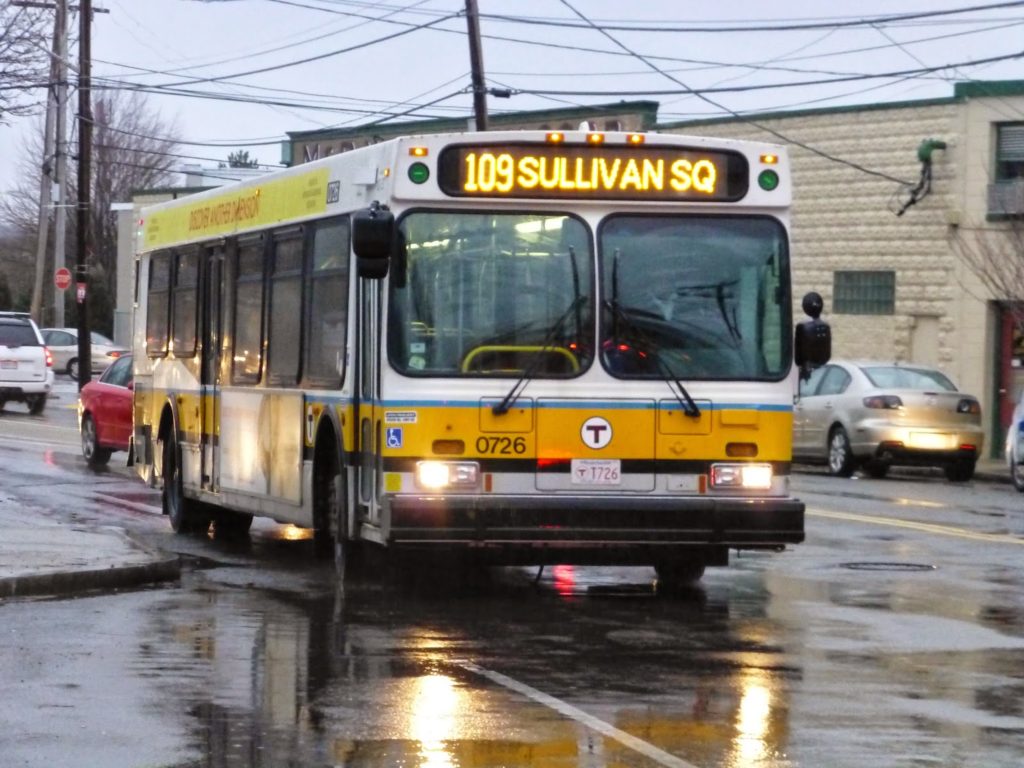 Man, it was wet that day! This is back in Linden Square.
Route: 109 (Linden Square – Sullivan Square Station via Glendale Square)
Ridership: There were about 25 people who rode in total, which isn't bad. But looking at the MBTA Blue Book, it says that the 109 actually has better ridership than the 108. So I'm going to assume that my ride was a fluke, especially since I've seen hoards of people boarding the 109 at Sullivan before.
Pros: This is a nice, straightforward route right down Broadway. I think more people use it to get from Broadway to the Orange Line than for Linden Square service, but it's good that it serves Linden Square, too.
Cons: Once again, the schedule. Rush hour is good, with every 15 minute service, but during the day that rises to every 40 minutes. It's every 55 minutes during the night and on Sunday, and every 40 minutes on Saturdays. It's slightly better than the 108 some times and slightly worse other times.
Nearby and Noteworthy: Both Glendale Square and Everett Square seemed to have a lot of interesting businesses, but a surprisingly high amount of the route was industrial. I wouldn't visit the industrial bits…
Final Verdict: 6/10
Well, it fares slightly better than the 108. Overall, I'd say their schedules are about equal, with certain times better for one route over the other. But I had a few issues with the 108's somewhat crazy route, whereas the 109 is really straightforward. Thus, it gets that extra point.
Latest MBTA News: Service Updates