Man, I thought I'd hate the 85. I figured that no one would ride it, and I could give it a scathing review. Turns out, though, that it seems to be a somewhat well-used local route (note the emphasis on somewhat), and the ride was really enjoyable! That said, I feel like I should hate it, for the same reasons I hated the 68 – it's close to more frequent services. This is possibly my most inner-conflicted review ever…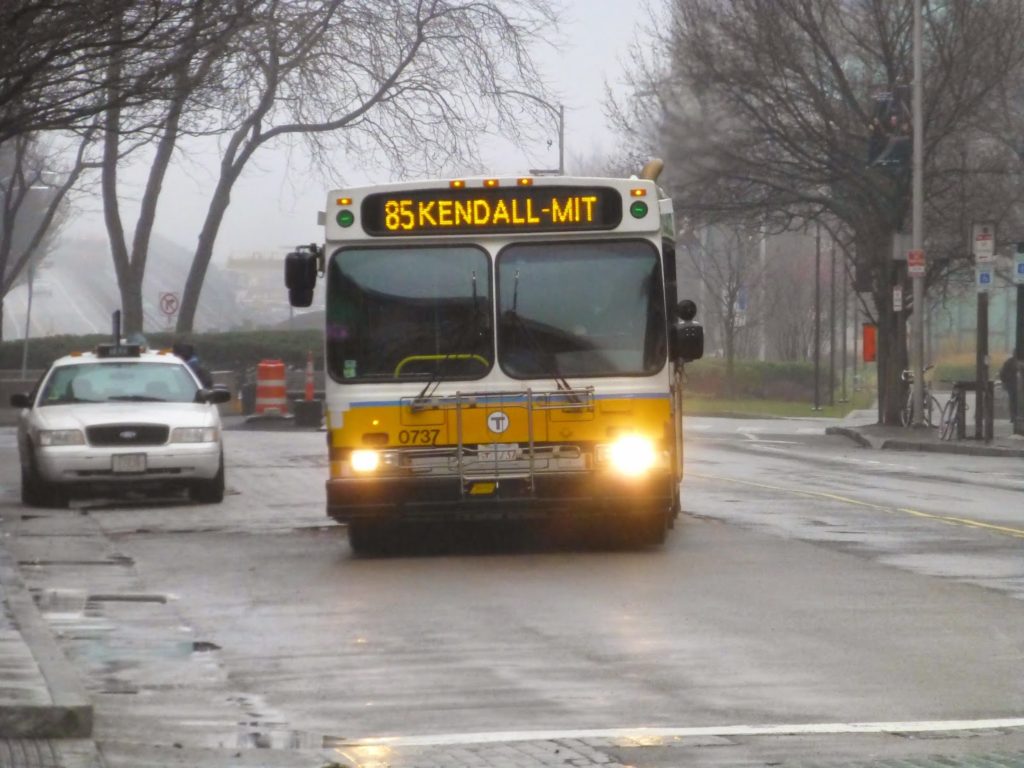 That headlight on the right is exceptionally bright (rhyming unintentional).
The bus was early, and so we layed over in Kendall for a bit. During this time, someone tried to ask the driver where the train station was. I wasn't sure what happened, but all of a sudden they were yelling at each other, with the person finally storming off. I mean, asking for directions to the train station is a perfectly valid question! What got the driver/person so mad?
Soon after the fight, we left and headed down Main Street, then turned onto Ames Street, Broadway, and Hampshire Street (along with the CT2). Leaving the office buildings of Kendall Square, it became residential, with the occasional businesses. We turned onto Columbia Street, a cute, entirely residential neighborhood, and then onto Webster Ave.
This street was an industrial wasteland, and so was Prospect Street. When we crossed over the Commuter Rail tracks, I saw some construction and wondered if it was of the new Union Square Green Line station. But we sped past, and, turning onto Somerville Ave, entered the Square. It had some nice small businesses, but soon we were off on Summer Street, finally leaving the CT2.
We went by a field, and it became mostly residential. There was, however, a gas station and a convenience store at the intersection with School Street. We also passed a big nursing home, but it was mostly just houses. Turning onto Central Street and then Avon Street, we reached the last stop and everyone on the bus got off. I walked through the neighborhood to find Highland Ave so I could catch another bus.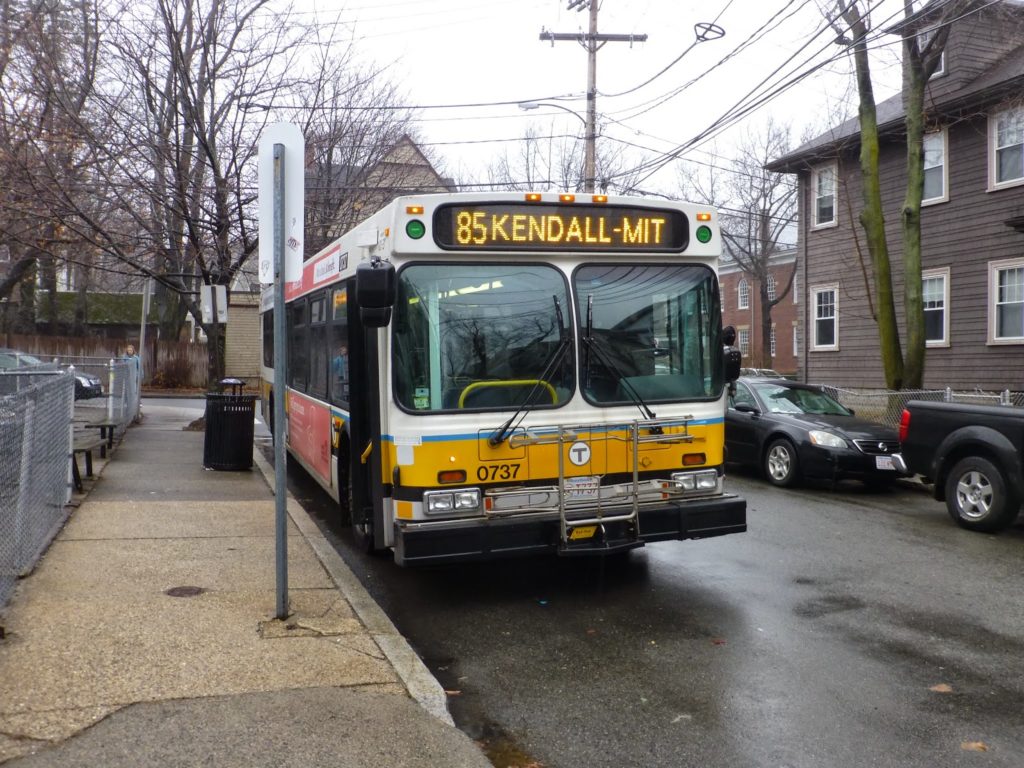 I really love this picture for some reason.
Route: 85 (Spring Hill – Kendall/MIT Station via Summer Street and Union Square)
Ridership: Admittedly pretty low – there were about 15 people who got off at Kendall, and about 10 on my bus. Most of the riders on my trip got on at Kendall, though there were a couple people who got on at Union Square. Almost everyone got off at Spring Hill, which was somewhat surprising. In terms of overall numbers, the 85 is in the bottom 30 in terms of bus ridership, but barely.
Pros: It provides local service along the CT2's route, and it's the only bus to serve Spring Hill. And really, I should be complaining about how close Spring Hill is to other bus routes, but I just can't. I don't know, there was a fair amount of people who went to Spring Hill, and this is the fastest ride to the Red Line from there.
Cons: So instead, I'll complain about the schedule, because it's pretty awful. The route runs every 40 minutes, weekdays only. That means on weekends, people in Spring Hill are forced to walk the three blocks to the 88 or the five blocks to the 83 or 87. Oh, wait, now I'm complaining about Spring Hill's proximity to other, more frequent services. Darn it!
Nearby and Noteworthy: Union Square is probably the most happening place along the route, though Kendall's pretty trendy, too.
Final Verdict: 4/10
I could not decide between giving the 85 a 4 or a 5. I eventually opted for the former, because I'd be a hypocrite if I didn't. I gave the 68 a very low score due to the fact that the whole thing is in walking distance to more frequent services. I think the 85 covers more, though, and it gets better ridership than the former. But though I really want to like this route, it's still pretty close to other routes, and its schedule is terrible. Sorry, 85.
Latest MBTA News: Service Updates