The 86 coming back from the Toronto Zoo was by far the worst bus ride I've ever experienced. It's not the route that's the problem…no, the route's fine, going from Kennedy Station on the Bloor Line to the Toronto Zoo. It's the people that were on it. We got on the bus at Guildwood GO Station (GO is Toronto's commuter rail network) having taken the train from Union in downtown Toronto. The ride to the zoo was full of screaming kids, and my father still talks about the odor of the bus.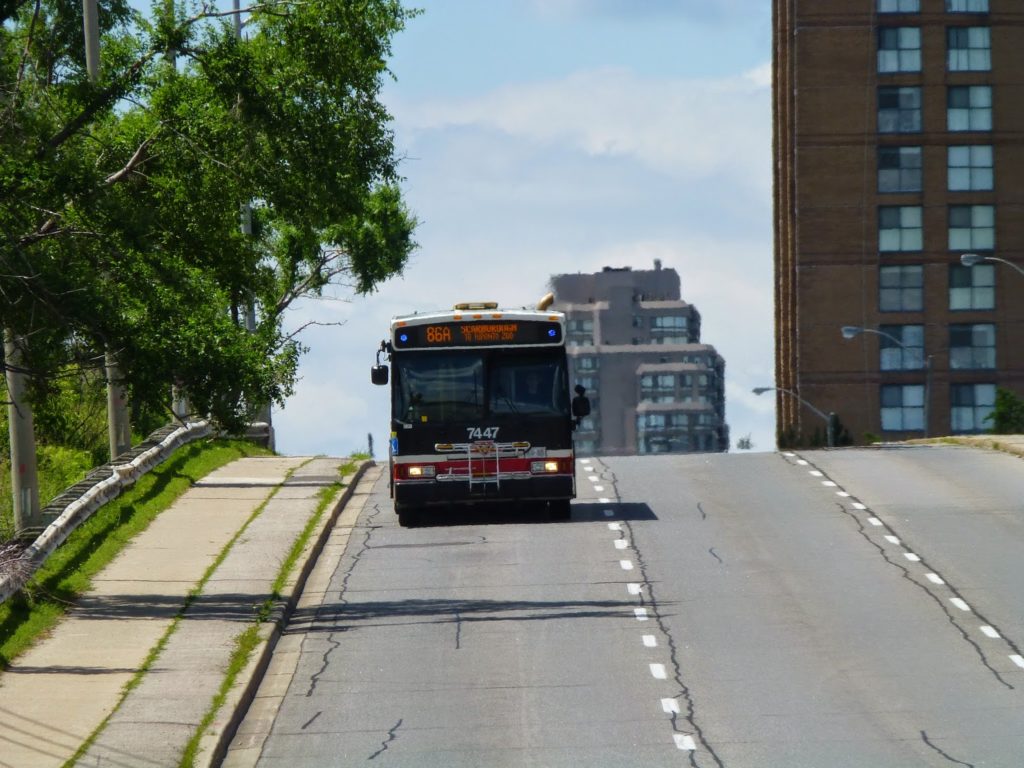 The bus coming over a bridge.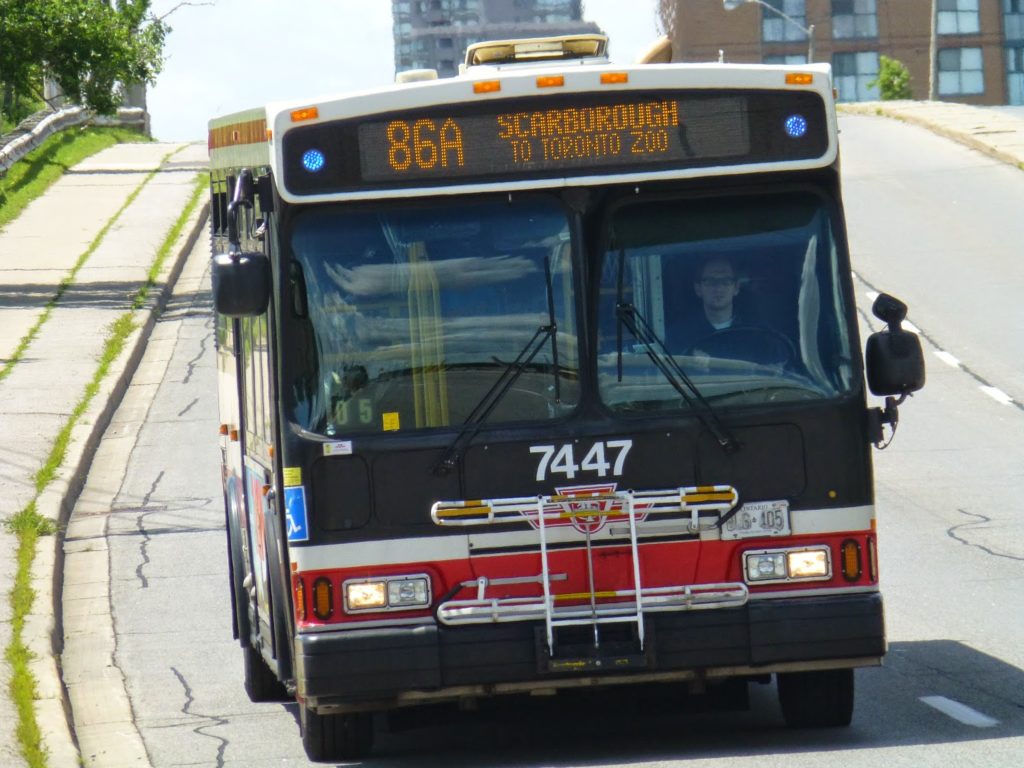 Up close and personal.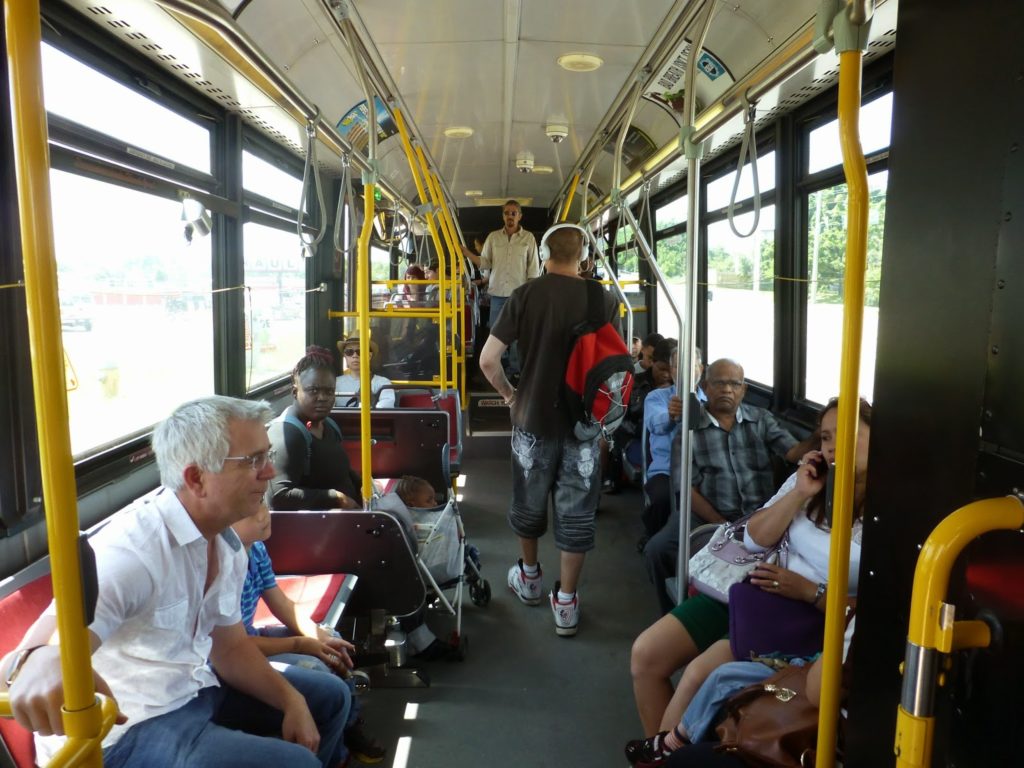 The inside.
But it was the ride back that was awful for me, as you'll find out. The bus was already pretty crowded leaving the zoo (it's pretty much the only service there, aside from a few 85 trips), but nobody was sitting next to me…yet.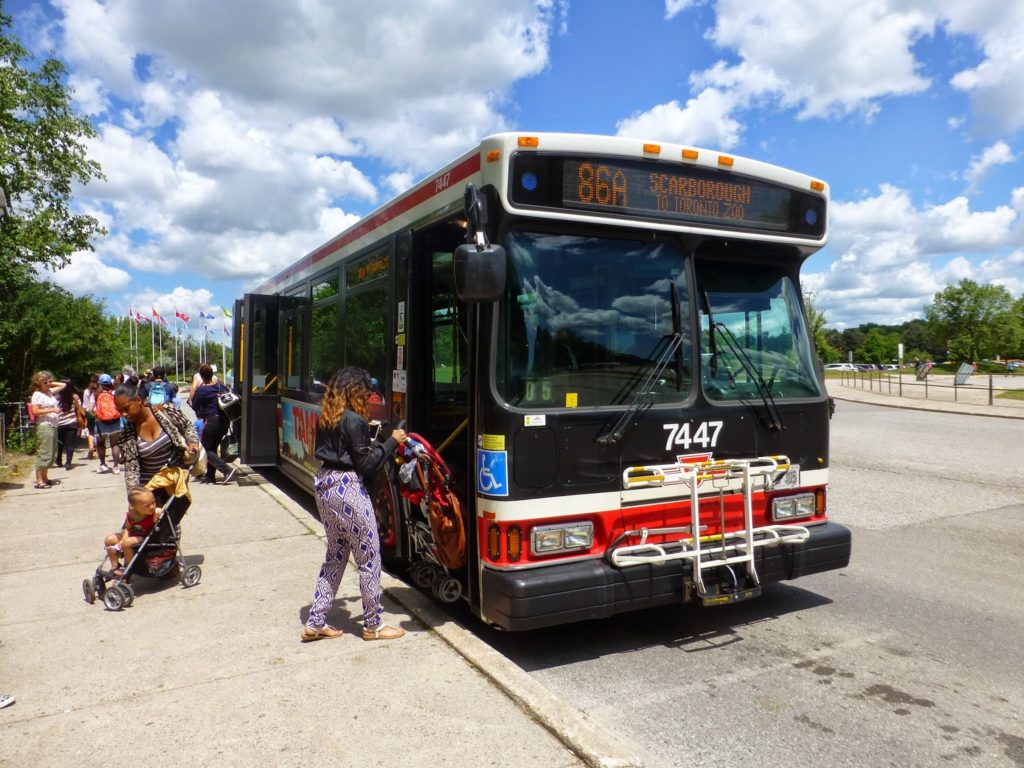 The bus at the zoo.
We left the zoo's busway and parking lot, going by a pointless stop in the middle of nowhere, then merged onto Meadowvale Road. Right by a housing development, there was a loop for short-turn buses from Kennedy, then we went through same-house central. We then crossed over the 401, the busiest highway in North America and one of the widest. Then it was back to more housing, even after we turned onto Kingston Road.
It was sometime along here that a man came onto the bus. He had a very drunk-looking walk, a bandage over two of his fingers, and blood all over him. Of course he sat next to me. It made me very uneasy, to say the least. There were some businesses, then Kingston Road went over a bridge with a similar view to that viaduct on the Bloor Line. That is to say, a good view.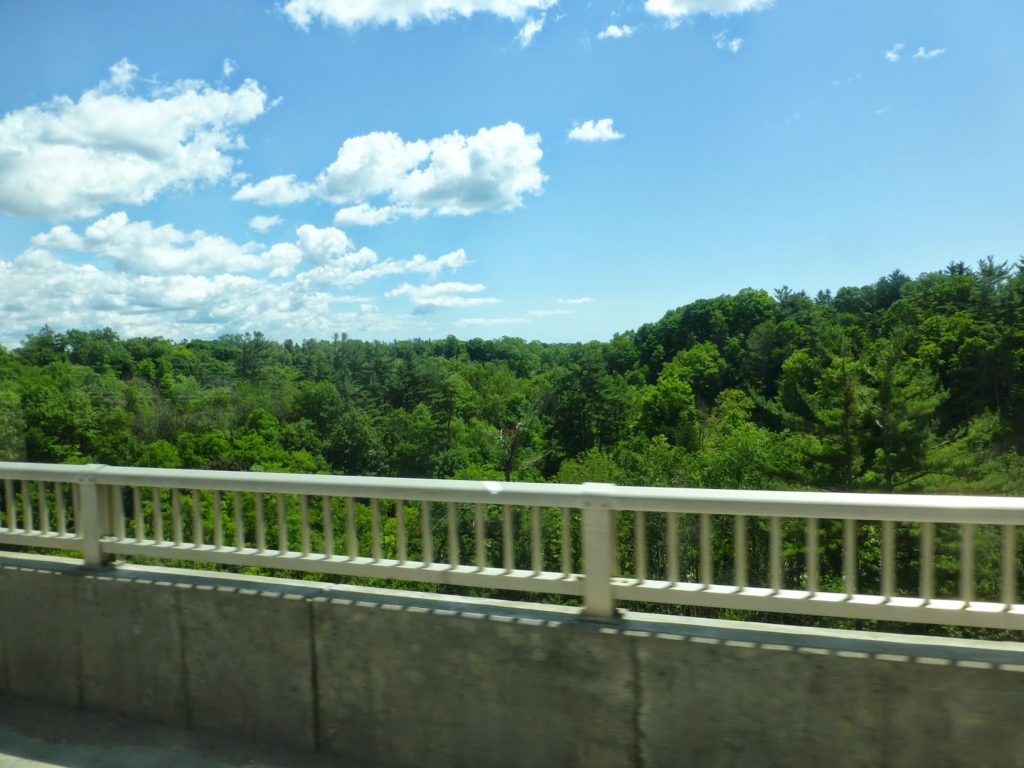 Nice and rural.
There were some weird businesses and hotels along the next stretch. At Lawrence Ave, the route was joined by another variant of the 86 that loops around a residential area and office park. It was obvious that this was a big car area, based on Kingston Road's width, as well as the huge parking lots for every business.
At one point, a bloody arm impaired my vision. Turns out it was the guy sitting next to me, and he wanted to get off. He awkwardly reached across me to pull the cord, and yanked it toward him. It was like one last gross thing to do before getting off.
Hooray! I was alone again! But not for long, because a few stops later, another guy came on and sat next to me. He seemed normal enough at first, but then he started hitting himself on the head. And again. And again. He was constantly counting on his fingers, then hitting himself on the head. He couldn't help it (he clearly had Tourette syndrome), but it was still really, really annoying.
We passed Guildwood Station where we got on before and went over the train tracks. There were a few apartments, and then it was back to housing, housing, housing. We turned onto Eglinton Ave, and that had quite a few apartment buildings, as well as more trashy businesses with huge parking lots. We passed the Eglinton GO Station, then there were was another housing development and then a lot of businesses.
We went past the Kennedy GO Station, then over the Scarborough RT tracks and then turned onto "North Service Road," all in quick succession. Finally, we pulled into Kennedy Station and we all got off the bus.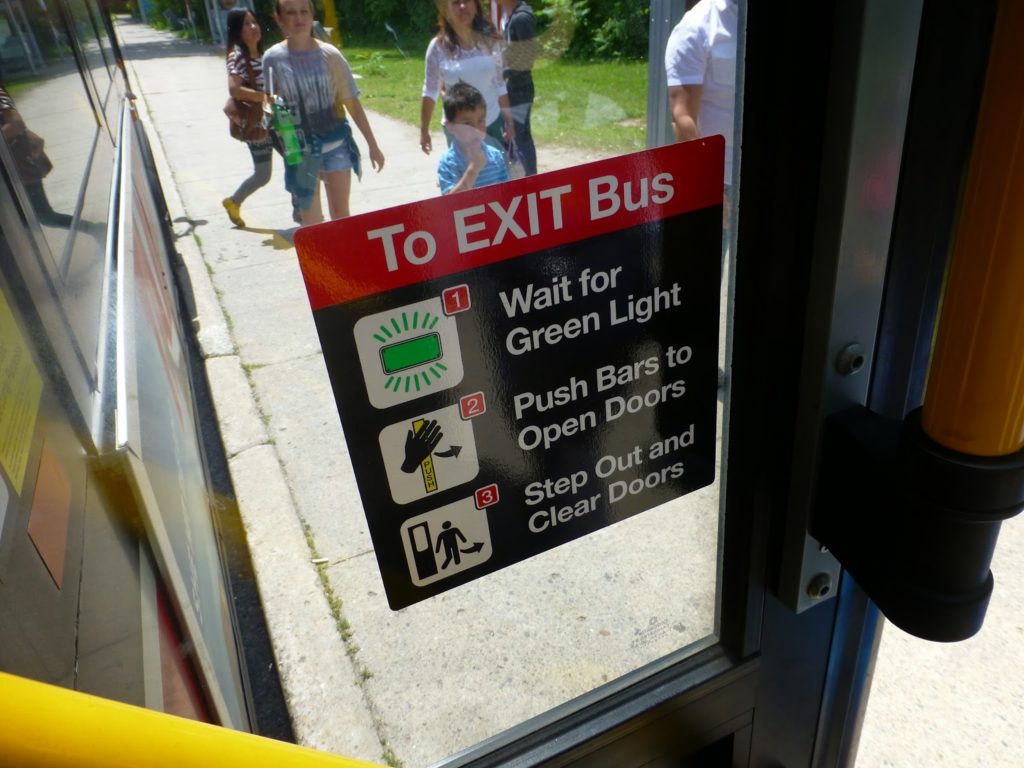 A cool feature.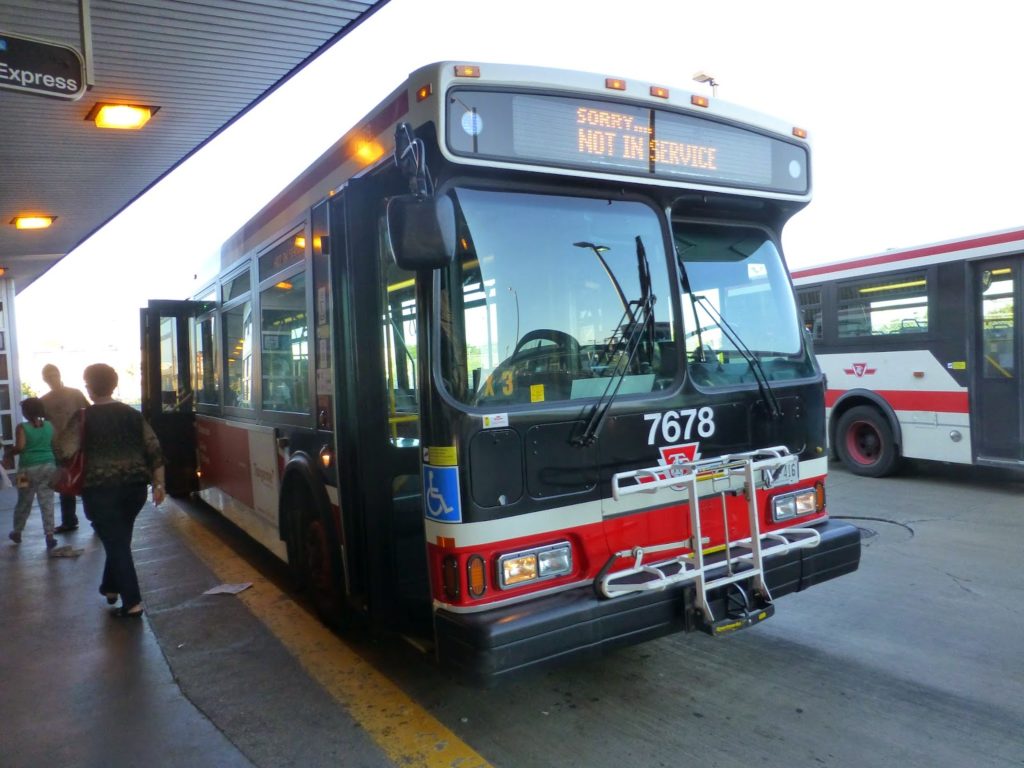 That's the best "not in service" sign ever!
"Scarborough Center Rocket…" I like the sound of that. It's a lot catchier than just saying "express bus." And it was pretty fast, with only six stops on the route to Scarborough. We started out at Don Mills, the terminus of the Sheppard Line which also has a really dingy busway. There was a fair amount of people waiting with us.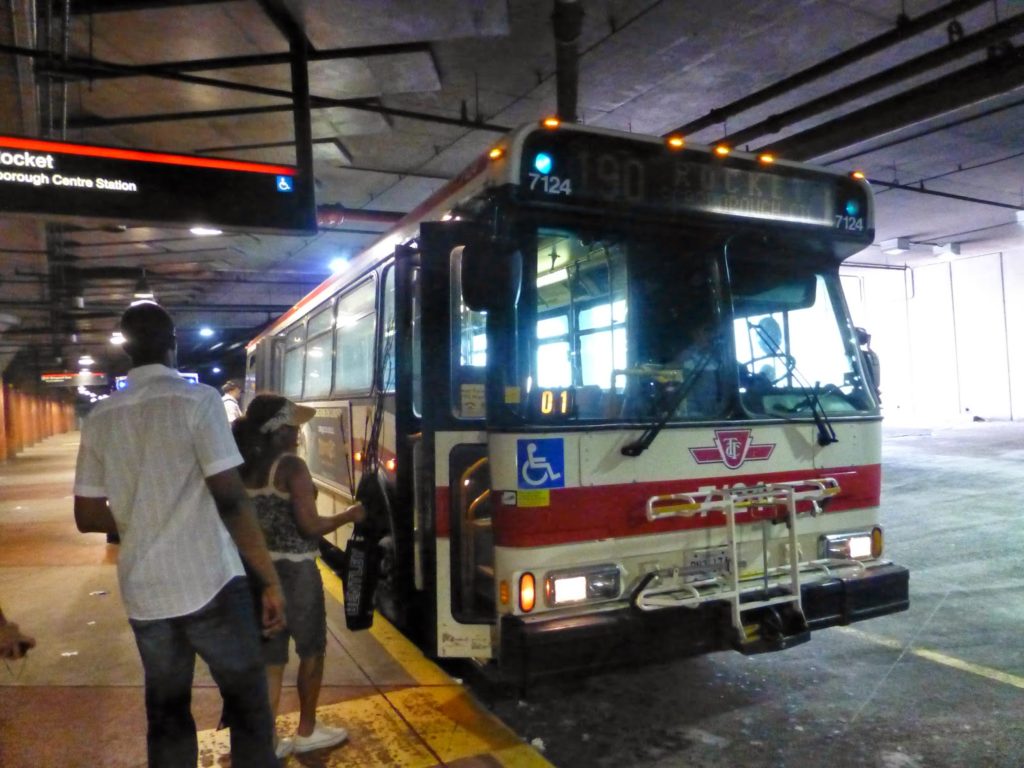 It was an older bus.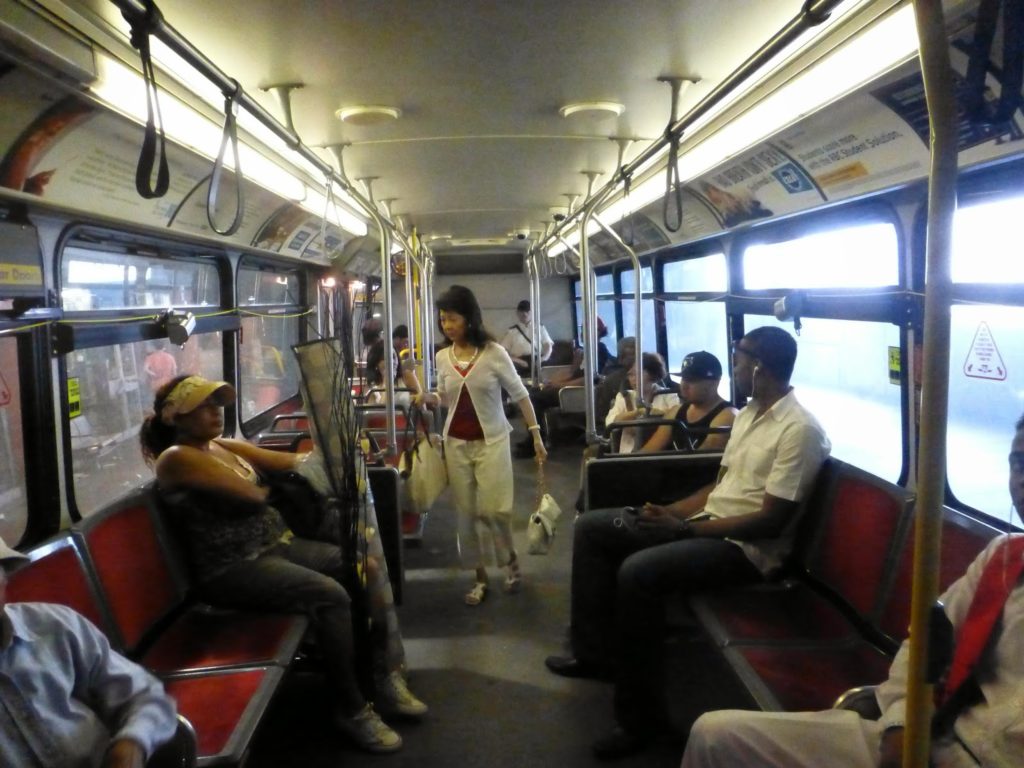 The inside.
This is literally the best picture I could get of the stop announcement board.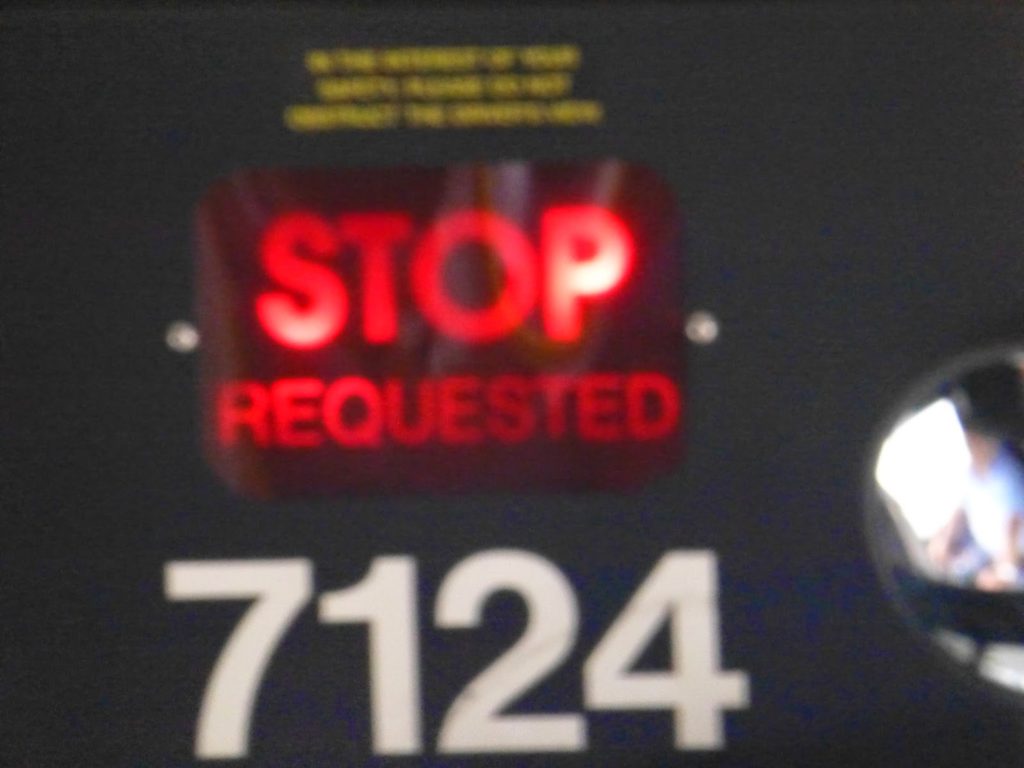 This is literally the best picture I could get of the "stop requested" sign.
The automatic announcements reminded us after every stop that the bus was express. But what I really like about the announcements on both TTC buses and streetcars is that they say what the next stop is, rather than the current stop. It gives you more time to pull the cord.
We headed down Sheppard Ave, going by the massive mall that Don Mills Station is situated in. We crossed over a highway, with huge apartment buildings always visible. Literally 40 to 50 story buildings that apparently sprung up when they built the Sheppard Line. But there were also shopping plazas and housing developments to vary the views. This was really all there was along the entire route. I mean, we went over a small creek at one point. Is that interesting?
After a stop at Midland Ave, the bus went total express until Scarborough Town Center (the busiest stop on the Scarborough RT). We turned onto Midland, going past – something different! – an industrial wasteland. But those apartments were still in view. Then we turned onto Progress Ave, and then Borough Drive (at the corner of Progress and Brimley Road, there was a restaurant called Boston Pizza!), and finally came into Scarborough Town Center. A fast but totally unremarkable ride.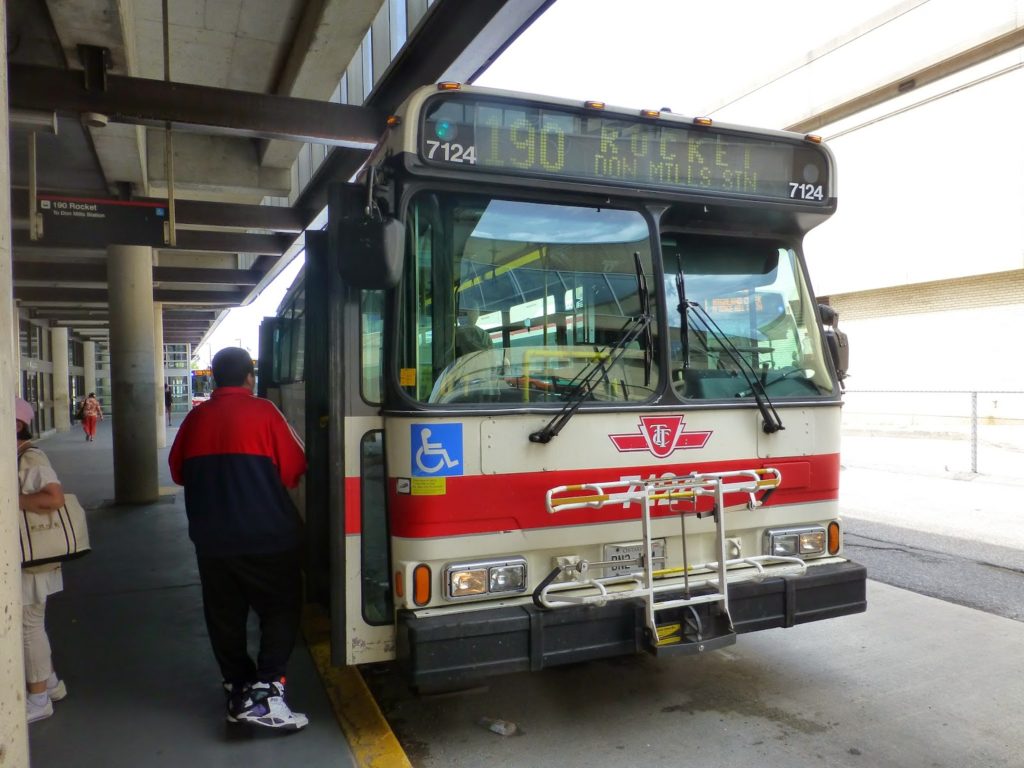 A somewhat better picture of the bus.