The 505 was the streetcar we used most often, as well as my favorite of them all. It's just the variety of different neighborhoods seen along the route that makes it really interesting. This is another U-shaped line, going from Dundas West Station on the Bloor Line to Broadview, also on the Bloor. There's a free transfer at Dundas West, where we got on, which makes it quick and easy. That's not to say it was busy, though; there were only two other people on the streetcar leaving Dundas West.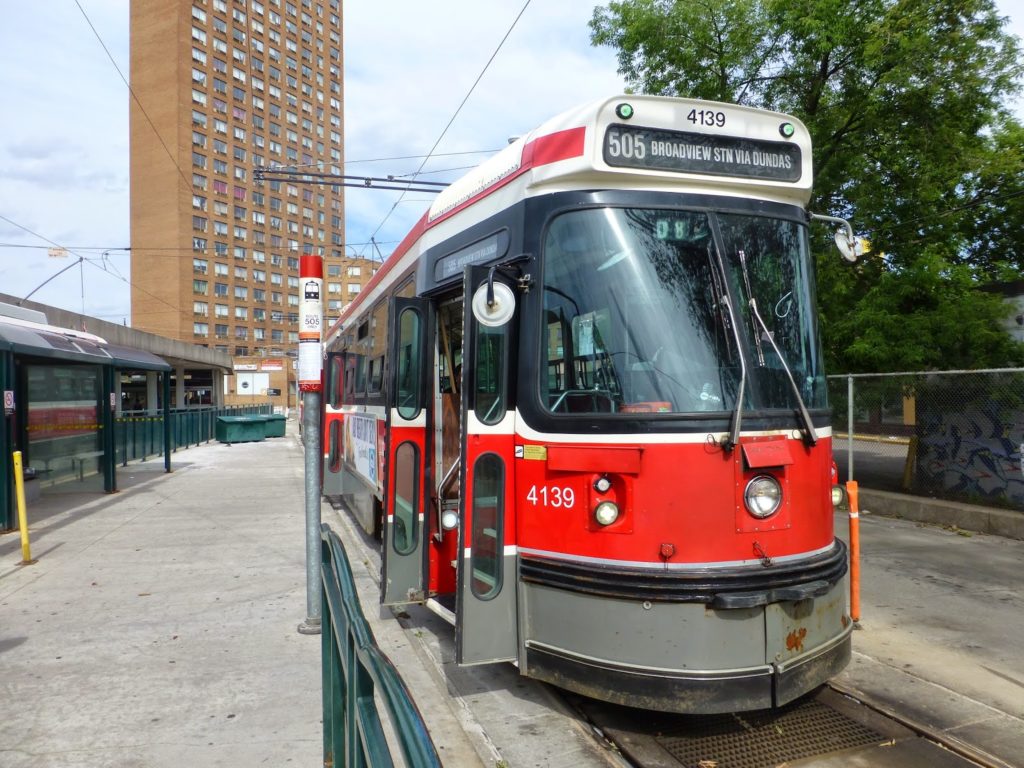 The streetcar, with a really big apartment building in the background.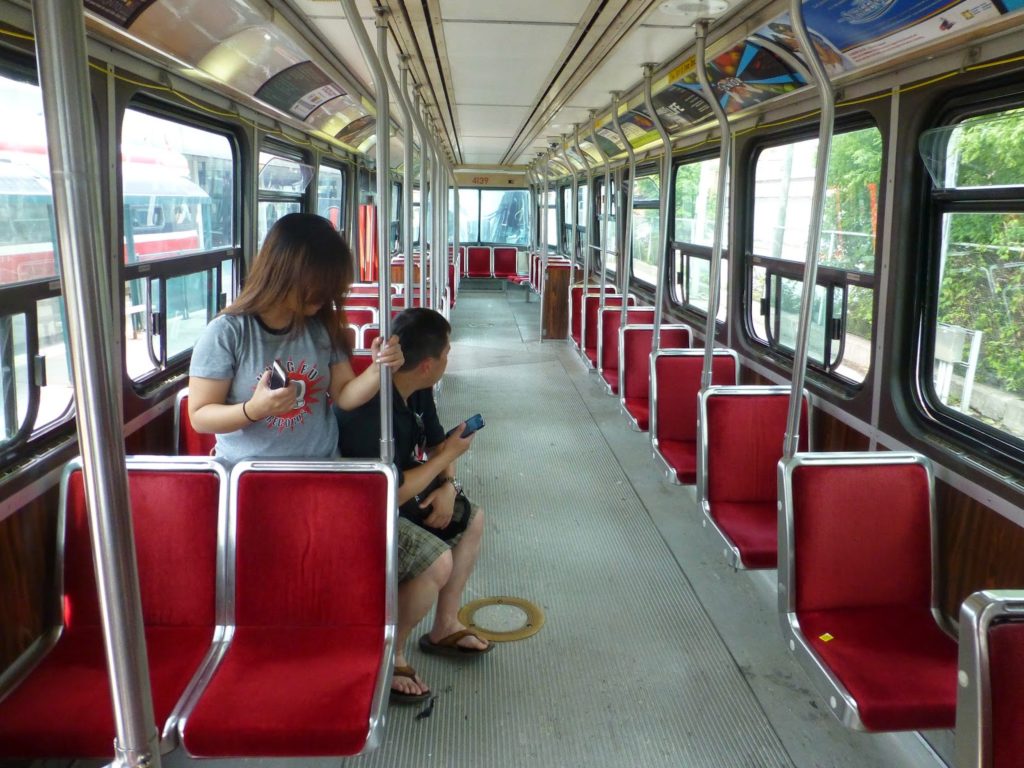 The inside.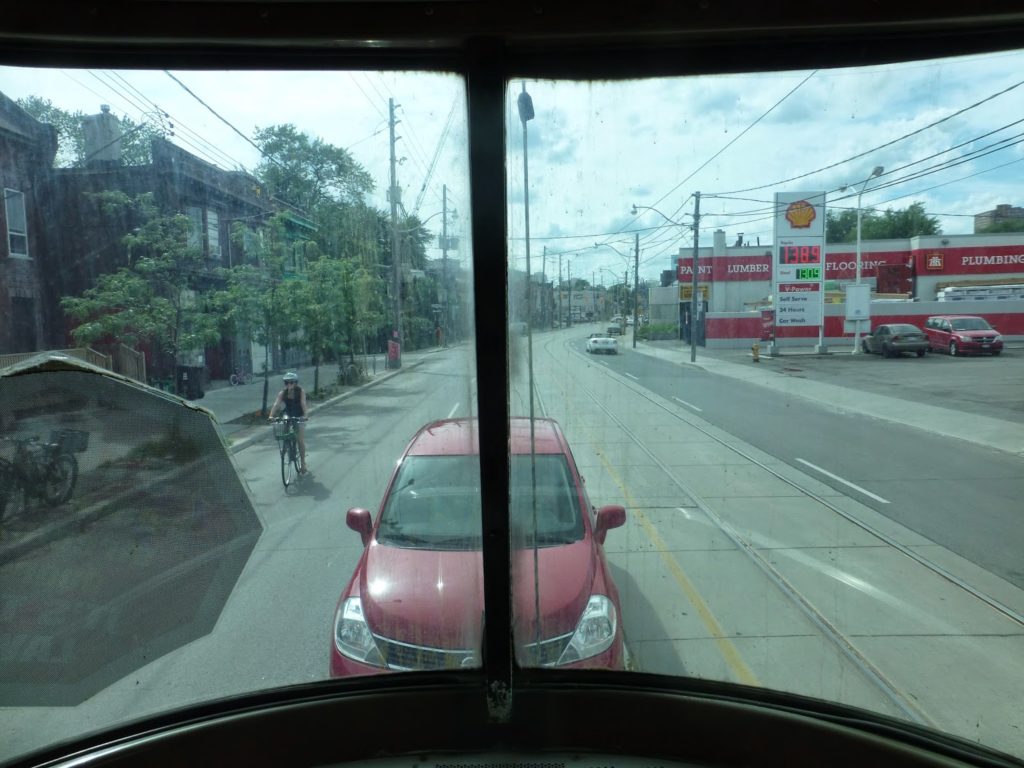 Looking out the back.
There were some businesses and taller buildings heading down Dundas Street West, but as it curved to the left these were replaced with smaller apartments. We were joined by the 506 just before going on a bridge over the GO Transit tracks (GO Transit is Toronto's commuter rail system).
Nice view…
Soon after the bridge the 506 turned onto College Street while we stayed on Dundas. There were quite a few varied businesses along this stretch. The skyline of the financial district was constantly visible in front, but Dundas doesn't actually go through there. We headed by a big park, and it started to get more residential. We crossed over Bathurst Street, going by a big medical center, then Dundas made an s-curve south.
Crossing Spadina, we entered Chinatown. I loved this part: it really felt like we were somewhere in China, since literally every shop name is written in Chinese. After that, we passed the Art Gallery of Ontario and Dundas did another s-curve south. At St. Patrick Station on the Yonge Line, the buildings got much taller but flattened out again after.
After Dundas Station, we passed through Yonge-Dundas Square. Think of this as Times Square, but Toronto. It's considered to be Toronto's downtown, and it certainly has a "downtowny" feel to it. Then the neighborhood got a lot less glamorous and a lot more… not nice. We would always get off at Jarvis Street, right outside our hotel (in fact, we had a view of the streetcar out our window – see pictures below).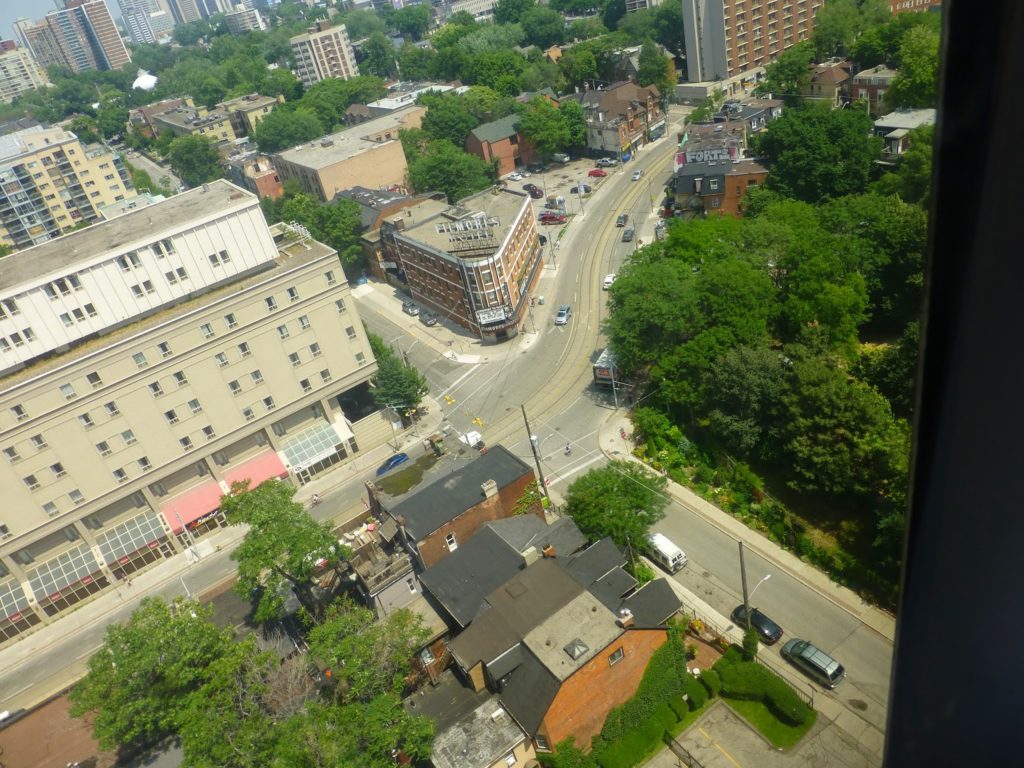 Okay, so there aren't any streetcars in this picture, but it still looks cool.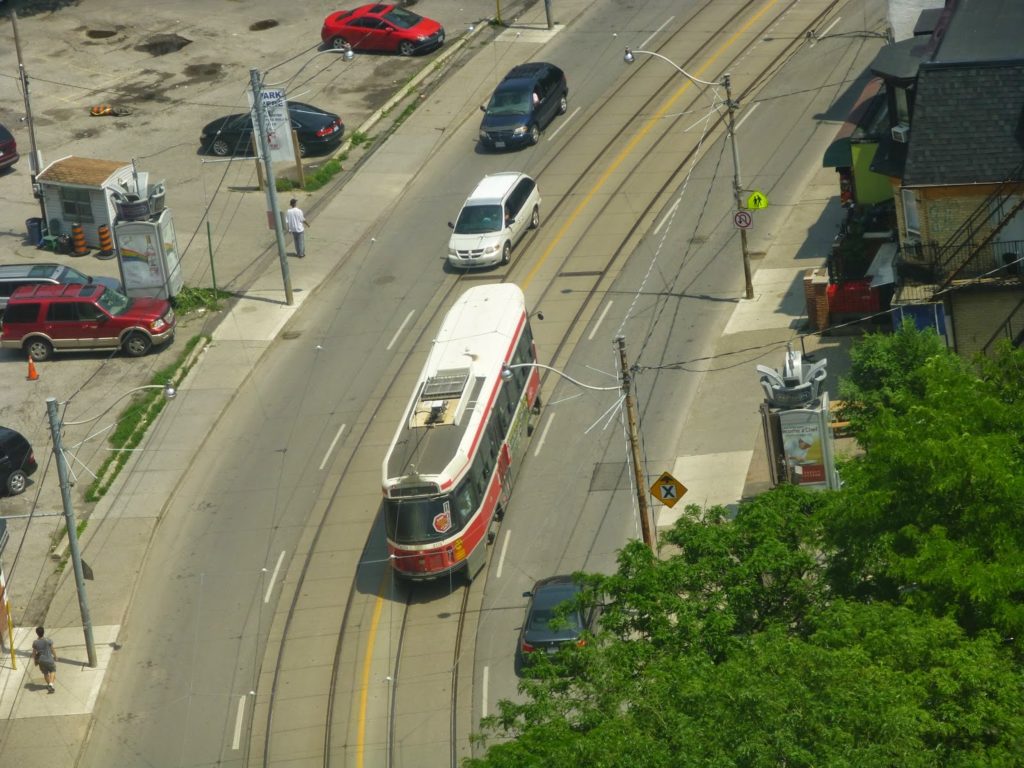 An overhead view.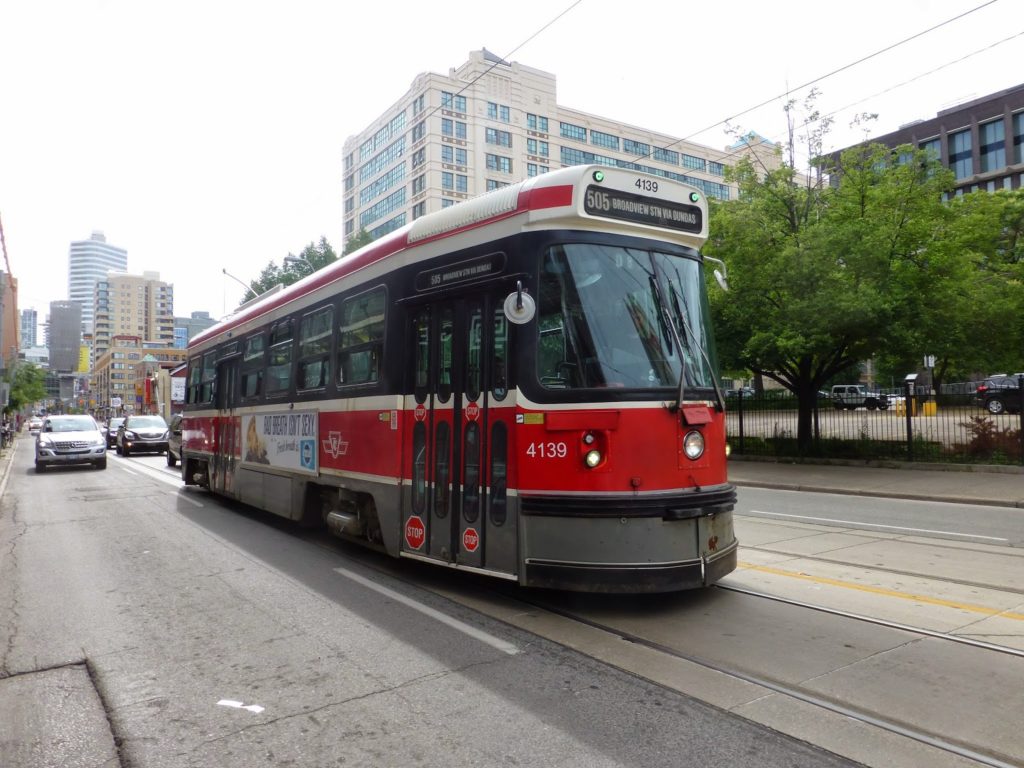 The streetcar that we took.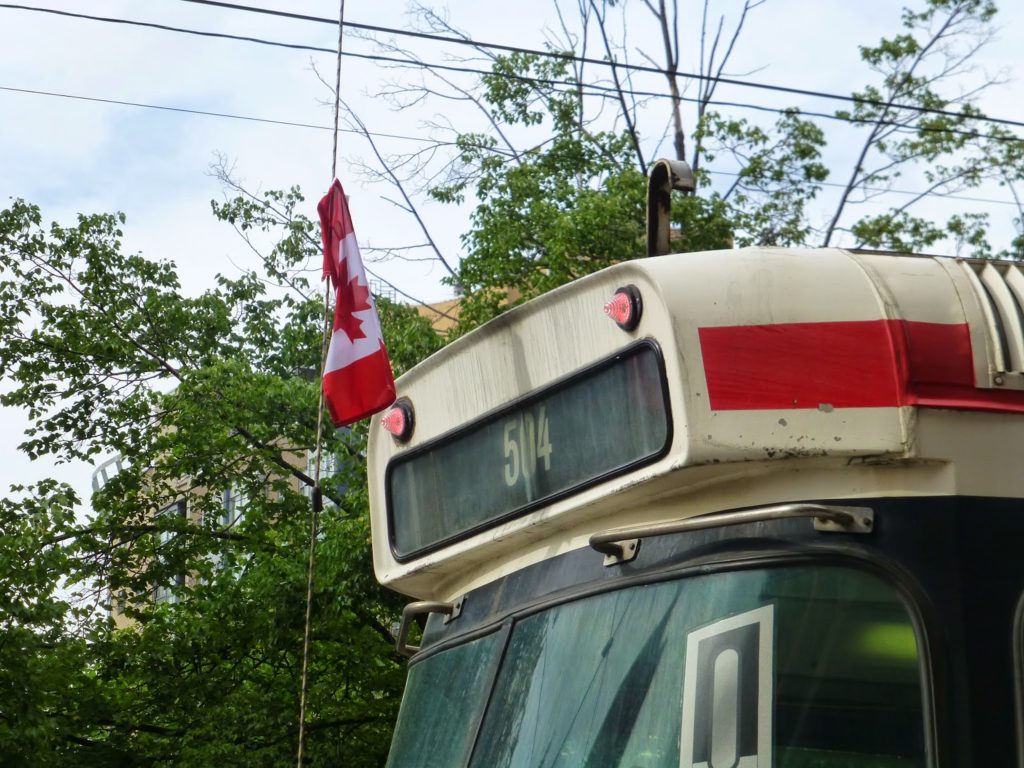 They put little flags on the backs of the streetcars in celebration of Canada's independence day. For some reason it says 504 on the back of this 505.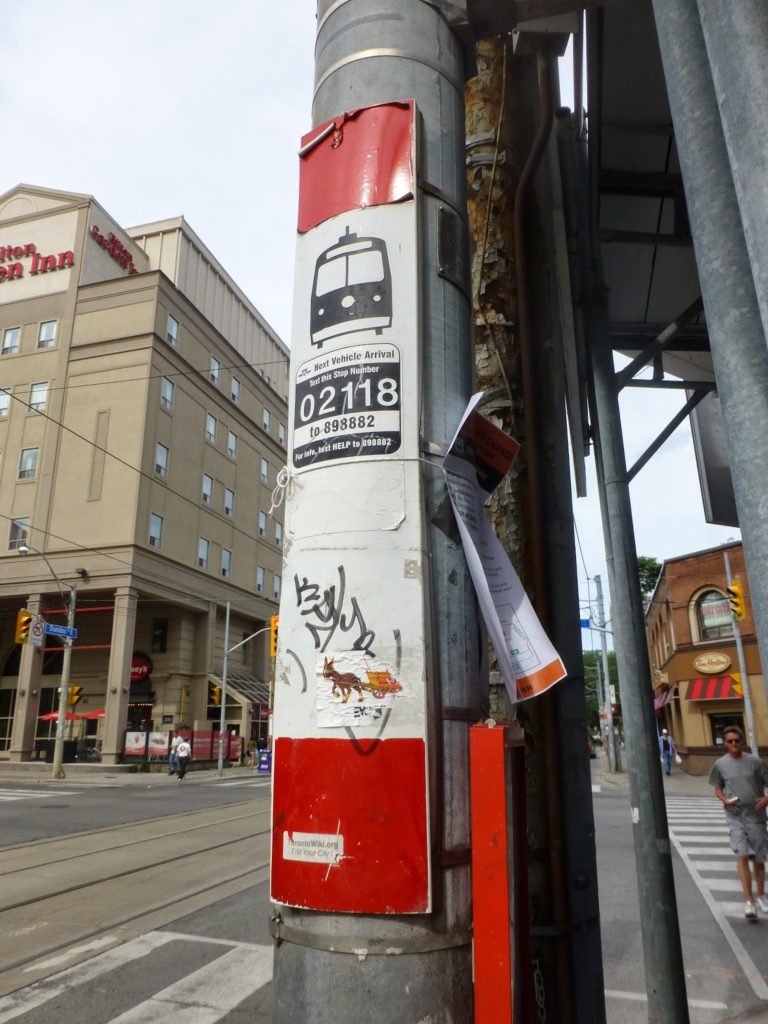 This is what the streetcar stops look like.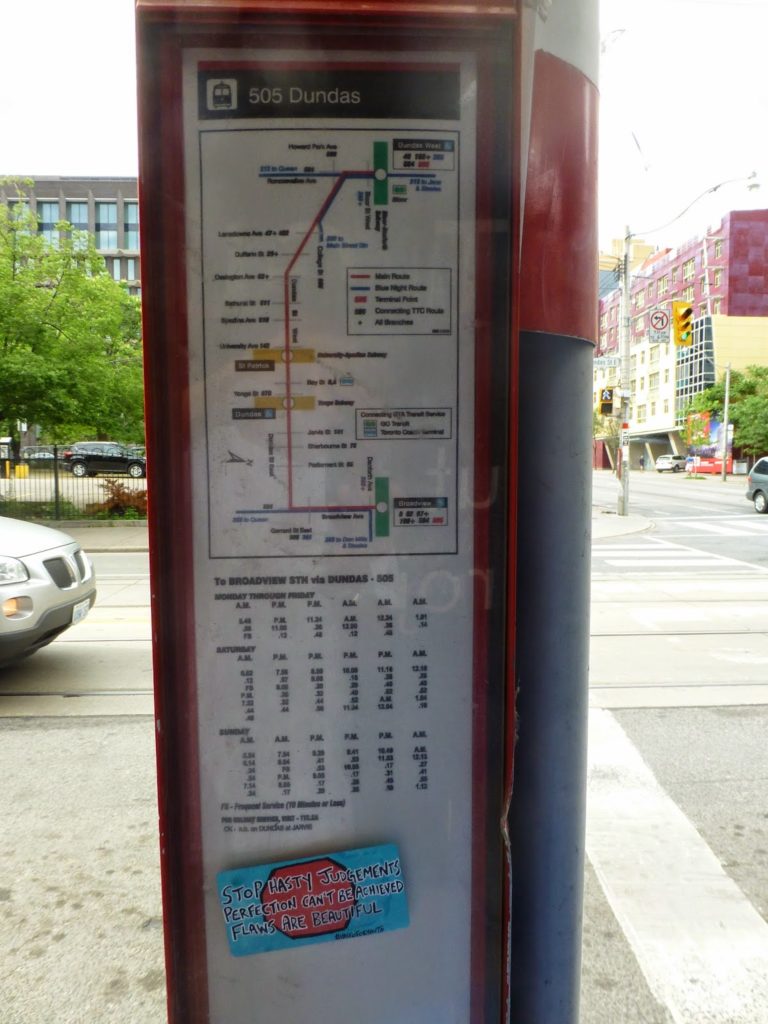 These maps and schedules are convenient.
We barely took the 506 on its Carlton portion; most of our ride was on College, which turns into Carlton. We got on at Euclid Ave after eating in Little Italy. There was a shelter, but it didn't have countdown clocks like some other ones on the system.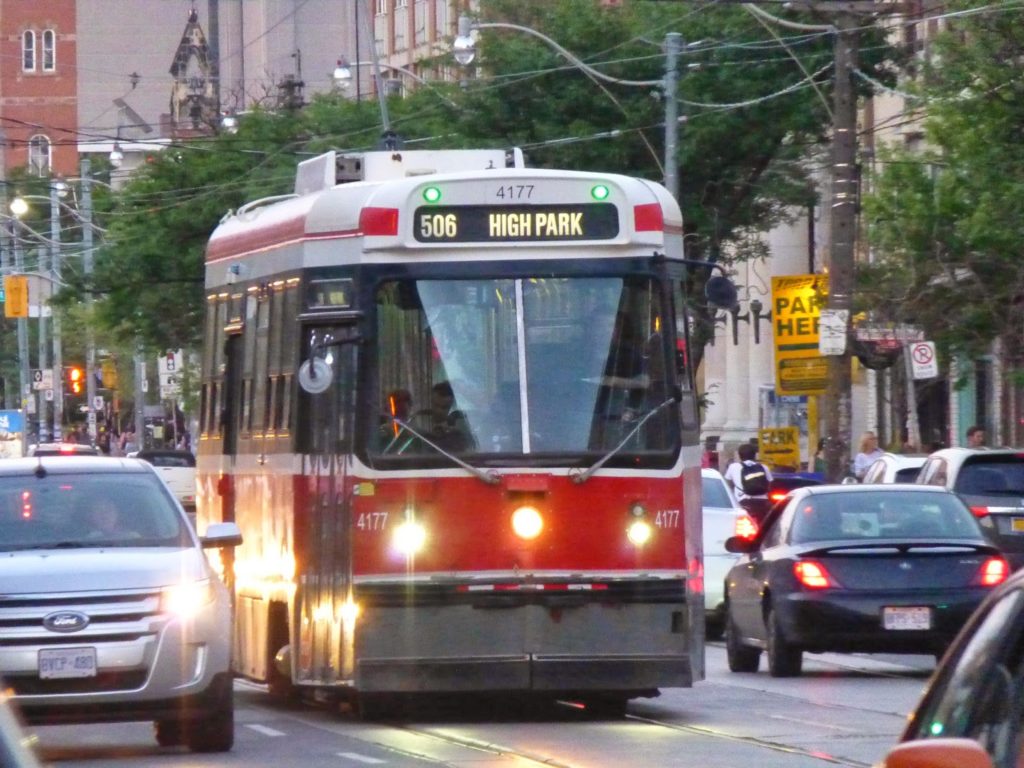 The streetcar cometh…but it's going the wrong way.
Interestingly, the 506 comes very close to Dundas West Station but doesn't actually serve the station. Instead it goes onto Howard Park Ave through the suburbs to a little loop called High Park. On the other end, it serves the Bloor Line station of Main Street.
So back to when we got on. Having left Little Italy, College Street was still urban with businesses lining it. Crossing over Bathurst, we passed a tall clock tower, then went on past Spadina. There seemed to be more and more offices as we went by Queens Park Station on the Yonge Line. as well as a hospital. There were some skyscrapers, then the buildings got shorter, then as we went by College Station there were taller ones again.
College was now called Carlton, but we were only on for two more stops. At Jarvis, the neighborhood seemed a bit worse, but there was still a nice church on the corner. Night was falling as we walked back to our hotel.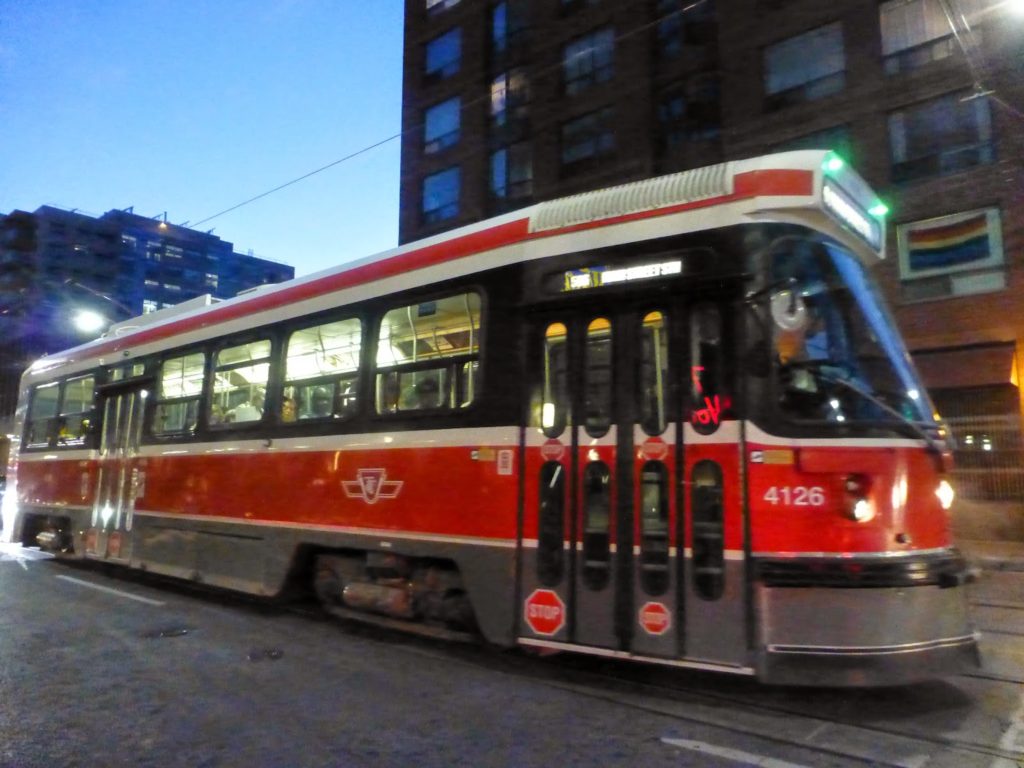 The streetcar leaveth. That's apparently a word.