Let me be clear right from the start: never take this bus from beginning to end. No one in their right mind would use this bus (which takes about a half hour in total) to get from Malden Center to Sullivan when the train can do it in a few minutes. So basically, don't try this at home. With that out of the way, let's take a ride on the 105.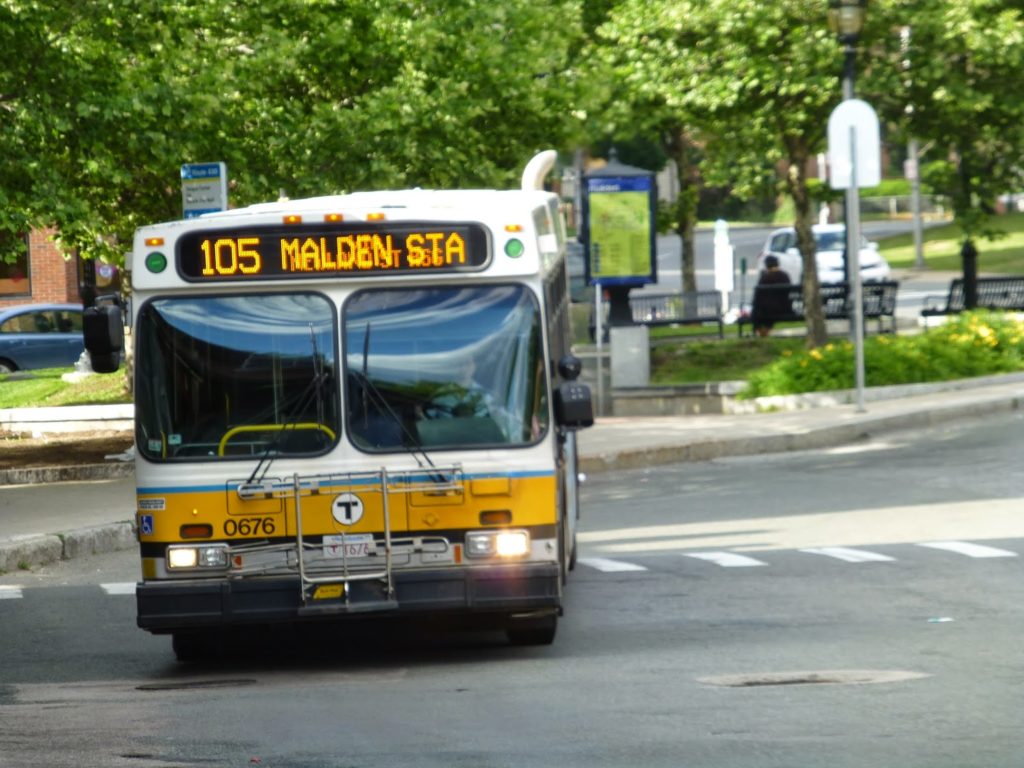 I have no idea what's going on with the destination board in this picture.
Leaving Malden Center, we headed down Center Street and picked up a fair amount of people at the very first stop, in front of a huge Super Stop and Shop (what makes it "super" I have no idea). Center Street became Eastern Ave, which was one of those neighborhoods with way too many auto shops and parking lots. Then we got to the really crazy part. Ready? Right turn on Bryant Street, left turn on Lyme Street, left turn on Willow Street, right turn on Bowdoin Street, right turn on Newland Street, right turn back onto Bryant Street, left turn on Cross Street. Wow.
I had been wondering what the Newland Street Housing was, and my assumption was confirmed: a development where all the houses are exactly the same. But many of the people on the bus got off here, and this is the only route to serve the neighborhood. There were also a few people who got on to go to Sullivan, and then we carried on.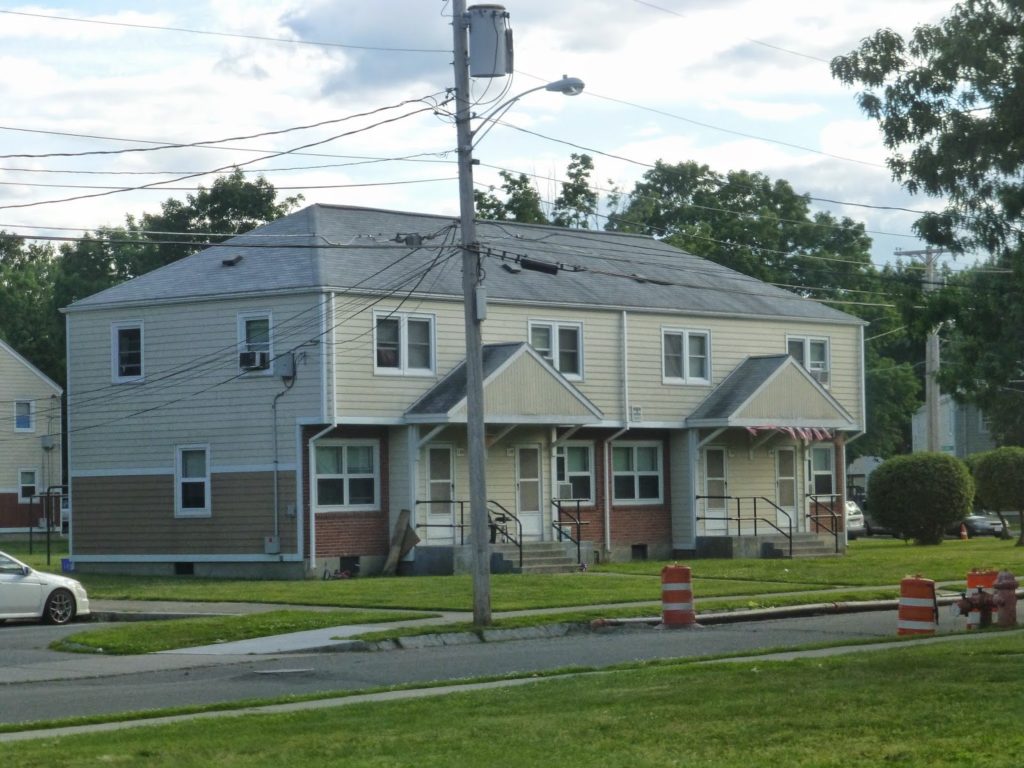 If you ever take the 105 you'll see a lot of these.
We then went down Cross Street, which was a nice residential street (for a change). There was a school at one point, but it was mostly just houses. We turned onto Main Street, which was a nice cross between residential and cute little businesses. It was like this for a while, with no one getting on or off the bus, and we soon got to a huge rotary. We headed onto Broadway, which was another neighborhood with grotesquely large parking lots. However, we did go by an MBTA bus yard, which was pretty cool. I could see a few really old buses, as well as an experimental bus not used in actual service.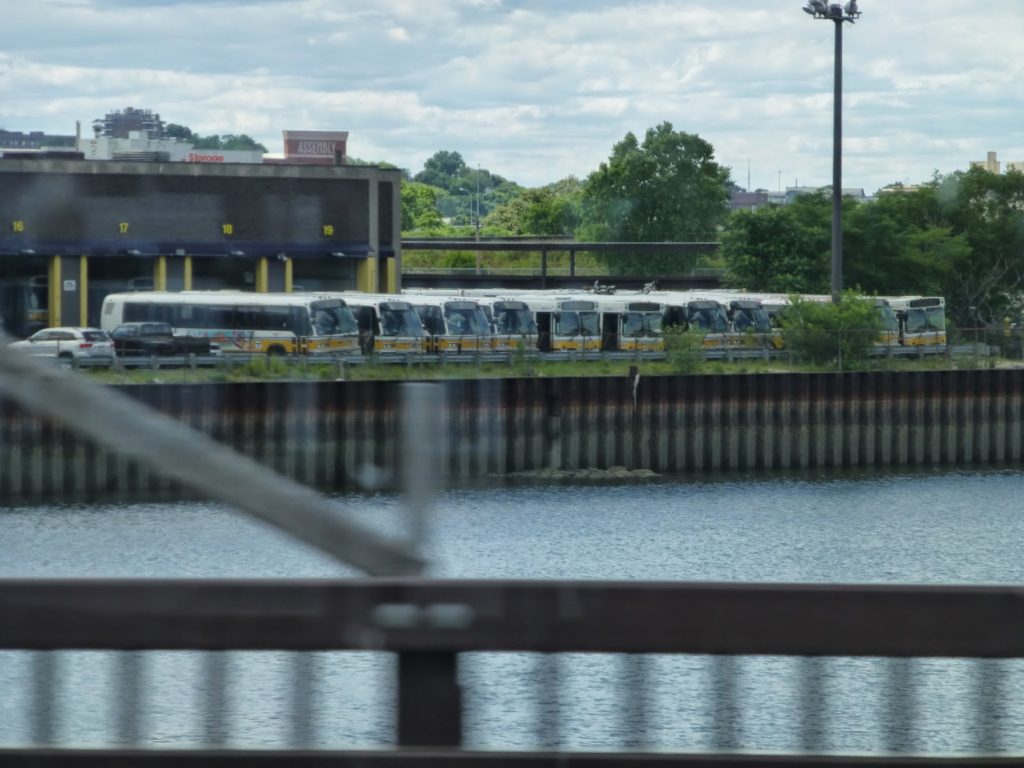 A really bad picture, but you get the idea.
Broadway became Alford Street and we went by a giant factory (it was an industrial wasteland in general), then over a bridge. There was a view of the MBTA yard (see picture above), but the Boston skyline couldn't be seen. We then made our way into the Sullivan Square busway, and we all got off into the darkness under the highway.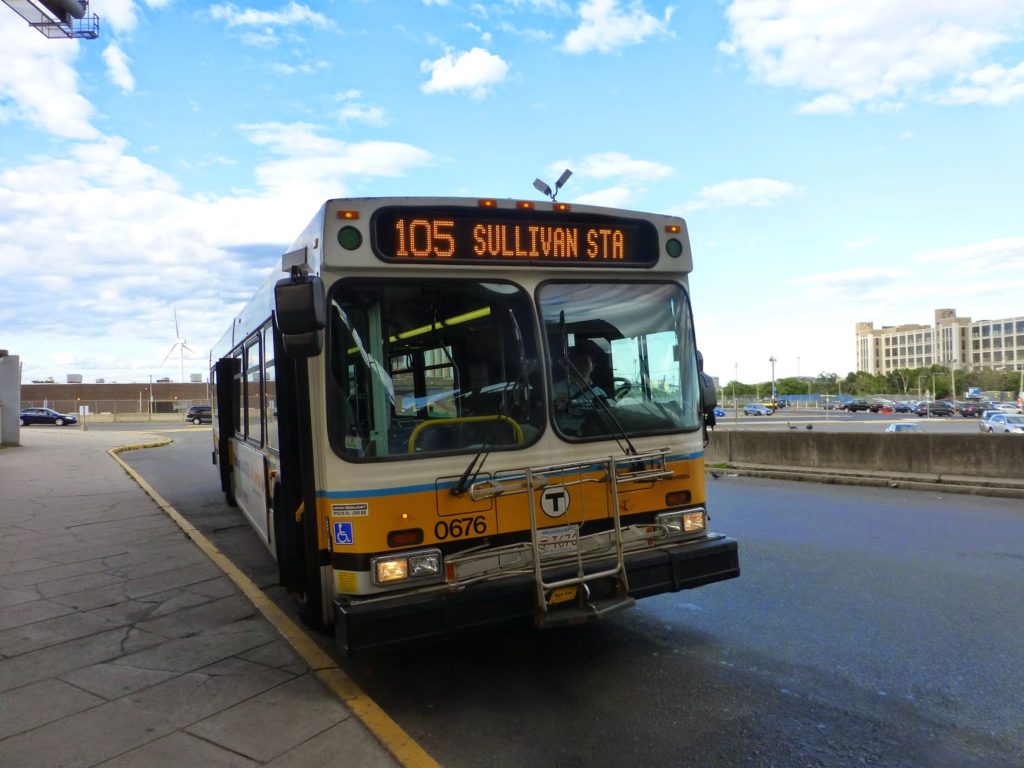 No garbled destination board this time.
Route: 105 (Malden Center Station – Sullivan Square Station via Newland Street Housing)
Ridership: The Newland Street Housing area was sort of a swap: people coming from Malden Center got off, and people going to Sullivan got on. The main purpose of this route is to connect the Newland Street Housing to the Orange Line. About 20-25 people rode in total on a Saturday afternoon.
Pros: Once again, this is the only route to serve the Newland Street Housing area, and it does that well. It seems to be fairly well-used by locals.
Cons: Seems like the schedule's always a con. It's about every 30 minutes rush hour (give or take), every 70 minutes during the day with service ending at 7:15, and every 60 minutes weekends. It's not as terrible as other routes, but it could certainly be better. Also, if you're in Malden Center and have to get to Main Street, don't use the 105. Take the 99 or the 106, as they both run more often and are much MUCH more direct.
Nearby and Noteworthy: Your best bet at finding something interesting would be on Main Street or just in Malden Center. The Newland Street Housing isn't noteworthy, that's for sure.
Final Verdict: 5/10
Another 5. And just like the last one, this route has a purpose of serving a specific area, but its schedule drags it down. The 132's schedule was worse, but the 105 still loses points on the crazy route it takes. Surely it could do something less…weird?
Latest MBTA News: Service Updates
Janitors on the MBTA are protesting about the planned layoffs of almost one third of the total cleaning workforce.