We've got some transit oddities (as well as the UK's Network Rail) in the final post in London. There may be a post after this one with all the pictures I meant to post but didn't, but it likely won't be very long. For now, however, let's go back to London (or at least the UK) for the last time.
NOTE: "P" in photo captions mean the photo was taken by Paul, my mother's friend. These pictures were on an iPhone, so they're a little lower quality, but I'm grateful he took pictures because my camera ran out of battery halfway through the trip.
You're probably wondering why I went to Stevenage, of all places. My mother has a friend up there (who also took some of the pictures in this post), and we went to go visit him and his wife. Network Rail operates a very extensive network all across the United Kingdom (as well as France), and very efficiently. If you're going to Stevenage (considered a major station), for example, some trains stop at every single stop along the way. Others make one stop at Finsbury Park (with a connection to the London Underground), and then run direct, and still others make no stops on the way to Stevenage, heading out to terminate at a farther destination. I think this is a great way to run a commuter railway, but that's not the best part. The trains run very, very often, running from every 10 minutes to every half hour, even on Sundays! Simply amazing.
The train to Stevenage leaves from Kings Cross, which is a nice 15 minute walk from Russell Square (where we were staying, if you remember). However, my mother and I decided to take the Piccadilly Line instead, which consisted of getting our tickets, braving large crowds in a tiny elevator, and walking onto the platform just as the train left. Nonetheless, we made it to Kings Cross Station on time. It was a very beautiful station, with the ticket area being very modern and the platforms being a little more old-fashioned (which is not a bad thing).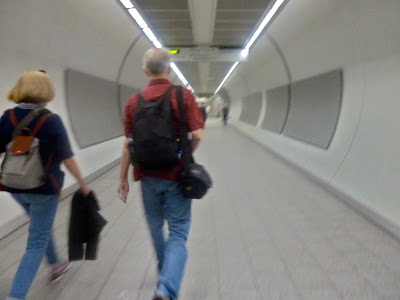 The LONG walkway from the Piccadilly Line to Kings Cross proper.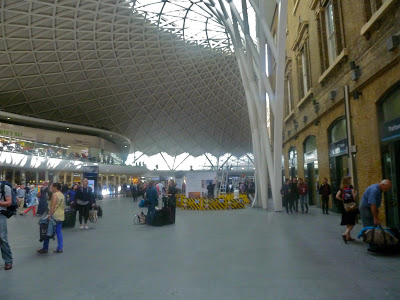 The modern ticket hall.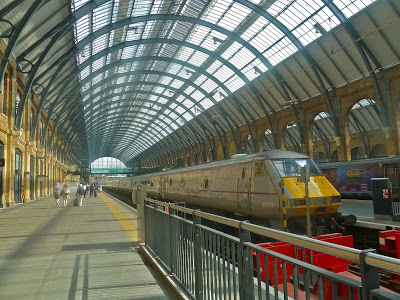 The platform area.
The train we took terminated at Peterborough, which is a relatively far distance, so the only stop between Kings Cross and Stevenage was Finsbury Park.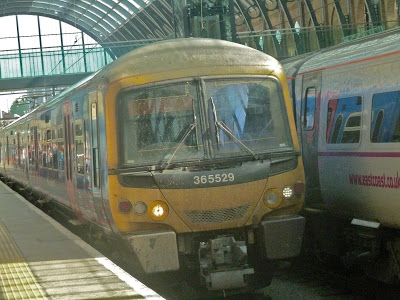 The train from the front…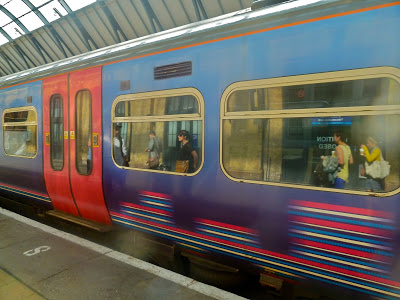 …and the side
The interiors of the trains have forward (and backward) facing seats (Hooray!), some in groups of four and some in two. You can walk between cars, something I didn't have to do on my journey. The trains have door-open buttons (something I love), and every time the train arrives at a station, there's a "ding" noise, and the buttons light up for the passenger to push. The trains also have automatic announcements saying the current stop name, as well as the list of stops the train makes.
Forward facing seats! Yes!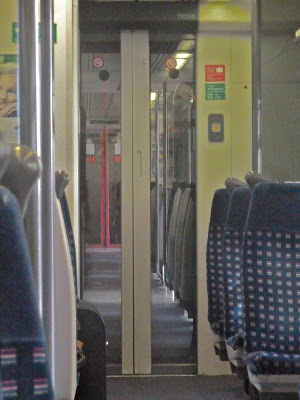 The doors between cars.
The ride was very nice; it turns very rural soon after leaving London, so the train travels through the country with some nice views along the way.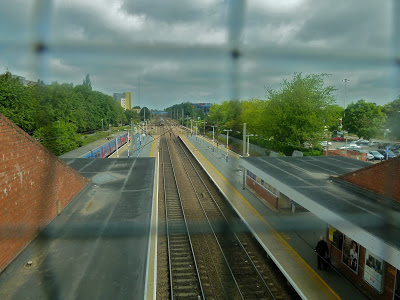 Stevenage station.
Stevenage station was pretty standard fare, with covered platforms connected by a lobby area, but interestingly enough, the station uses the same fare gates as the London Underground! We were a little confused, so we just gave our tickets to a real human, who gave them back and said we needed them for the return trip. My mother's friend picked us up, and after tea at his house, we drove off to the Nene Valley Railway in Wansford. Wansford is the hub of the Nene Valley Railway, and it's also where the yard is located.
I got very nervous when we got there and found out it was "Thomas the Tank Engine weekend." Turns out that the Nene Valley Railway was the first in the world to have a replica of Thomas the Tank Engine. When we got there, they were about to give Thomas a rehabilitation, so they were letting people see him one last time. We, however, went to buy our tickets.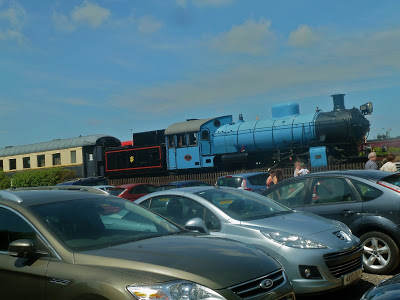 A locomotive at Wansford.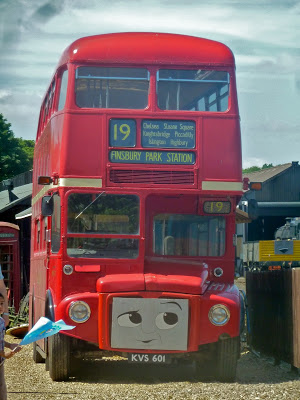 A Routemaster bus with a face at Wansford. I have no idea what the character's name is in Thomas.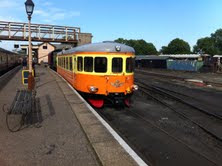 A newly restored Swedish Rail Bus at Wansford (P).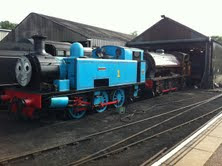 Thomas at Wansford (P).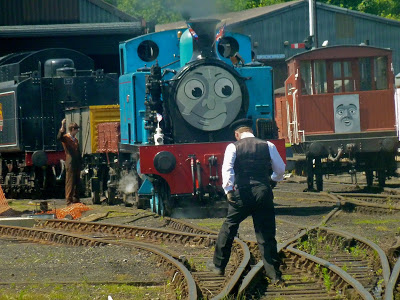 Another view of Thomas.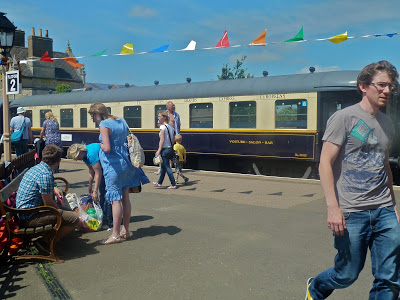 Another train at Wansford.

Click on the map to make it larger.
Tickets are 15 pounds for adults and 8 pounds for children (a bit steep, but such a rural railway is probably expensive to run). Trains run from Wansford to Yarwell Junction (which we didn't do), then turn around and make the full journey to Peterborough (remember that?). Trains run different schedules, depending on the day, but since it was a gala weekend when we were there, trains were running more often – every 2 hours. Our train came (with a teddy bear face on the front), and we headed off to Peterborough.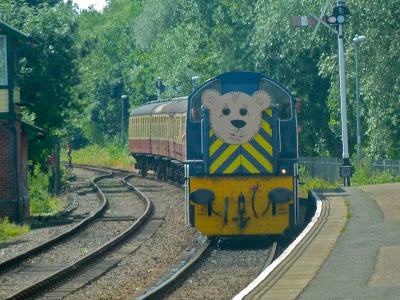 This is at Peterborough.
The car we were in had forward and backward facing seats, as well as a lot of screaming kids. The seats were comfortable, at least. However, on the ride back, we rode on a different kind of car with compartments. It was nice being able to shut ourselves into a compartment with four seats and not have to worry about our eardrums imploding. The railway mostly parallels the River Nene. There is a long distance between Wansford and Ferry Meadows (the next station), and then they get closer coming into Peterborough.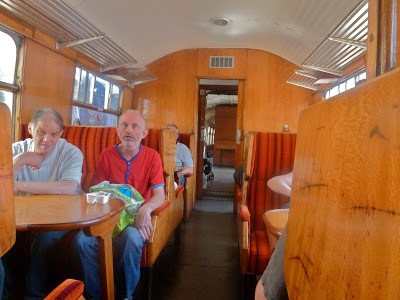 The interior of the train.
It's a mostly rural ride, but there are some lovely views along the way. Entering Peterborough things start getting more urban as the train heads through people's backyards. Residents wave as we go slowly by, and then the train enters Peterborough. There is also a short spur from the track going to the Network Rail main line tracks into town. We didn't go into Peterborough proper (although it looked like a nice city), and instead had lunch in a restaurant along the River Nene. Coming back, we decided to visit a place called "
Railworld
," right next to Peterborough NVR Station.
It cost us 13 pounds for four people to get in, but there wasn't much. There was a place with a few old locomotives, then there was a room with interactive things that had nothing to do with trains. The main room (in my opinion) was a room with model trains and lots of posters. I thought the model trains weren't that great, but that's simply because I was spoiled by
Miniatur Wunderland
. Overall, I thought it was a nice little area.
Some trains on the model railway.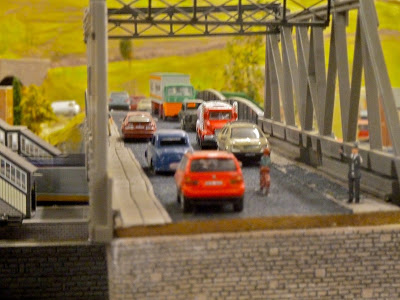 A view of a bridge.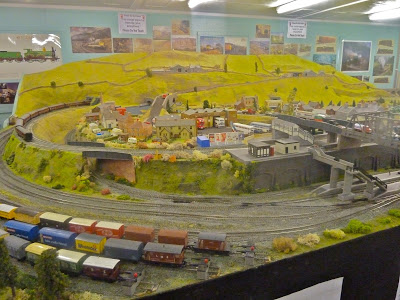 The large model railway.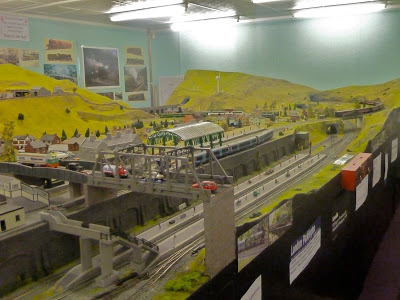 And again.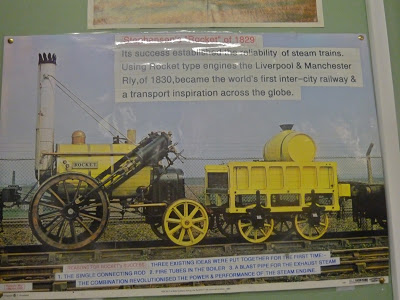 Stephenson's Rocket, the first locomotive ever.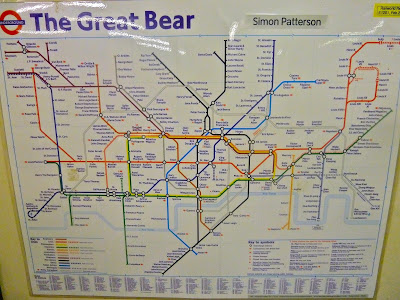 This is amazing. Click on it to make it larger.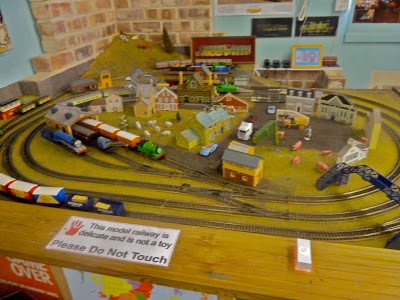 A smaller model railway.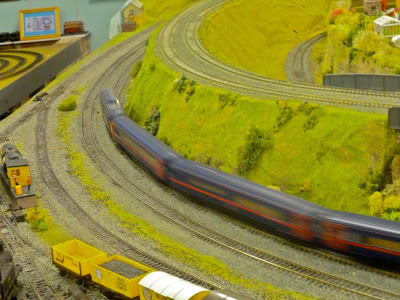 A train on the large one.
Leaving the model railway room, a short walk brings you to an observation platform of the Network Rail yard. It's very old, and people aren't allowed on it, but they are allowed to climb the stairs to it.
]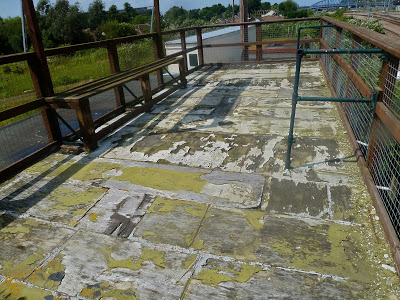 Ew…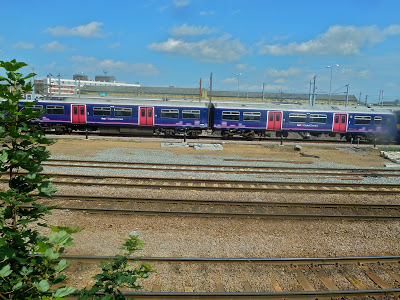 Nice view, though.
There is also a beautiful nature area, which again has nothing to do with trains (I think "Miscellaneous World" may be a better name for this place). Although it was a bit expensive, I still enjoyed the visit.
We then took the NVR back to Ferry Meadows Station, which has a
huge park
in walking distance of the same name. The main feature of this park (for me, anyway) was the
miniature railway
, a short train that takes you from one end of the park to the other. It has an absolutely tiny gauge of 10 1/2″, and fares are £1.50 one way. The seats are tiny, however, and hard to fit in if you're not a kid. Nonetheless, it was a very pleasant ride, and it allowed us to see the goings-on of the park (although the fares are pretty high for such a short ride).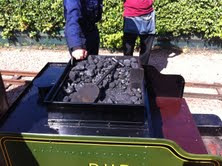 Coal on the locomotive (P).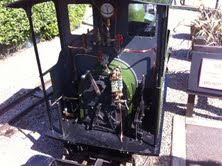 This is where the driver stands (P).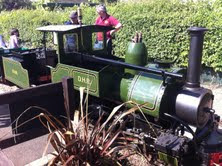 The locomotive itself.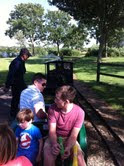 Tiny, isn't it?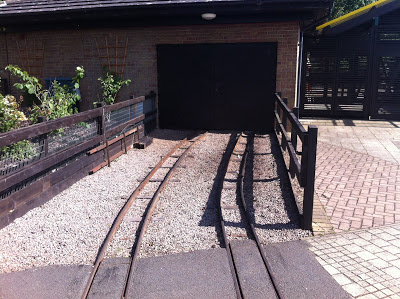 The garage for the trains.
And that's it for my Europe trip. There's probably going to be one more post to get out all the pictures I forgot, but we're mostly done for Europe. Next time, we're coming back to New England (but not Boston) for a look at the bus system in Burlington, Vermont. By the way, you probably noticed the new "submit" area on the side of the blog. Comments and guest posts are welcome, although please don't spam me.