Surprisingly, I managed to persuade my mother to take a few buses in London. Of the four we took, none were from beginning to end, but I was happy that I was able to have the experience of riding a double-decker bus. London's buses are actually run by different companies. I find that interesting, and I wonder if the network was or plans to become unified.
4 (Archway Station – Waterloo Station): We ended up taking the 4 from the Museum of London to one stop short of Waterloo to see a play (only about a third of the route). London buses run so often that their schedules at shelters often just show the frequency rather than exact times, and the 4 was no exception. It runs about every 10 minutes, which is a fine schedule.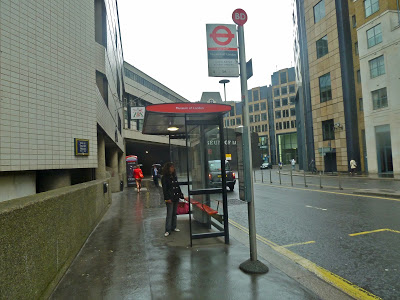 The bus shelter.
The bus eventually came. It was the classic London red double-decker bus. Upon walking in, I was surprised to see that the driver was in his own glass compartment. I didn't really like that, personally, although I suppose it's probably for security. I immediately went up the stairs to the second floor and nabbed a seat right up front. It's amazing being on the second floor of a double-decker bus, especially right up front.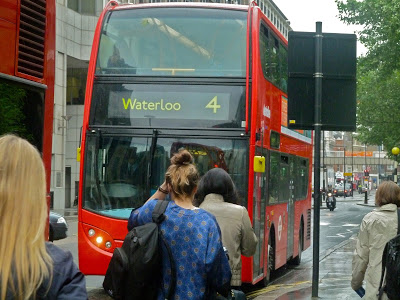 Those darn people got in the way!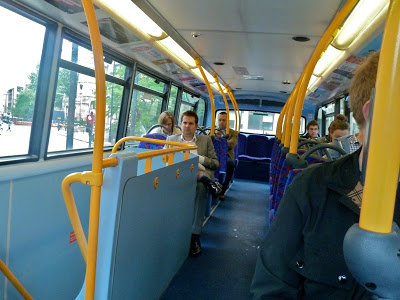 The interior of the 4.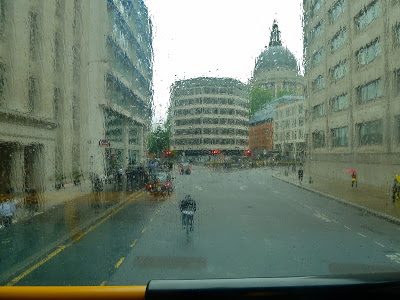 Boy, what terrible weather!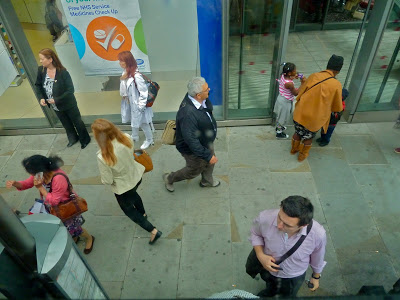 A view of all the people from the top of the bus.
On London buses in the city center, people get off at pretty much every single stop, and pretty much every single stop is at a Tube station. Admittedly, the 4 runs parallel with the Circle and Central Lines for our portion of the route, but it's in the middle of the two and is too far to connect with either of them. However, the bus goes right by such landmarks as St. Paul's Cathedral and the Royal Courts of Justice. Stops were announced, but there was no display screen (except one that says "stopping" when someone requests a stop). The stop names are mostly streets, and every time the bus opens its doors, there's a "4 to Waterloo" message.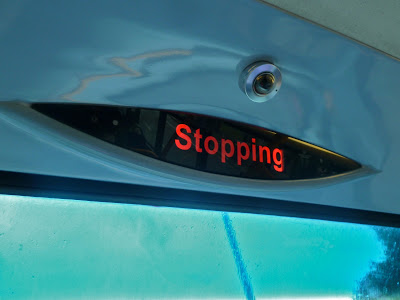 You see this a lot.
Finally, there was a lovely view as the bus crossed over the Thames. We got off at the stop right after the Waterloo Bridge, but it was a great ride.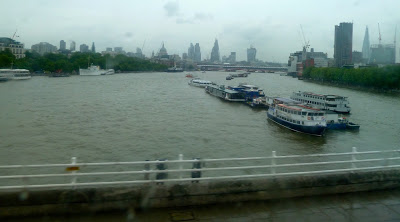 Nice view, despite the rain.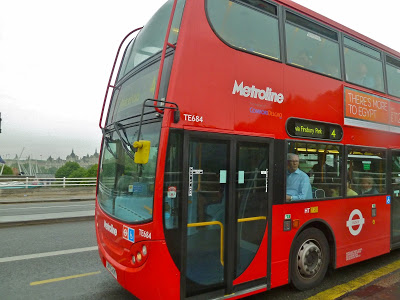 An odd angle; it's a lot harder to take pictures of double-decker buses!
188 (Russell Square Station – North Greenwich Station): I really hate the 188. Sure, it goes right where we were staying (Russell Square), it runs every 8 minutes, and it runs 24 hours a day, but it's just evil. We were waiting for it at Waterloo after our play, but it just whizzed right by us! My mother insisted on trying to dart through crowded London traffic to reach the bus as it was stuck at a red light, but when we tried to get on, the driver stared at us like we were crazy and we had to dart back to the sidewalk. We ended up having to walk the rest of the way, which really isn't that bad, but still…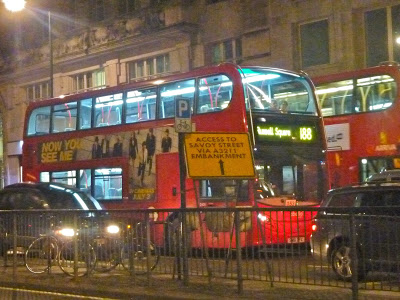 Hmph.
A few days later, we wanted to go to Waterloo again to see the London Eye, and we figured we'd give the 188 a chance. It picked us up this time, luckily, and I nabbed that second-story front seat again. I realize now that we only took the bus less than a fifth of the route, but it was still a nice ride, going over the same bridge as the 4. This time, there was a display screen with stop names, which was nice.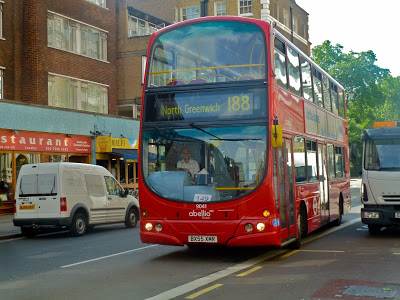 Beautiful!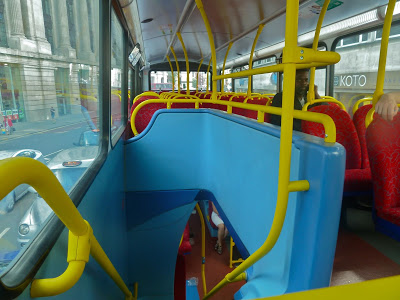 The interior of the 188 – love those red seats!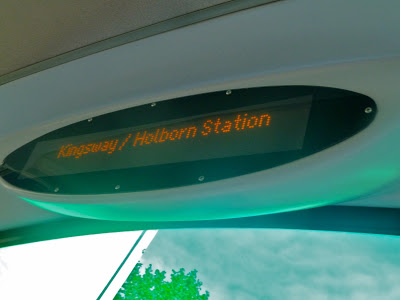 Ah, a proper screen.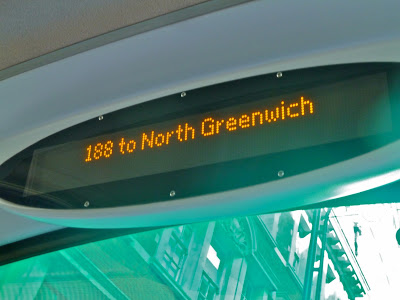 And again.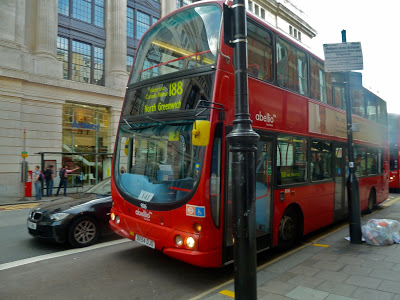 Argh, a bad angle.
24 (Hampstead Heath Station – Pimlico Station): The classic double-decker buses in London were called "Routemasters," but they aren't used on city buses anymore. Sure, there are tours that use Routemasters, but it's not really the same thing: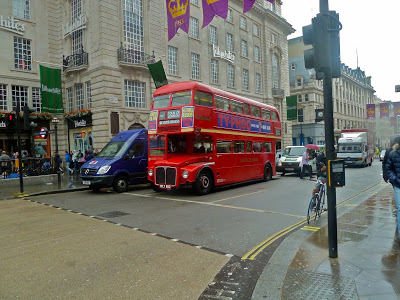 The classic Routemaster on a tour route.
Well, I had the good fortune of coming to London only a week after they replaced the 24's bus fleet with new Routemasters. They're more like "Routemaster 2.0" or something like that, but they have a few similarities with the old buses, most prominently the open back door where a second conductor stands to collect fares.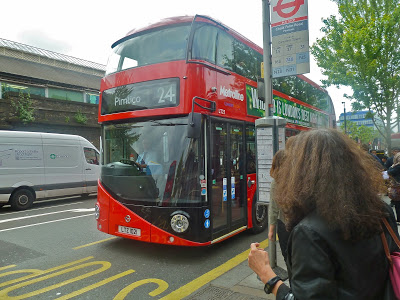 The 24 at Camden Town.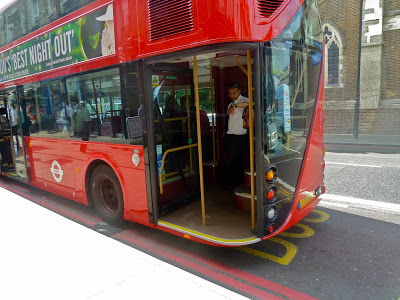 That conductor in the back looks bored.
Unfortunately, I only took the 24 a measly TWO STOPS. I really can't say much about the route because I BARELY TOOK IT AT ALL. Sorry, 24.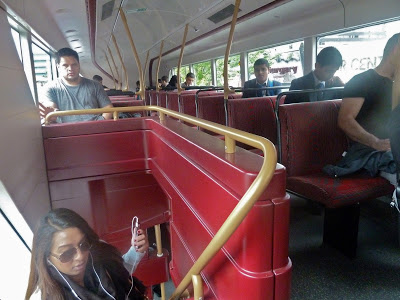 Nice interior.
27 (Chiswick Business Park – Chalk Farm Station): We picked up this bus from where we got off the 24 to go to the southern part of Regent's Park. I only took about a fifth of the route (as usual), so I can't really say much about it. Instead, I'll just complain about the fact that I could've taken the 24 a lot farther and been in walking distance of Regent's Park. Thanks for nothing, 27!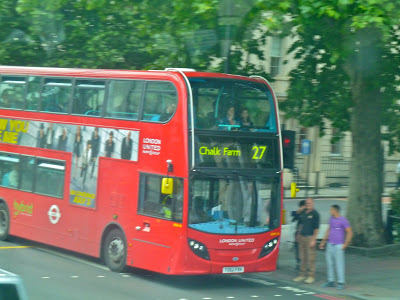 The 27 from the upper deck of a 27 bus.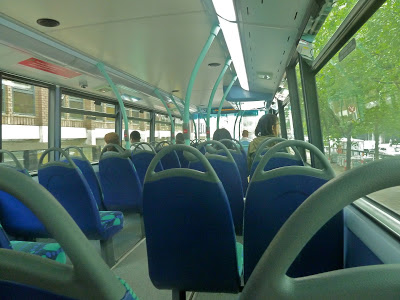 Stuck in the back of the bus – darn!
The Rest: Some other pictures I took of buses: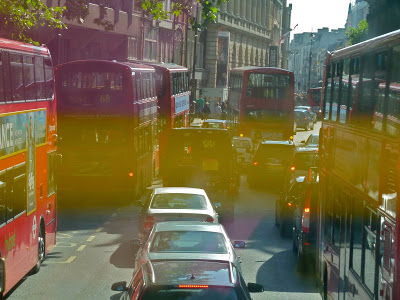 Quite a few buses – I don't know why there's a yellow streak across the picture, though.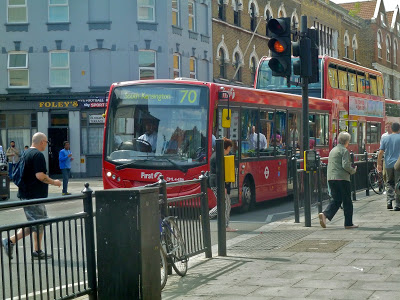 A single-decker bus? How insulting!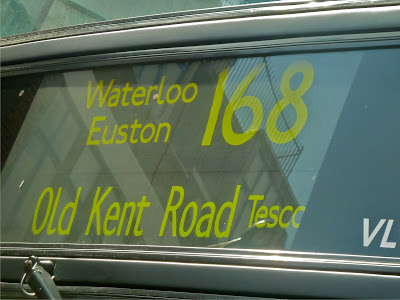 Tesco is a major supermarket chain in London. PRODUCT PLACEMENT!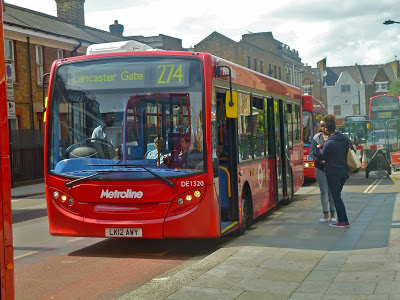 Another single-decker!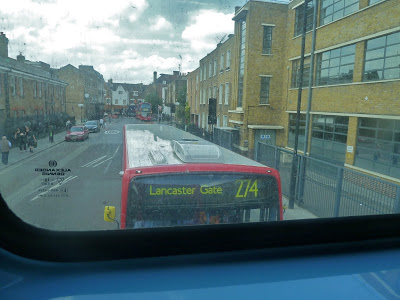 A single-decker bus from a double-decker!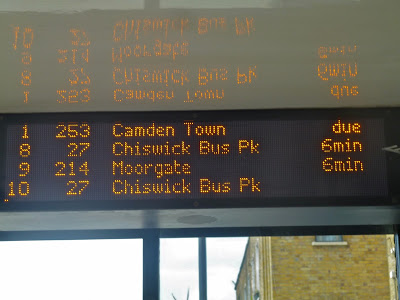 These countdown clocks are convenient.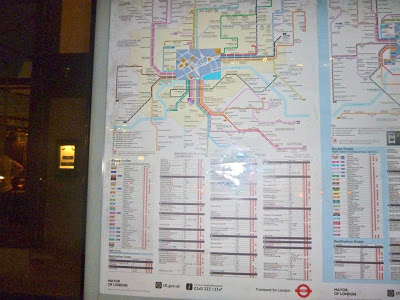 A bus map in London.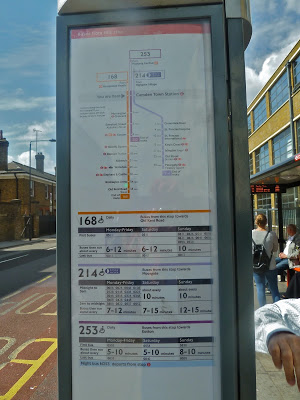 This information is provided at every stop.
That's it for the London buses! Next time, there's a few transit oddities that no one's ever heard of, as well as a Network Rail ride!