It's a testament to the size of SEPTA's suburban network that so many Regional Rail termini have bus connections. While the 22 to Warminster is nowhere near the odyssey of the 55 to Doylestown, it's still impressive that an entire Regional Rail line can have a local bus pretty much paralleling it the whole way! Would there be much less need for a bus if Regional Rail had more frequent service and cheaper fares? I mean…yeah…
The 22 doesn't actually begin at Warminster Station – to get to the real terminus (because we don't play around here at Miles in Transit), you have to walk about ten minutes down the road to its odd little terminal stop: no sidewalk, an apartment building on one side, and a fenced-off industrial one on the other. Unexpectedly, three people were already on the bus at this first stop, but that's still no excuse to leave two minutes early the way we did! We crawled through a housing development, eventually popping back out onto Jacksonville Road.
Jacksonville Road was a mix of transit-oriented apartment complexes and likely-unintentionally-transit-oriented industrial buildings. We performed a deviation into Walmart, because…I dunno, why not?…before coming out onto Street Road, a wide avenue with suburban houses and businesses. We took this up to York Road, where we hung a left to start heading towards Philly, passing more businesses.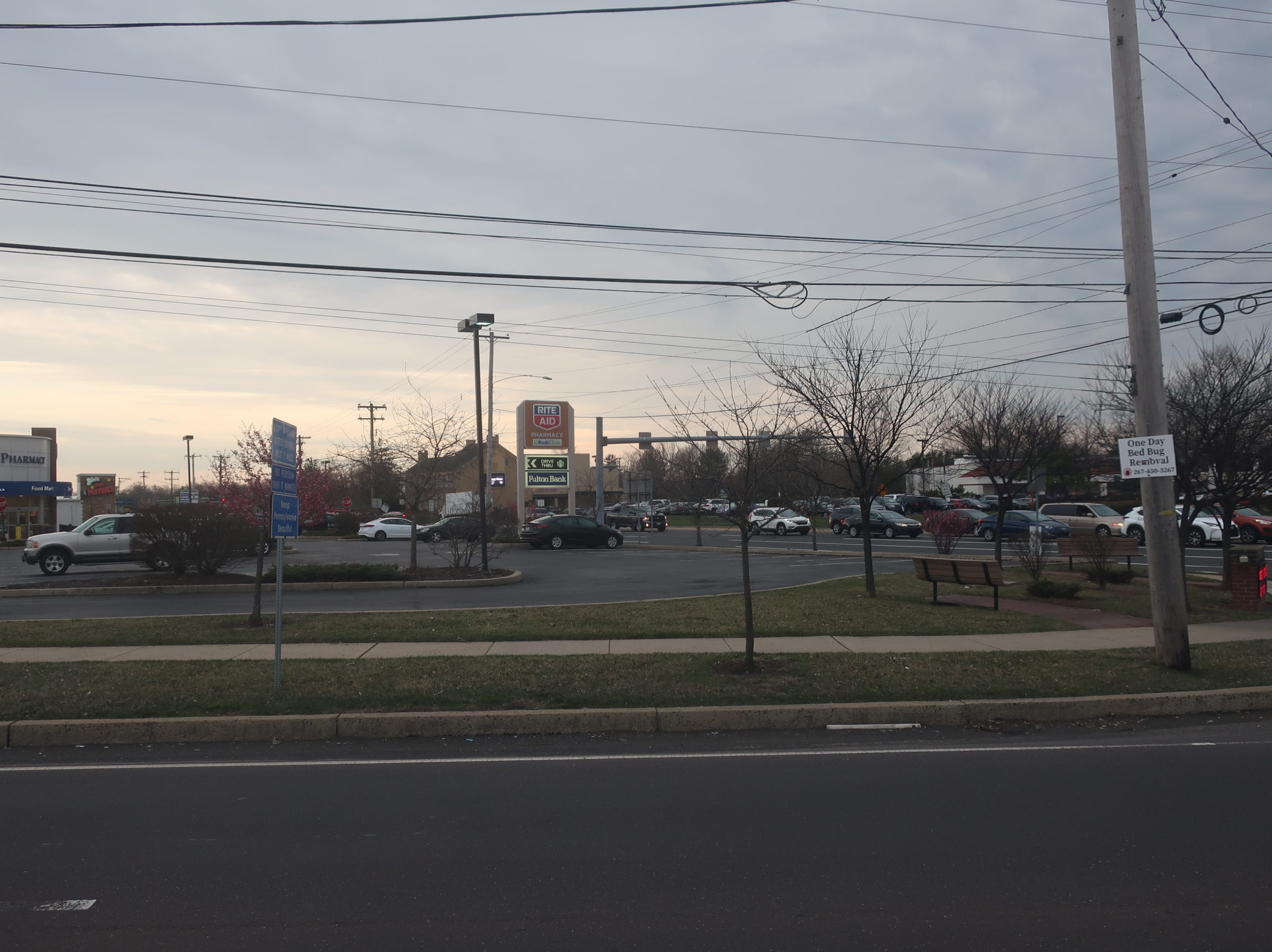 The sprawl was consistent, leading us all the way down to the intersection of County Line Road, which acts as the dividing line between Bucks County to the north and Montgomery County to the south. While the road remained mostly commercial, the businesses were now mostly in houses, consisting of home medical offices and funeral parlors and stuff like that. Soon we entered downtown Hatboro and York Road became its pedestrian-friendly main street a block away from its train station.
We crossed over Pennypack Creek south of downtown Hatboro, passing through a residential neighborhood before going under I-276 into an industrial area. The entrance to the Upper Moreland High School appeared around here before a brief residential section, but that devolved into the giant suburban businesses of Willow Grove. We performed the route's deviation to the Willow Grove Park Mall, a hub for other suburban SEPTA routes as well as the terminating point for most 22s coming from Olney.
York Road, the street we were on before, headed in another direction, so we were now on a different main drag: Easton Road. There were lots of auto dealerships along here (all named after and presumably owned by someone named Marty Sussman), but also lots of other car-related businesses like tire shops and used car dealerships! It did change to more traditional retail eventually, and with relatively tasteful parking lots for such a car-oriented area.
We passed Rosslyn Station as the Warminster Line awkwardly had a level crossing across a four-way intersection. After that it was a real mix of stuff, from houses to a huge variety of businesses, including a mini-golf course!!! We also got some fabulous Tudor style buildings at the immensely charming Keswick Village, whose main street branches off from Easton Road.
A buffer of houses separated Keswick Village and Glenside, another nice downtown with a bunch of businesses. This one has a Regional Rail station, too. Easton Road served as Glenside's main street, but the businesses along it got more suburban the further away we got, and a brief, almost rural section took us through the campus of Arcadia University. We travelled through a highway interchange with Route 309, then a huge cemetery lined the road as we came alongside Cedarbrook Plaza right on the Philly border.
Indeed, we turned onto Cheltenham Ave outside of the plaza, which literally forms the border between Montgomery County and Philly. Along here, we passed a giant church along with several smaller churches, as well as rowhouses on the Philly side of the road. Lots of businesses surrounded the intersection with Ogontz Ave, including what is known on the 22's schedule as the "Cheltenham Square Mall", but what in real life appears to be called "Greenleaf at Cheltenham".
The Philly side of the road was pretty consistently rowhouses, but on the other side was this absolutely massive planned housing development. Retail showed up too, more often than not accompanied by parking. Soon after we passed a cemetery, we turned onto Broad Street at its very end – it sure is weird travelling down Broad Street up this far, when it's just a leafy road lined mostly with rowhouses.
Because SEPTA likes being confusing, the 22 only stays on Broad Street in the northbound direction. Southbound people? Nah, you're going on Old York Road. It basically just curves a tiny bit away (no more than a block) from Broad Street for a bit before curving back. It was home to a few apartment buildings, some churches, and a ton of rowhouses. Just before the road merged back into Broad Street, we took a left onto Nedro Ave before swinging a right onto the residential Park Ave, a half-block away from Broad. This was just so we could loop into the Olney Transportation Center, which was, coincidentally, very close by!
Route: 22 (Warminster and Willow Grove to Olney Transportation Center)
Ridership: The route gets an average of 4,640 riders per weekday, and most of those are concentrated in the portion south of Willow Grove Park Mall. For example, my ride got a total of 44 people, but just 15 came from north of Willow Grove – plus, the route is significantly more frequent on its inner section. It's also worth noting that while there's definitely a contingency of people who commute into the city using the 22, it also has a significant amount of reverse commute ridership, both to Willow Grove and to Warminster.
Pros: Willow Grove is a huge destination, exemplified by the fact that SEPTA can have two rather popular routes that travel there from Olney, the other being the 55. Both of these routes also travel to faraway places, with the 22's Warminster section seeming to nab pretty good ridership, especially in the reverse-peak direction. It helps that the schedule is so well-optimized: weekday midday service is every 20 minutes as far as Willow Grove, and every third bus continues to Warminster, creating hourly service. Of course, the route is more frequent to both at rush hour, while the Saturday schedule operates every 30 minutes to Willow Grove and hourly beyond – reasonable for a suburban environment.
Cons: Night service is about hourly, despite the fact that some night trips appear to get busier than peak ones. The Sunday schedule is rough, too: it's about every 40 minutes to Willow Grove and every 80 minutes to Warminster, but not only that, the departure times are really inconsistent to boot (2:50, 3:29, 4:08, 4:50, etc.). I'm also not a fan of the "Old York Road southbound, Broad Street northbound" routing that happens north of Olney – just pick one, they're both bidirectional streets! The route is long, so on-time performance lags behind at 76%. Also, while variants are kept to a minimum, the nine trips that take an "express routing" and save at most three minutes…come on, let's keep things simple. And finally, while this is sort of a nitpick, there's no effort at coordinating the 22 and the 55 to Willow Grove or the 22 and the 16 to Cheltenham-Ogontz (and the latter is along the same roads!), despite the fact that all three run at the same frequency. I know it would be really hard to do so I'm not weighing this too much into the score, but it would be nice.
Nearby and Noteworthy: Definitely there are a few notable places along the route, but Keswick Village really seemed awesome! I loved the architecture there, and it seems like a great place to walk around, get a bite to eat, and see a concert at the local theater (er…once concerts become a thing again).
Final Verdict: 7/10
I'm honestly impressed with this one! The schedule is really solid, keeping things generally simple (besides those few "express" trips) and balancing frequencies well. Nights and Sundays could definitely be better, but it is a suburban route, so I cut it a little bit of slack. While I would say that the inner part of the 55 is better than the inner part of the 22, the strength of the 22's outer section (including running hourly six days a week and having just one variant past Willow Grove) makes it my preferred route between the two.
Latest SEPTA News: Service Updates