Okay, so we have this bus system, see? It's pretty good for getting into Providence, see? But what if you wanna get across to somewhere other than Providence? Let's just create a route that runs across the entire system in the south! It'll be a beast. It'll take forever to do a trip. We'll call it the 29.
And there it is!
Okay, turned out it had to make a layover first. But it eventually came back, and it was time to go! We ran up Bald Hill Road through the woods for a tiny bit before turning onto Ginsu Way, then Quaker Lane. This served two purposes: turning the bus around after serving Cowesett Corners, and serving the Kent County Courthouse.
Waiting to make a left turn on Bald Hill Road.
We returned to Bald Hill Road, although it was now called Quaker Lane, then we turned onto Cowesett Ave. This was lined with suburban businesses with parking lots, but there were dense houses once we turned onto Main Street (as well as some smaller retail buildings). We crossed the Pawtuxet River and passed more houses on the other side, but things were getting denser as we got closer to Arctic Center.
A hilly intersection.
We came into Arctic Center proper, where Main Street became lined with businesses on both sides. We also joined the 13 here. The center was quick, though, and soon we were just passing dense houses again. Now, the 29 usually has a deviation right around here, but because of bridge construction, it became a jog instead. Yes, it's time for a crazy detour route!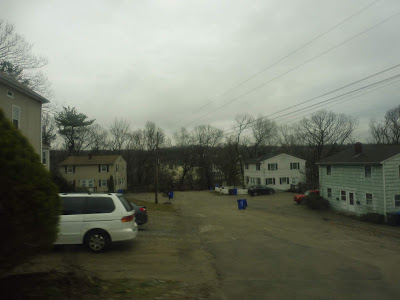 Some houses on a dead-end street.
Thus, instead of just going right over the Pawtuxet River, we turned onto Maple Ave, a hilly street lined with dense ol' houses. It reached its end and we turned onto Fairview Ave, which allowed us to go over the Pawtuxet River and arrive at Phenix, a little downtown centered around a common. What was the timepoint named after? The Phenix Hotel. Interesting.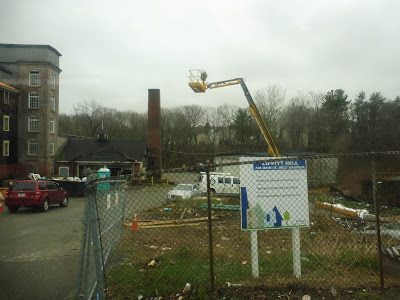 An old factory getting redeveloped.
We turned onto Main Street, which went by some industrial buildings, some businesses, and some houses (so basically everything!). Crossing the Pawtuxet River on the bridge we were supposed to take the other way (it was only open in one direction), we returned to the main route by turning onto East Main Street. We then went around a roundabout onto Providence Street, once again crossing the Pawtuxet River and going by a redeveloped factory.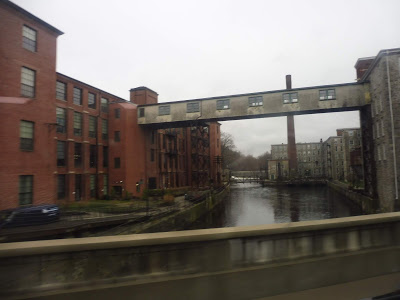 Going over the river.
After that, there were some houses, but it turned to suburban businesses quickly. We merged onto Toll Gate Road soon, then we turned onto Bald Hill Road. Yes, that's the same Bald Hill Road that Cowesett Corners way back at the beginning of the route is on. Yes, what takes 25 minutes by bus is only a four minute drive. Wonderful.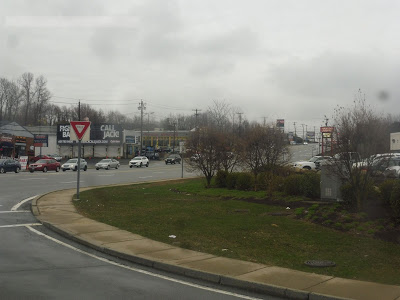 Gritty Bald Hill Road.
This huge street had a ton of suburban businesses with parking lots along it, and practically nothing else. It even got itself an unnecessarily wide median! We took this thing over the Pawtuxet River yet again, then under I-295. From there, it was time to deviate into the Warwick Mall. But wait…the Warwick Mall stop is way down at the opposite side of the parking lot. Would we have to deviate all the down there? Yes. Yes we would.
Stilllllllllllll going.
After that mess, we came out from the mall and made our way back onto Bald Hill Road, heading in the opposite direction. We went under I-295 and over the Pawtuxet River again (for the last time!), then we had to deviate into the Rhode Island Mall. Turned out that was easier said than done, thanks to Bald Hill Road's big median I mentioned before. We had to enter the mall parking lot north of the mall, then curve our way around to the actual stop.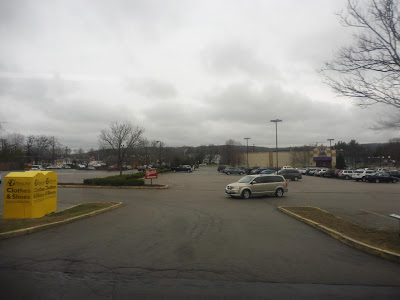 Going through the mall.
Were the deviations done yet? Nope, we now had to do one to CCRI! So we went down East Ave for a bit, then we turned onto the road up to the community college. After making the stop outside of the most brutalist building ever, we had to go allllllllllll the way to the end of the parking lot, then take a road down a hill through the total woods.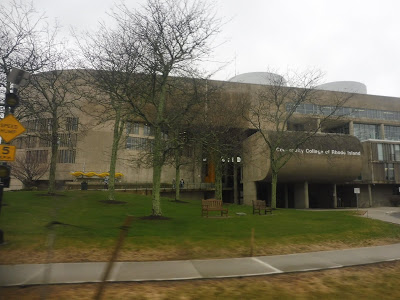 Peak brutalism.
We finally turned onto Commonwealth Ave, then onto…Toll Gate Road. The same Toll Gate Road we were on before all this deviating. So…from that point to here was quite literally 22 minutes by bus…or a 9 minute walk. And just for fun, let's do it from Cowesett Corners to here! 53 minutes by bus…ten minutes driving. Even walking is faster, at 41 minutes! Yes, I know this whole area is ridiculously unwalkable, but I'm just saying, it's faster than the bus.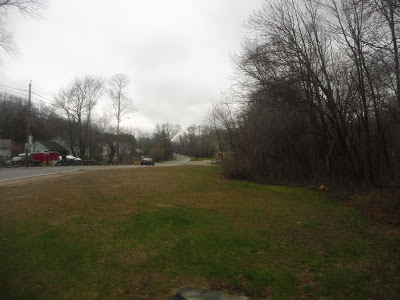 Leaving the college.
Luckily, the route would be a lot straighter from here. We passed Kent Hospital, and soon after, we went under I-95. There were some offices before we came to a roundabout, marking our entrance into the village of Apponaug. We looped around its "downtown" via Post Road, but I've never found it to be a very interesting place. It's mostly just suburban businesses and houses.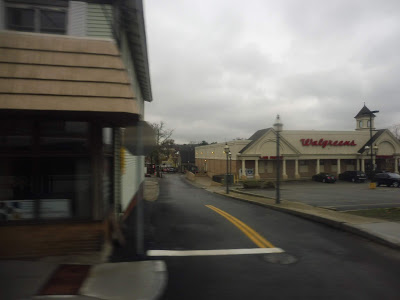 Well, at least there's a Walgreens!
We merged onto West Shore Road, going under the Northeast Corridor and heading into a mostly residential area. It was houses galore until we hit some suburban businesses at the intersection with Buttonwoods Ave, a transfer point for…oh, the 8x! Interesting! We were joined that route for a bit as the scenery went back to being residential, but once the businesses came back, the 8x turned onto Strawberry Field Road. Meanwhile, we merged onto Sandy Lane.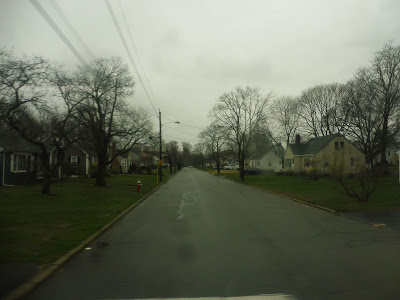 A generic side road.
There were a few apartments along here, but nope, it went back to being houses once again. This was until Warwick Ave, a commercial street that was also home to the 3 – excuse me, the 3B. We briefly joined it on Warwick Ave, but we left it on Church Ave soon after. This went back to being residential.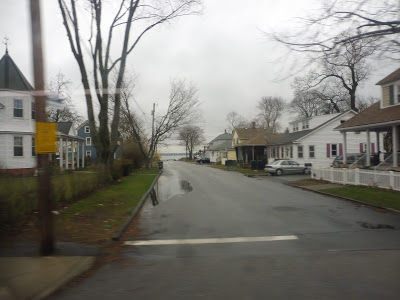 Water!
Church Ave ended and we turned onto West Shore Road, joining the 3A. It was still mostly houses, but there was some retail sprinkled throughout the neighborhood. We curved around toward Narragansett Bay, getting brief views of the water down the side streets. We were just entering a cute village called Conimicut when we turned onto Beach Ave, travelling for one block before reaching the final stop at a little park.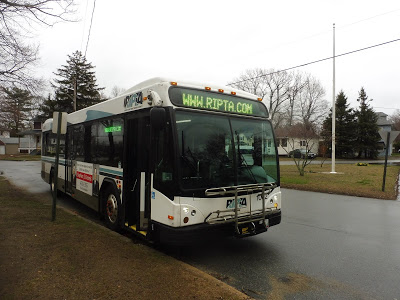 Out of service? Darn it!
RIPTA Route: 29 (Cowesett/Kent County)
Ridership: According to that ridership report I found from ten years ago, the route got less than 100,000 people in 2008. Assuming it still ran six days a week like it does today, that's about 333 people per day – not a lot of people. I actually think that's somewhat similar to what the ridership is like now, though; my ride got 25 people, and based on the number of trips this route has per day, it would add up to around 300-350 riders.
Pros: Well, you certainly can't say the 29 doesn't serve a lot! This gigantic route cuts across West Warwick and Warwick, which is a much longer distance than it sounds like because Warwick is a gigantic town. The 29 is also one of RIPTA's only crosstown routes, and they could honestly use more of them, but this is a start.
Cons: It's…so…long! You saw my time comparisons earlier in the review! This thing goes all over the place! Also, because a one way trip takes forever, the 29 can only run so frequently – how does every hour and a half, Mondays through Saturdays sound to you? Pretty bad? Yeah, I agree.
Nearby and Noteworthy: Most of the places on the route like the Warwick Mall or Conimicut are already served by routes out of Providence. As for the places that just the 29 serves…well, they're just not that exciting.
Final Verdict: 4/10
I gotta give it points for being a crosstown route in a very un-crosstown system, and the route certainly serves a ton, but that's about it. It's also infrequent and indirect, and those things count pretty badly against it. It's just hard to use a route that runs every hour and a half and looks like that.
Latest MBTA News: Service Updates