Gosh, it's too bad the 13 and the 29 end so far apart from each other. Seems like the only way to take each of them from beginning to end is to ride out and back. Hang on…what's this? A Flex bus in West Warwick and Coventry? And it connects the two routes together? Well, this is perfect!
The day before, Sam and I called up the Flex number. We used his phone this time, because we didn't want to confuse them
any more than we already had
. But I guess we called too late, because…they couldn't accommodate our request. The bus was already booked then. Darn it! So we pored over all the bus schedules again, found a new plan with different times that worked, and called back. Great, we were in now. Well, that was annoying!
We still had to wait a while after our
13 ride
, since they couldn't accommodate us immediately after the trip. Well, we got to do a treacherous walk to Ocean State Job Lot from Woodland Manor. That was a blast. Once we got to Ocean State Job Lot, we wandered around until discovering the bargain books section, and some of the gems in there kept us entertained until it was time for the bus to show up.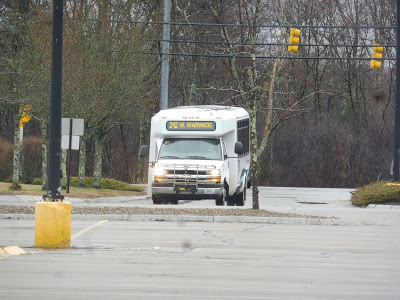 Here comes the minibus!
We pulled out of the Ocean State Job Lot and made a left onto Tiogue Ave. It was mostly lined with suburban businesses with parking lots. We split off from the 13, which merged onto South Main Street, but here on Tiogue Ave, the businesses continued until we passed Tiogue Lake. After that, it turned to regular houses.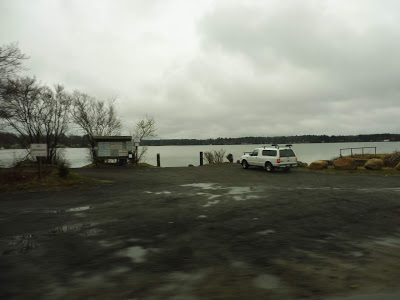 Along the lake.
Eventually, the suburban businesses made their return. Tiogue Ave became Main Street as we entered West Warwick, then it turned into Cowesett Ave when we were joined by the 29. There were houses along here for a bit, but nope, it was suburban businesses again soon enough. We pulled into Cowesett Corners, the end of our ride and the starting point for the 29.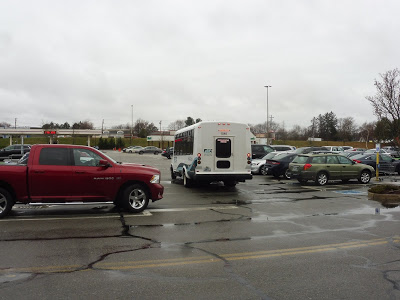 Departing the parking lot.
RIPTA Route: 242 (West Warwick/Coventry Flex)
Ridership: Well, it's high enough that we had to change our darn plans for it! That could mean only one person was riding at that time, though – Flexes deal with very small numbers. There was actually someone already on the bus when we boarded, but I have no idea where she got on or where she got off, since she left after us.
Pros: It gets good ridership! Turns out that might as well be a con in this case, though…
Cons: Yeah, so this thing is too busy. Maybe it's because the Flex Zone is too big, spanning from the Warwick Mall to almost all of the town of West Warwick, and a decent amount of Coventry, too. There's even a spur of the zone that runs down one road as far as East Greenwich! Also, the whole zone (which is pretty dense in places) just isn't covered all that well by fixed route service (you won't find anything in these parts that runs more frequently than every 90 minutes), making the need for an on-demand service higher.
Nearby and Noteworthy: Most of the important locations this thing serves are covered by infrequent fixed route service from the Warwick Mall. I guess if you'd rather get to them by having to call 24 hours in advance (or in this case, probably greater than 24 hours in advance in you want to get the time you want), be my guest.
Final Verdict: 3/10
What's the solution here? Do we add more buses to the inherently inefficient Flex route, or do we create some sort of Warwick Circulator? I see the purpose the Flex is trying to serve, by connecting less dense residential areas to the huge shopping centers of Warwick, so I'm inclined to say just add buses to the Flex. Then again, if there are common origins and destinations on this thing (obviously, I have no idea), a fixed route with minibuses could be worth the investment. The point is that right now, it's practically unusable because it's one bus that has to deal with requests across this whole huge zone!