For RIPTA standards, the 13 is about as far out as you can get on a local bus. In fact, this route goes so far out that it doesn't even go to Providence! That's right, we had to get this thing from the Warwick Mall. Boy, I sure do love that bus stop in the middle of its parking lot.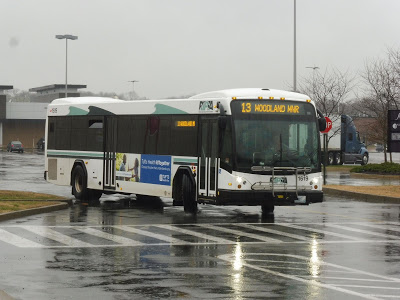 Here it comes!
Not only is the stop in the middle of the parking lot, though, it's in the middle of the lot's south side. And of course, all the mall exits are to the north, so we got to go alllllll the way up Lambert Lind Highway just to get out of there! It became Oaklawn Ave quickly, and it was lined with gross suburban businesses and huge parking lots.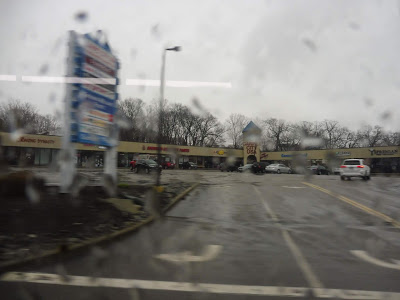 Ech.
Suddenly, we turned onto an on-ramp to Route 2, a pseudo highway, and had a brief express section, but we took the first exit onto New London Ave. This was a much different environment: all suburban houses, save for a brief bit when we went over I-295, a proper highway. At that point, we also departed the town of Warwick to enter the town of West Warwick.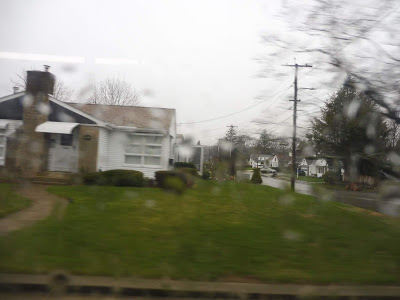 Some of the houses.
With the town change, we were now on Providence Street. The houses were starting to feel a little more urban, and there were some signs of retail and industry. We went over the Pawtuxet River, then we were joined by the 29 at the intersection with Toll Gate Road. There were more and more businesses and industrial buildings between the houses as we continued.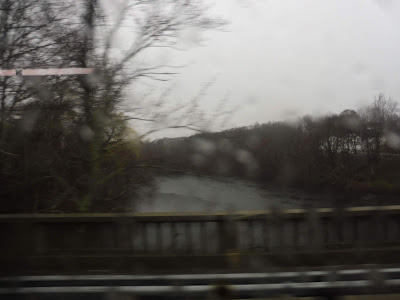 The rainy river.
We went over the Pawtuxet River again, passing some old mills and factories that have been converted to apartments. We merged onto East Main Street at a roundabout, and when that ended, we turned onto normal Main Street. It was still mostly houses, but there was also an apartment building, a pizza joint, and a library.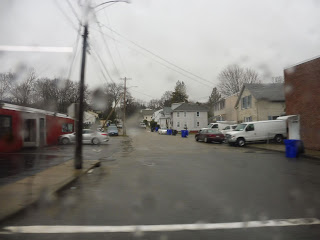 Feels a bit industrial here.
But soon, the street became lined with businesses. Why? Because we were now in Arctic Center! We left the 29 by turning onto Washington Street, where it still felt town center-y for a few more blocks. Once we left the downtown, the road turned back to being lined with suburban houses.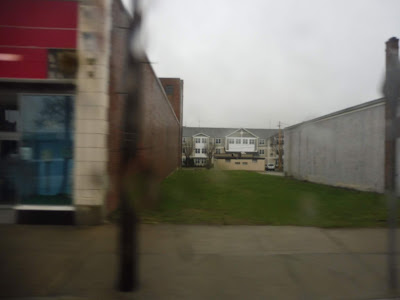 An unfortunate gap between two buildings in Arctic Center.
We merged with West Warwick Ave, marking our entrance into Coventry. There were now a few other types of buildings along the road, mostly businesses and industrial buildings. We curved along the Pawtuxet River for a bit before Washington Street left its shoreline. Soon after going by a cemetery, a police station, and a historical house-museum, we turned onto South Main Street outside of a shopping plaza, crossing the Pawtuxet River again.
A narrow side street.
It was more suburban houses along here until we merged onto Tiogue Ave. This wide road featured anything but houses, and everything along there had to have a parking lot. The route misses a Stop & Shop just before the merge, but it makes up for it by deviating into an…Ocean State Job Lot. Huh. Yeah, that's an interesting one to deviate into.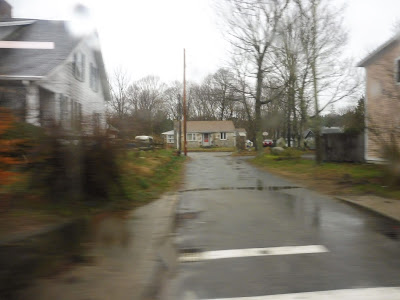 A house at the end of a short street.
We returned to the main road, which was getting increasingly middle-of-nowhere. We wouldn't be on it much longer, though, because we turned off into Woodland Manor, an apartment complex. The bus had to wait for a small layover before it could actually serve the complex, and that was a little weird, but we got off in the middle of the complex, ending the trip.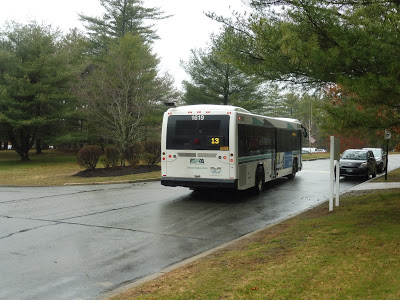 Back to the mall!
RIPTA Route: 13 (Coventry/Arctic/Warwick Mall)
Ridership: I finally found some sort of document that kinda shows RIPTA ridership! It's from 2008, so it's horrendously outdated, but it's the best we've got. It shows the 13 as getting around 225,000 riders over the course of the year, which works out to…wow, 616 people per day? Really? That's pretty weird, considering my weekday trip only got four people, and none beyond Arctic Center. Now I'm confused.
Pros: The 13 serves a very underserved part of Rhode Island. It only connects to the Warwick Mall, but out where the 13 goes, there's probably a lot less demand to go to Providence. If one does want to go to Providence, service from the Warwick Mall is fairly frequent, and passengers shouldn't have to wait too long there.
Cons: This thing never comes. It runs every 50 minutes at rush hour, but then at all other times…every hour and forty minutes. So, basically, completely unusable. Heck, if it was every two hours, at least the timing would be consistent! And the ridership (at least in 2008) is nothing to sneeze at, making the infrequent schedule even more annoying! Then again, my trip only had four people, so maybe ridership has gone down?
Nearby and Noteworthy: Arctic Center is the best thing you'll get, but even that won't last you for longer than about half an hour, unless you get something to eat.
Final Verdict: 3/10
There are two ways to go with this one: either the ridership is as high as it is, in which case the route is way too infrequent for its own good, or the ridership is lower, in which case the 29 duplicates a lot of the inner (and seemingly busier) section of this route – not a soul went on the 13's independent section on my ride. I dunno…I think I need proper ridership numbers to really give a verdict here.
Latest MBTA News: Service Updates