Isn't it sad how the only bus that runs in Lowell on Sundays isn't even run by the Lowell bus system? Yes, today we're checking out the MVRTA 41, doing its multi-jurisdictional trip from Lawrence to its milltown cousin to the west!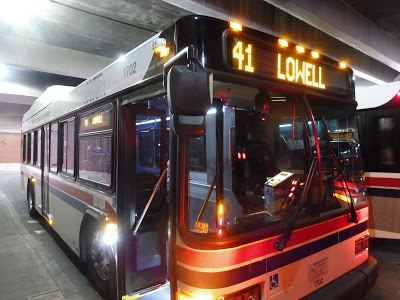 Tight quarters here at Buckley.
Of course the MVRTA has to board its busiest routes on the stupid tiny island in the middle of the
Buckley Transportation Center
. Argh. Well, we left the transit center on Essex Street, running past the businesses of downtown Lawrence. We soon turned onto Broadway, which had more retail along it.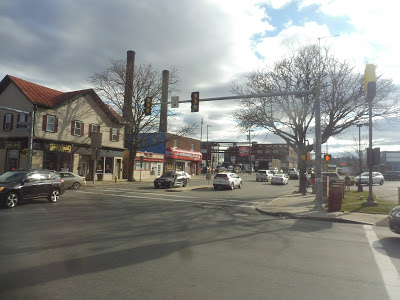 Some of the businesses of Lawrence.
We turned onto Haverhill Street next, which took on an industrial bent. However, the road became residential quickly, and we were passing mostly houses except for a few retail clumps. As we entered Methuen. things started to get more suburban, culminating in the big ol' Merrimack Plaza. But the 41 is a long regional route, of course it wouldn't…deviate. Darn it, I stand corrected.
Lovely.
We made our way around the parking lot to get onto Burnham Road, which took us south to Riverside Drive; there, we took a right. There was a brief industrial section before it turned to suburban houses and we went under I-93. There were a few businesses at the intersection with Lowell Street, onto which we turned, but it went back to being mostly houses as we ran alongside the Merrimack River.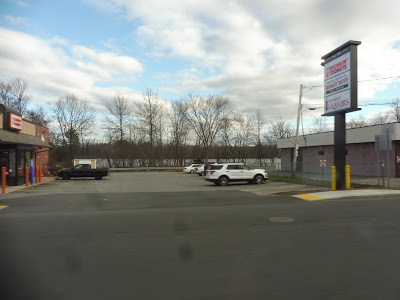 A little shopping area next to the river.
Among the other attractions we passed were a golf course and a go-kart track. There was a number of boathouses along here, as well as a few industrial buildings. And eventually, we more or less entered the woods! Once the road became Merrimack Ave, we entered Dracut.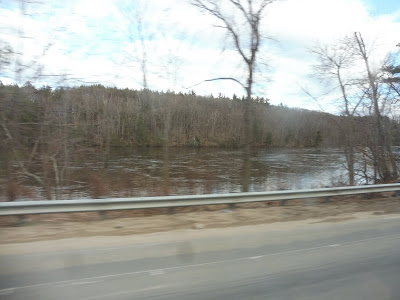 This is pretty!
The forest was eventually broken by this catering place called Lenzi's. From there on out, we were actually going by some reasonably dense houses and businesses. One problem: Lenzi's is where the route's no-stop zone starts. That's right, one can stop the bus when it's going through the complete middle of nowhere, but once it enters civilization, that's it! No stops!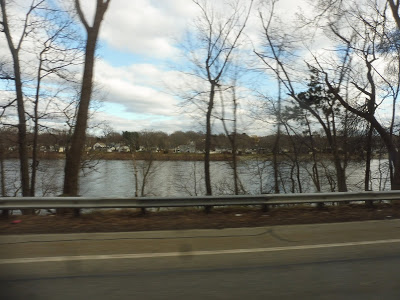 Bear in mind that the civilization was all on the other side of the road. To the left, it was just water!
We entered Lowell as the road curved past the city's water department, then we took an "exit" onto a roundabout, running around onto Nesmith Street. This went over the river, and we were now in a world of dense houses and apartments.We turned onto Merrimack Street, then High Street, then Church Street, which went over the Concord River.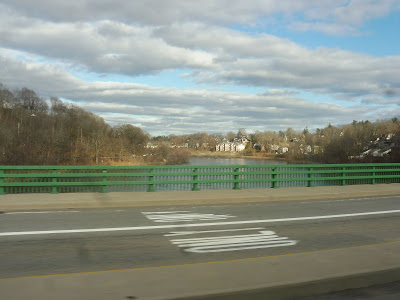 Going over the Merrimack River, not the Concord!
For some reason, the 41 does a Lowell-bound-only deviation to the UMass Lowell Inn and Conference Center, although it's more of a one-block jog. It just felt like a waste of time that didn't get the bus much closer to what it was trying to serve. We soon ended up on Middlesex Street, running past a few businesses but it was mostly just old factories. Finally, it was a left on Thorndike Street, and that took us to the Kennedy Center entrance.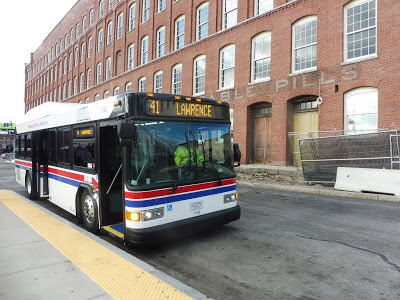 Much better than Buckley! You can also tell I was here a while ago because the footbridge to that building hasn't been built yet in this picture.
MVRTA Route: 41 (Lawrence – Lowell)
Ridership: Again, I've got to use ridership data from 2006 here. In that year, the route got 217,864 riders, which is about 600 per day. That's pretty good, and I wouldn't be surprised if it's gone up since then! My trip had about 20 people.
UPDATE: An anonymous commenter sent me a ridership report with 2017 numbers, and they have indeed gone up – WAY up. The route got 281,547 passengers that year, or about 771 riders per day!
Pros: I absolutely love to see this kind of inter-agency route. And look how busy it is! The 41 also runs a great schedule, operating every half hour all day on weekdays, with hourly service on weekends.
Cons:
Two things: the deviation in Lawrence that feels totally unnecessary (especially since
the 35
serves it anyway, albeit via a more indirect route), and the weird no-stop zones in LRTA territory are…weird. First of all, the big one in Dracut is super annoying, especially since
LRTA doesn't run any routes out that way
. Those communities have a bus that runs straight through them, but no one can actually
use
it, presumably because it's in "LRTA territory" (correct me if I'm wrong). Also, the stopping situation in Lowell is strange, with random places where the bus can stop that sometimes correspond with LRTA stops and sometimes don't. It's just another reason why the MVRTA should just use fixed stops!
Nearby and Noteworthy: There isn't all that much between Lawrence and Lowell, but the two cities themselves are destinations.
Final Verdict: 8/10
The Pros-Cons ratio may look a little off here, but it's only because the no-stop zone thing is a very specific issue that I had to go into in detail. Honestly, this is an awesome route, going between two large cities and getting enough people to justify half-hourly weekday service! I'd love to see more routes like this in other places that transcend jurisdictional boundaries, and they seem to be increasing in number (such as more MWRTA routes to Woodland or the
GATRA route to New Bedford
).