It's time for Part 2 of our duo of weird commuter shuttles! Now we're doing the MVRTA 75, which will take us from the scary land known as Raytheon to the Buckley Transportation Center, another scary land. Well, at least it's civilization.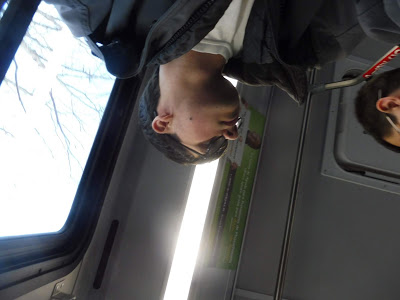 Obviously I wasn't about to get a bus picture at the off-limits Raytheon. Here's a selfie I took to confirm that we were actually on this thing!
"WE HAVE TRANSFERS!" someone from the back of the bus shouted as we stepped on from the LRTA. Okay, I was already feeling on edge because we probably weren't supposed to be here in the first place, but this calling attention to us from the back wasn't helping. "Who are you?" someone asked us as we sat down. "I've never seen you before." "I write a blog about public transportation," I responded. He asked how long I had been doing it for, and I said five years. "Blogs aren't that hard to run," he quipped, "I've been fixing computers for 25 years." Okay. Thanks for the insight.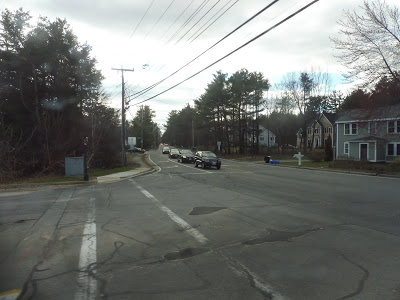 Leaving Raytheon.
We made our way out onto Lowell Street and crossed I-93. We passed IRS, the other deviation this bus makes, but it does it before Raytheon. After that, it became just a bunch of suburban houses. "I do stand-up comedy," the guy in the back was telling another passenger. "I put the FU in fun!" Oh boy, we were in for a ride.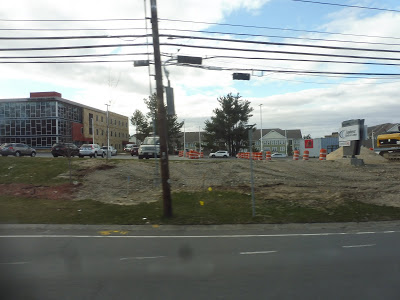 Some development near I-93.
We turned onto Beacon Street, which went through a woodsy golf course and descended down a slight hill. "Do you feel it?" asked Mr. Comedian. "We're in the Himalayas!" It returned to houses soon, both regular and in the form of a development. None of these people could actually use the bus, though, because this was a no-stop zone. "What do you say to a cheese when you take its picture? Cheese." Ohhhh boy.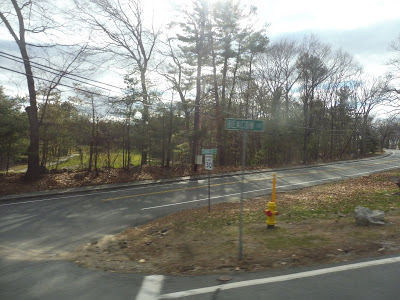 Travelling through the "Himalayas".
We went under I-495 and entered Lawrence soon after, where the houses started to get denser. Once we turned onto Mount Vernon Street, the no-stop zone ended, but though the houses were closer together, it was still definitively suburban. "If April showers bring May flowers, what do May flowers bring? Pilgrims." Lord have mercy.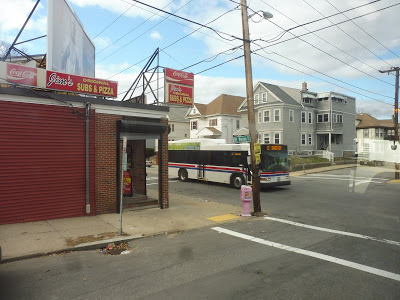 Hi 32!
We turned onto South Broadway, where things started to feel more urban. There were now some apartments along here, and various businesses came up along the street. "I got fired from the Pepsi factory for doing Coke." Is there any way off this bus?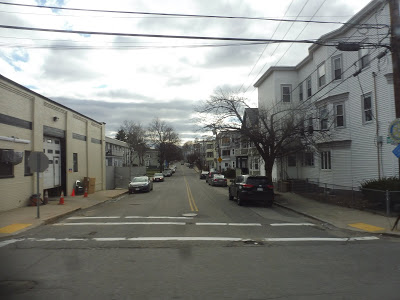 Dense apartments on a side street.
We went over a level crossing with a basically abandoned railroad track, but we still had to do the railroad stop anyway. The buildings were even closer together and urban-feeling on the other side, save for a few suburban ones with parking lots, such as a Dollar Tree. "Why do they call it a Dollar Tree? Money doesn't grow on trees." Okay, these are definitely getting worse.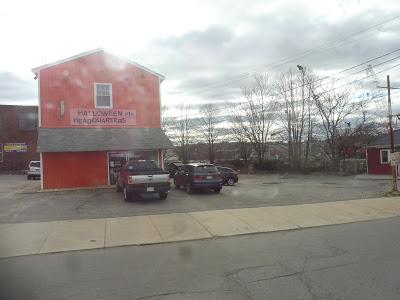 Welcome to "Halloween Headquarters"!
Eventually, it was time to cross the Merrimack River, where there was a nice view of a big waterfall coming down. There were a bunch of old factories on the other side, as well as a few more businesses. "When someone has your back in Lawrence, they probably do. A knife in it!" ARE WE FREAKING THERE YET????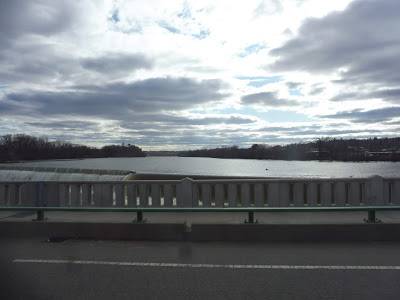 Crossing the river!
We turned onto Common Street, which had some workplaces and offices with big parking lots out front. We were almost at Buckley, but we got off just before so I could get a picture of the bus signed as the 75 before it went out of service. "WE BUILT THIS CITY!" sang our friend in the back. "WE BUILT THIS CITY ON WEL-FARE CHECKS!" And with that, the ride was finally over.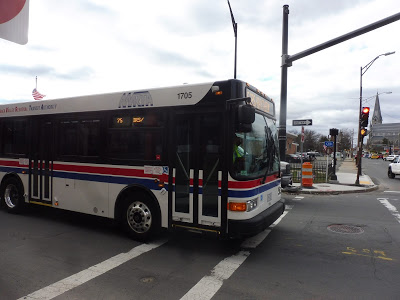 The rare 75!
MVRTA Route: 75 (Lawrence Special Employment Service)
Ridership: I think the MVRTA got rid of some PDFs when they transitioned to their new website, because now the only ridership data I can find is from 2006. Oh well, how was this route doing twelve years ago? It was getting 6,172 people per year, or about 26 per day, or about 6-7 per trip. Yeah, that's about what we saw on our ride, so ridership seems stable.
Pros: It's great to have this public transit connection from Lawrence to the two huge office parks of IRS and Raytheon. Unlike the LRTA 11, this one is only useful for trips to and from the office parks because it runs one-way, two trips in each direction – but that's okay, considering how specialized this route is to begin with.
Cons: Ridership on this route is pretty darn low. I mean, the MVRTA recently eliminated their other commuter route to Haverhill without much warning (a huge relief for me, but a pain for anyone who used it!), presumably because it didn't get enough people. Will this route go the same way? Six people per trip isn't a lot!
Nearby and Noteworthy: Scary office parks. That's it.
Final Verdict: 5/10
Well, it does its job, and that's about it. It's only serving a few people per day, but they certainly rely on the route to get them to work. It's not too efficient, and it's not trying to be. I'm glad these 26 people have a way to get to their jobs at the big scary office parks in Andover. As for me, I'm never going back. Not even for the jokes.
Latest MBTA News: Service Updates