Today, we're entering the strange world of IRS/Raytheon commuter shuttles. LRTA runs one, and MVRTA runs one (they just eliminated a second one). The LRTA route, the 11, is bidirectional, so we'll be taking a look at this one first as we head towards Raytheon in the evening rush.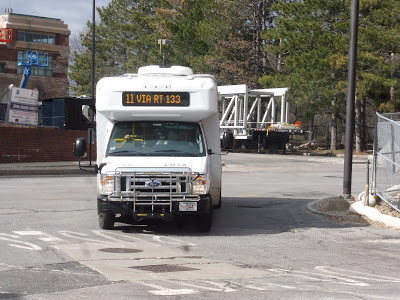 This is a rare sighting!
We left the Kennedy Center and made our way onto Appleton Street, which had an industrial vibe to it. We eventually reached some suburban businesses with parking lots, then we crossed the Concord River as our road became Andover Street. There were some businesses on the other side, but it was mostly dense houses.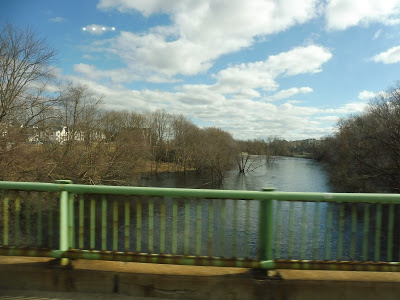 Not as pretty as the Merrimack!
Wait, did I say dense houses? Yeah, actually, they became really suburban really quickly. It was just a bland, entirely residential neighborhood for a while. Heck, around where we entered Tewksbury, we passed a golf club! And the houses kept getting further and further apart.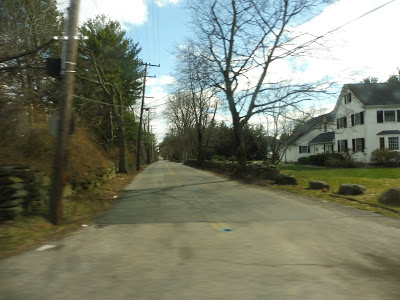 A wooded street.
We were supposed to do a deviation to the "495 Business Center," but we skipped by it, probably because no one would be going there in the outbound direction. There were a few suburban businesses as we went under I-495, then we skipped another deviation, this time to Ames Corporate Park, probably for the same reason we skipped the last one. We were in Andover now, and the street became Lowell Street; it was almost all just sparse houses with forest in between.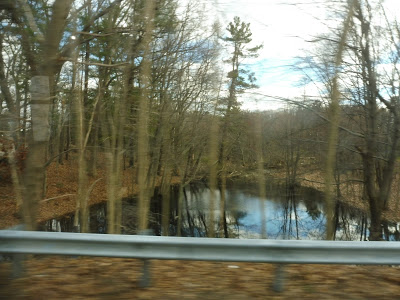 Yup, we're way out there.
Right after a "Country Store," we went by Haggetts Pond, as well as the Andover Public Works Department. Soon after that, we pulled onto the road to Raytheon. We came up to a security booth, and the person in the booth got on the bus to check and make sure we weren't fishy. Oh geez, this was scary. We came into the huge office park that we probably weren't supposed to be in, and luckily, the MVRTA bus to Lawrence was already waiting there. Phew. The LRTA bus, meanwhile, left to continue on to IRS, just across I-93.
The last picture I took. I wasn't about to take any in Raytheon!
LRTA Route: 11 (IRS/Raytheon via Route 133)
Ridership: LRTA is weird because it only wants to show the public the ridership of certain routes. The 11 is not one of those routes, so we're gonna have to go with what I saw on my trip. The two people we saw is pretty low (although kind of impressively high at the same time, given that it was a reverse commute), but it also didn't seem like anyone was getting on at Raytheon. Granted, we rushed onto the MVRTA bus quickly, so maybe people did get on. And maybe others boarded at IRS. Hm.
Pros: It's a commuter shuttle, so it does its job well given that purpose. There are only four trips per day, two in each rush, but again, it's a commuter shuttle. And honestly, the fact that it runs bidirectional service is really nice. The bus is going to be making that journey anyway, so why not run it in service? Two people is better than zero!
Cons: It didn't seem like many people were using it from Raytheon, but I seriously have no idea. This puts me in a tough position when it comes to giving the final score…
Nearby and Noteworthy: You know, I like big, secret office parks as much as the next guy, but for convenience's sake, I'll stick with the 76. Also, wow, remember when that was "the craziest bus route I've ever taken"?
Final Verdict: 5/10
You know…I can't know for sure who's using this thing. Thus, I'll just put the score right in the middle. That's about all I can say – the ridership is the big factor in the score here, but I don't know what the ridership is, so there isn't much I can do. The route does well in all other aspects, but the big question is: is anyone actually using it?
Latest MBTA News: Service Updates