Darn it, MART, of course you have to call these two routes the same thing so I have to review them in one post! I actually rode the 6 and 7 on two different days, so this'll be a bit strange, but have it YOUR way, MART!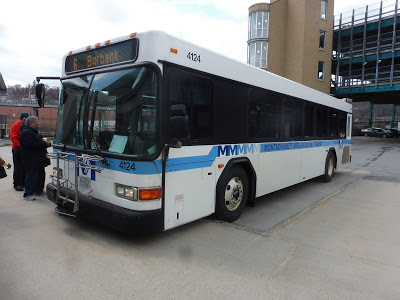 People getting on the 6 in Fitchburg.
Beginning with the 6, we left the Fitchburg Intermodal Center onto Main Street, which went right into downtown Fitchburg. Yup, those vacant buildings sure are exciting to pass. Once we reached Fitchburg's Upper Common, we merged onto Mechanic Street, which was lined with pretty dense houses and apartments as it went up some steep hills. Soon, we turned onto Miller Street, which climbed up a slope to get to Burbank Hospital.
Some varied housing stock along the route.
Now it was time to continue the ride on the weekdays-only extension to Fitchburg High School! Right? Why are we just sitting here? Why is the driver leaving the bus? We're gonna be late to the high school! Okay, okay, he's finally back. Let's go! Oh…we're heading back towards downtown. Okay, so when you say "Monday-Friday only," do you mean school days only? YOU COULD'VE BEEN MORE SPECIFIC ABOUT THAT SO I COULD'VE PLANNED THIS BETTER! Fine, just cut out half the route from the review! I don't care! I'm not going back! Screw you, MART!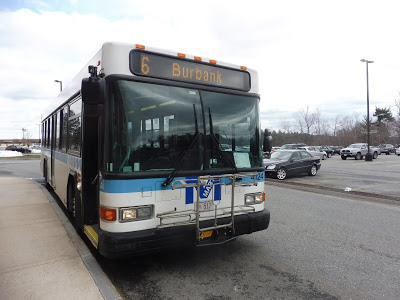 GRRRRRRRRR!
Okay, fine, I'll describe the route past the hospital based on Google Maps. It returns to Mechanic Street and goes around a rotary at John Fitch Highway, where there are some businesses. After that, though, it becomes just houses, and there are even large tracts of forest. Finally, it turns onto the intriguingly-named Arn-How Farm Road, and then it loops around at the high school.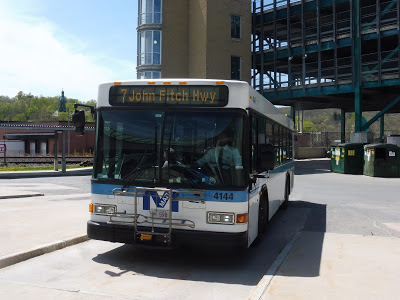 Back in Fitchburg for the 7!
Now let's do the 7, albeit on a completely different day. The 7 goes the other way down Main Street, completely bypassing downtown Fitchburg. There were still businesses, but they were more spread out, and once the road became Lunenburg Street, they got mixed in with houses and industrial buildings. Once we reached John Fitch Highway, it was time for an outbound-only deviation to Wallace Plaza, a depressing shopping plaza with a Market Basket in it. It was right across the street from another depressing shopping plaza with a movie theater in it.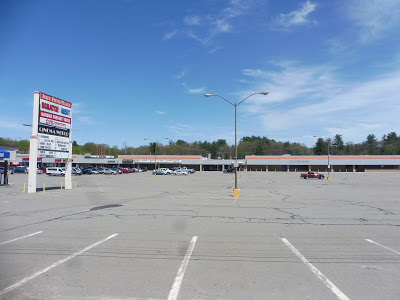 The latter shopping plaza.
We returned to Lunenburg Street, which was still industrial, but we did go by a Reliant Medical Group clinic – strangely, this is only a timepoint on the inbound trips, even though it doesn't deviate in either direction. We entered Lunenburg here and the street became Massachusetts Ave, and there were now houses and weird businesses among the industrial buildings (as well as a big flea market). Finally, the road got wide, signalling the intersection where we would turn to go into Lunenburg Crossing, the end of the line. The actual end of the line, unlike on the stupid 6!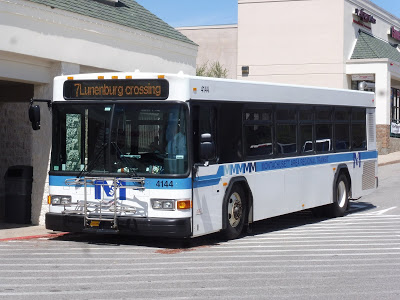 Ugh, whats's with the lowercase "crossing"? That looks terrible!
MART Routes: 6 and 7 (Intermodal – Burbank – Fitchburg High – Intermodal – John Fitch – Lunenburg Crossing)
Ridership: Between the two routes, there's a combined ridership of about 125 people, which isn't terrible for MART. However, I'm willing to bet that most of those folks are riding the 7 and not the 6: my one-way 7 ride got 12 people; my round-trip 6 ride got 6, but 5 of them got on at the Intermodal Center and just rode around to get onto the 7! Geez!
Pros: The 6 serves the hospital and the 7 serves a few shopping plazas and that little clinic. I don't think the two routes are getting much ridership from the other places they go to, but they definitely serve some important places.
Cons: First of all, the 6 is stupid and I hate it. What the heck does the 6 do on a snowy, non-school day when, according to the snow route, it doesn't serve Burbank Hospital? Where does it go then?? Also, boy, these routes run real frequently. Yeah, how does every 80 minutes sound to you? Mmm, those are some good headways. Apparently it's not even enough time, because my bus was ten minutes late! How!? The 6 is so short with so much recovery time!
Nearby and Noteworthy: Lunenburg Crossing has this strange Walmart where the logo is…red. Maybe this is a common thing, but it was strange!
Final Verdict: 3/10
I'd say the 6 is a 2/10 and the 7 is a 4/10, so they average out to a 3. These are infrequent routes with one bus that just drives around, doesn't get many people when it's doing the 6, and gets progressively later and later, it would seem. I wish there was some way we could improve service on the 7 while lowering service on the 6 (because it doesn't seem like it needs it), but resources are so scant here in Fitchburg that there isn't much that can be done.
Latest MBTA News: Service Updates
Okay, I'm super late to tell this to the general public, but the Chelsea race day has moved to June 29th. That means that if you want to join the race, this is your last chance. If you have no idea what I'm talking about, click here. For a direct link to the sign-up form, click here. Hope to see you there!