Time to ride MART's local Leominster shuttle kinda thing! Yeah, I dunno, this is a weird one.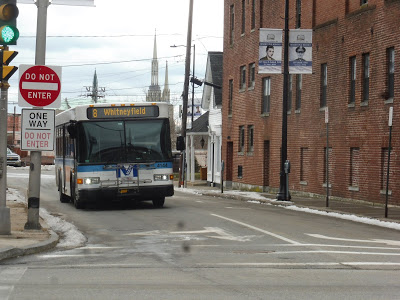 We're doing "Whitney Field" as one word? Really?
I boarded the bus at the start of its loop in Leominster just north of Monument Square, just to get the full experience (meaning, like, two extra minutes of riding). We headed down Merriam Ave, which was lined with dense houses, as was Orchard Street, which we turned onto. At the intersection of Orchard and West Street was the Leominster Senior Center, because of course this bus serves that, but no one was there, so we just went onto West.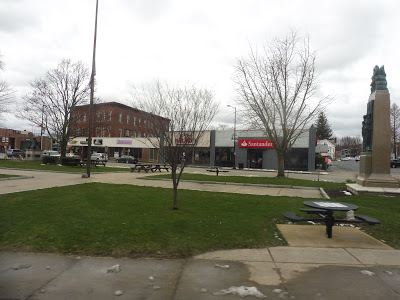 Back in Monument Square.
West Street took us back into Monument Square, which had its boring common and its bland businesses in all their glory. Now, when I reviewed
the 1 and the 3
, they were taking the route that the 8 takes today and vice versa, but MART switched the two soon after I reviewed them. So…now I'll never get to cover the alternative way of getting to The Mall at Whitney Field. Oh well. Let's turn onto Water Street.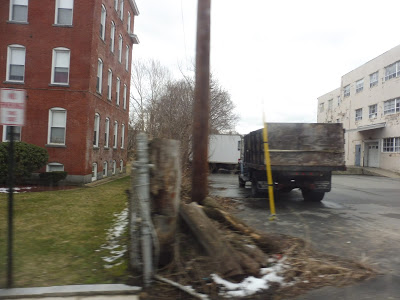 Leominster!
Water Street was lined with apartments and weird old industrial buildings. We soon turned onto Whitney Street, which became just pure industrial, before we headed down Mill Street, taking us toward the Mall at Whitney Field complex. First, we made a stop on Cinema Boulevard to serve Reliant Medical Group, then the road curved to the left and we were in a world of horrible suburban businesses with huge parking lots.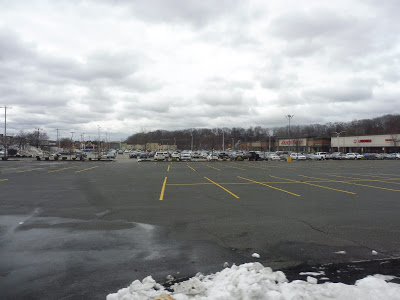 Blech.
It was time for a double-deviation: first, we meandered through the Market Basket parking lot to serve that, then we curved our way around The Mall at Whitney Field until we arrived at its food court, which is where the bus stop is. After that excitement, we headed onto Commercial Road, which, aside from a Home Depot, was all woods. Oh, and a water treatment plant.
The rugged Home Depot.
Commercial Road merged into Mechanic Street, and that consisted of suburban houses and…just a big open field. It was at this point that I thought, "Where the heck are we going?" We passed an "office park" that had one building in it, then we went over the Nashua River and under I-495. Then it was farmland!!!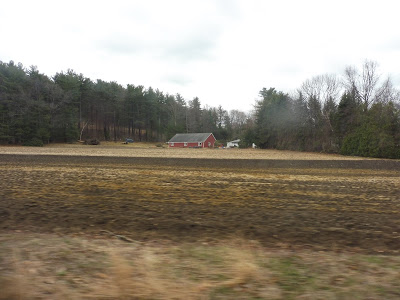 Wow…that's a change.
Suddenly, a single building came out from the blue: D'Ambrosio Eye Care. And…oh, are you serious? Yes, it got a deviation. Well, that was pointless. We then turned onto Harvard Street, a curvy road that went under Route 2 and over the Fitchburg Line. This led us to Orchard Hill Park, a shopping mall that was our final stop. It has a Target and a Kohl's. That's about it.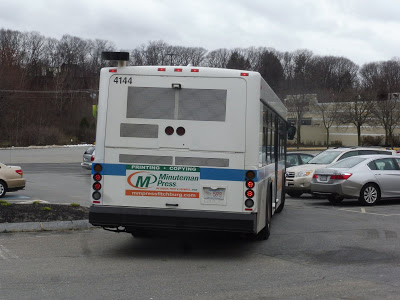 I took the bus back to Whitney Field, so here it is there.
MART Route: 8 (Monument Square ‐ The Mall at Whitney Field ‐ Orchard Hill Park – The Mall at Whitney Field)
Ridership: My trip certainly didn't give the route a good outlook: one person going out, and one person coming back in. Yeah, not great. The route's overall numbers a little better – the 8 got almost 21,500 riders in 2017, which is about 72 people per day, or 5 people per round trip. Okay, that's still pretty bad.
Pros: Uhhh…it gets some people. It serves some stuff. It runs every 50 minutes. Honestly, I don't have a lot of good things to say about this one.
Cons: The core problem of the 8 is that it's very duplicative of the 1 and 3 loop. I mean, the 1 and 3 connect both Monument Square and the Leominster Senior Center to Whitney Field as well, plus they serve dense residential neighborhoods along the way. The 8, meanwhile, kinda just serves weird apartment buildings with huge parking lots. That means that the only places this route really services are Orchard Hill Park and…D'Ambrosio Eye Care. And that second one doesn't count.
Nearby and Noteworthy: Okay, I will say that the Target at Orchard Hill Park is a pretty important destination. You can uniquely take the 8 to Target.
Final Verdict: 3/10
I totally get the need for keeping the 8 around, but
only
because of that Target. Seriously, if Orchard Hill Park didn't exist and this route terminated at D'Ambrosio Eye Care, I would say it could be cut. However, I concede that people really do need to get to Target, and this route is the best we can do. Although…if the 8 and
the 9
were interlined, you could scrape a 70 minute headway for both routes, which I think should be fine. And then
the 2
could run on its own, which means that it could operate every 25-30 minutes, allowing for decently frequent bus service along the busiest corridor on the MART! Yeah, actually, that sounds way better.