Finally, we're going back to civilization! Sorry, all that Woonsocket and Burrillville stuff was starting to wear me down. Let's just take the 9x back into Providence!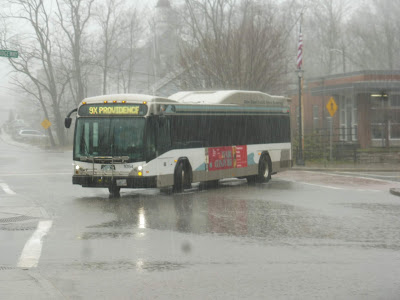 Oh man, that rain is a-comin' down!
It was pouring, so the bus was a very welcome sight as we waited in the surprisingly nice Pascoag bus shelter. We got on, and the bus looped around onto Pascoag Main Street, running past dense businesses as we got further from the town center. We soon passed through a cemetery, and then we entered a section of woods as the road became Chapel Street.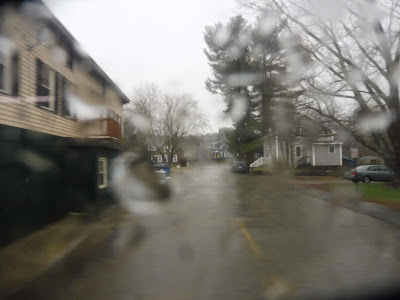 These photos aren't gonna be very good…
The houses started to get really dense and we entered Harrisville, a fairly large downtown with a few businesses and some apartment buildings. We turned onto Central Street, which soon devolved back to sparse houses, and it stayed that way until we headed down Victory Highway. This was Mapleville, and the dense homes were back, although there was only a country store on the retail front this time.
Woods woods woods.
Victory Highway curved away from Mapleville and it became far-apart houses once again. We used Lapham Farm Road to get onto Broncos Highway, which wasn't a true "highway," but it was a fast-moving road. It took us by a pond and a golf club, then, when we entered Glocester (finally leaving Burrillville!), the road just became Victory Highway again.
Coming onto Broncos Highway.
We went by some farms, and soon after, we merged onto Putnam Pike as we entered Chepachet. This was a little town with some businesses, a few churches, and a library. I do mean little, though – it was over quickly, and once we left the downtown, we went by a cemetery and some suburban businesses with parking lots. They weren't big ones (think CVS and Dunkin' Donuts), but it was a sign that we were getting closer to civilization.
That's a…dangerously large puddle.
But, as was getting typical for this route, we eventually reentered the woods, but instead of just houses breaking up the trees, there were also a few random businesses that popped up. There was a little village called Harmony that was basically just a library and a fire station, then we passed a golf club and a few businesses. Next, the road travelled past the Waterman Reservoir, and there were a few apartment developments on the other side as we entered Smithfield.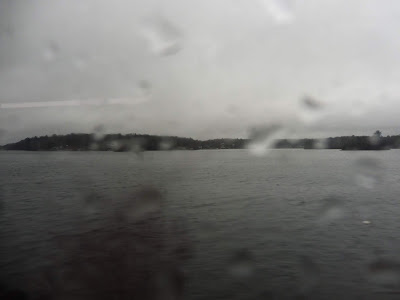 The reservoir!
We came into the village of Greenville next, and this one felt a little more suburban and sprawled-out than some of the dense, compact towns we had seen before. Most of the businesses had parking lots that were bigger than the building itself, which was sad to see. There were some houses past the village, then it got truly sprawly, with proper shopping centers with parking lots.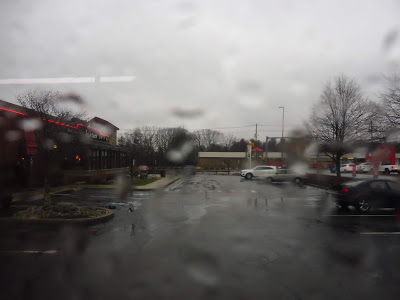 Ehhh…
Believe it or not, we actually deviated into one of them. Yes, we got to serve a Stop & Shop. Wooooo. From there, we looped around onto Commerce Street, passing some industrial buildings before arriving at the tiny Smithfield Park and Ride. By tiny, I mean just 20 spaces! After going by that little lot, we returned to Putnam Pike and its suburban shopping plazas.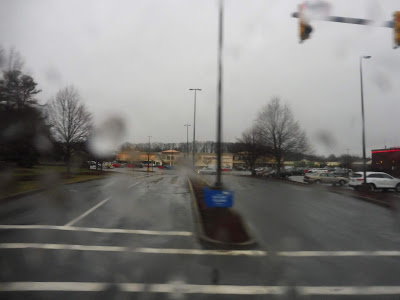 Going by the Stop & Shop again.
We suddenly merged onto I-295, and it was time to express into Providence! All we could see was trees and trees and trees, but as the highway came into Johnston, there were a few big suburban businesses that could be seen from some of the overpasses. We merged onto Route 6 next, where the scenery was basically the same at first.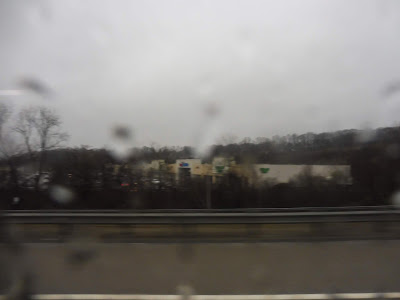 A shopping center.
Once the highway entered Providence, though, it was dense houses galore. Just south of Olneyville Square, Route 6 curved north, and we ran alongside the Northeast Corridor as it got more and more urban. Finally, we took an exit onto Exchange Street, which had an industrial feeling. Once we went under I-95, though, it was suddenly the heart of Providence. We turned onto Sabin Street, reaching our first stop on the route's loop around the city, the Rhode Island Convention Center.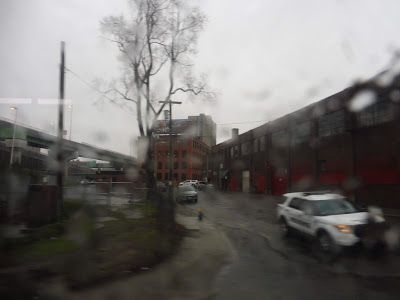 Some industrial buildings, seen from Exchange Street.
We turned onto Empire Street next, which went by both restaurants and municipal buildings. From there, it was a left onto Weybosset Street, going by the Providence Performing Arts Center and Johnson and Wales University. We then entered the financial district, and there were office buildings everywhere as we turned onto Exchange Street. This took us past Kennedy Plaza, and after that, we turned onto Exchange Terrace, reaching our final stop.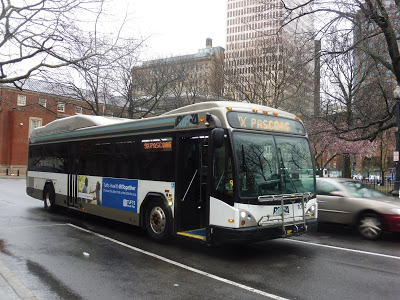 Our same bus heading outbound again.
RIPTA Route: 9x (Pascoag)
Ridership: Considering that our inbound trip in the evening got seven other riders, I'll bet the peak ridership on this thing is even better. And sure, seven people isn't that much, but again, this is an inbound trip leaving at 3 PM from the middle of nowhere. It's kind of a lot when you think about it that way.
Pros: Barring the 282 (which doesn't count anyway), this is the only real transit that Burrillville has, and it's probably the most populated town in Rhode Island that's not served by any decent bus routes. However, the 9x is an express, and on that front, it's actually pretty good, and it runs much better service than many of RIPTA's other expresses. It runs in both directions throughout the day, and aside from the peak service (three trips for each rush, which is typical), there's a "midday" run that leaves Providence at 1:40. Okay, it's not great, but it's something.
Cons: This part of Rhode Island needs better service, there's no doubt about that. I don't think the 9x is the route to give all-day service, since it's going to A) cost a lot of money to run because the route is so long, and B) be really infrequent (as in more than every two hours), again because the route is so long.
Nearby and Noteworthy: Heck, Providence is nearby and noteworthy! Give the people up in Burrillville a taste of the urban life, even if it's just a small city in the shadow of Boston (you know it's true)!
Final Verdict: 7/10
Yeah, for an express route, the 9x does its job just fine. Burrillville needs better transit, but all-day service on the 9x would be infrequent and expensive to operate. Instead, see my plan on making the 282 a fixed route. That uses the same amount of resources being used now, and it would run at least under every two hours.
Latest MBTA News: Service Updates