"Fairmount/Walnut Hill"? What the heck is that supposed to mean? No, we need to refer to the 87 like it really is: "Loopy Woonsocket Circulator."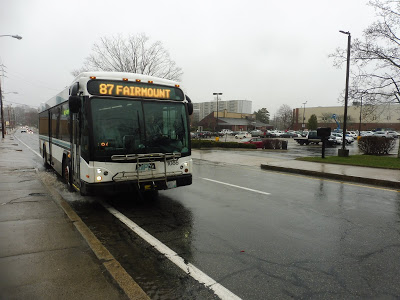 The other bus on the 87 was using a trolley. We just got the boring ol' regular bus.
The 87 essentially runs in a loop on its western end, and luckily, the terminus of the 54 is right at the start of that loop. Sam and I got on the bus on Social Street, passing lots of suburban businesses with huge parking lots before merging into Main Street and entering downtown Woonsocket. Like I've said before, it…wasn't much.
Pretty deserted.
We were about to go over the Blackstone River like the 54, but just before, we turned onto River Street, which ran alongside the river instead. Other than that, there were mostly dense houses along here, at least until an industrial area where we turned onto Fairmount Street. It was here that we crossed over the Blackstone River, entering another dense residential area.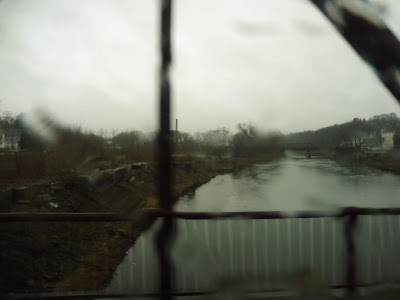 Is this gloomy because of the weather or the scenery itself? Or both? Probably both.
We turned onto 9th Street, which took us to an apartment development. This was the route's "last stop," with the bus making its way onto Memorial Drive and looping around. Luckily, since it runs in a loop in this part of town, we only had to lay over for two minutes before heading back out. We retraced our steps as far back as the Blackstone River crossing, but before making it over, we turned onto 2nd Street.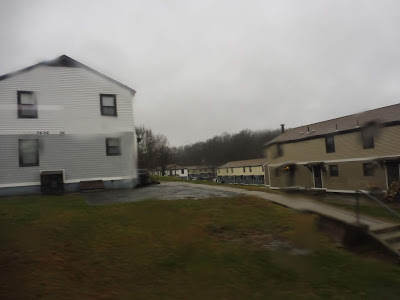 Inside the apartment development.
We passed a few apartment buildings, but once 2nd Ave crossed a railroad track, we were in an industrial area. We turned onto River Street, which went over the Blackstone River, then we headed down the narrow Verry Street, which only ran for a block before we merged onto Harris Ave. This became Railroad Street, and it led us back into downtown Woonsocket, where we turned onto Main Street in the same direction to serve the same stops that we had served on the way out. I'll bet a lot of passengers get asked where they're going on that section of the route.
Wow…that's an industrial area all right.
We turned onto Bernon Street after downtown, and this took us over another Blackstone River crossing, after which we turned onto Front Street. We passed an apartment building and a few dense houses, then it was time to head down Court Street over the river again. From there, it was a right onto Clinton Street, which turned into suburban businesses with big parking lots pretty quickly. Soon after passing the terminus of the 54 (and our original starting point), we turned onto Cumberland Street.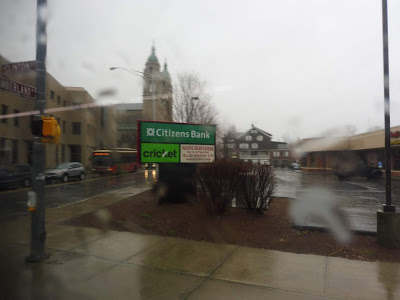 Oh look, it's the trolley! See, I wasn't lying!
We went by some apartment developments, then we turned onto Cass Street, which went by the Landmark Medical Center. And then from there…well, the route gets a little crazy. Let's just run through the tiny streets we travelled down for a few seconds at a time: Sweet Ave (dense houses), Elm Street (ditto), Florida Street (same), Robinson Street (entering an apartment development), Morin Heights Boulevard (another one), Linden Ave (back to dense houses). Okay, great.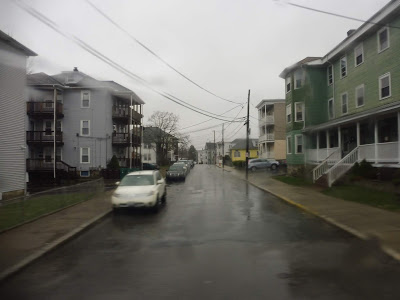 Some of those dense houses.
We then turned onto Diamond Hill Road, which took us to Walnut Hill Plaza. This got a deviation, of course, and then we returned to the road for just a little bit longer before deviating into the next shopping plaza over, Diamond Hill Plaza. That was our final stop!
Man, that rain's really coming down!
RIPTA Route: 87 (Fairmount/Walnut Hill)
Ridership: I guess for a circulator, ridership was okay: 10 people throughout the ride. I'd imagine that's about normal for this one.
Pros: Woonsocket is definitely a sizeable enough city to deserve a fixed route, and this one does its job alright for being the only local bus within a town. Alright.
Cons: Boy, the routing gets pretty crazy at times, huh? Not as bad as other routes in other places, but it's certainly noticeable. Also, the schedule is…weird. In the morning, it uses two buses, allowing for alternating headways of 28 and 32 minutes. That might just be one of the most annoying things I've ever seen in my life. But anyway, in the afternoon and evening, a third bus is added, and service becomes every 25 minutes. I'm not sure why that happens, but it happens. And then, on weekends…every 75 minutes. Yeah…that's a big jump right there.
Nearby and Noteworthy: Some really boring shopping centers. Woohoo!
Final Verdict: 4/10
This reminds me of the MART Gardner Shuttle. Depressing, hilly, industrial city? Check. Weird, loopy circulator route that somehow still gets a decent amount of people? Check. Strange schedule that doesn't entirely make sense? Check. So yeah…a 4 seems fitting for this one.
Latest MBTA News: Service Updates