"Didn't you used to live in Kingston?" the woman on the Flex line asked. "Uhhhh…yeah," I responded. Why does it have to be so hard to call for a Flex ride? "I want to go from Price Rite to the North Smithfield Stop & Shop," I said. "I'm sorry, I need exact addresses," the woman responded. Oh, but I was prepared this time! I had written the addresses on a notecard before making the call! HA! Let's ride the 281.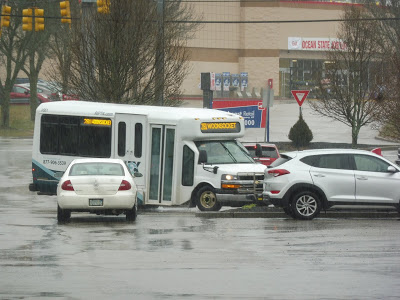 The minibus entering the Price Rite parking lot.
We got on the bus at Price Rite and headed out onto Diamond Hill Road. It was suburban businesses and shopping plazas for a little while, but after the intersection with Mendon Road, it got more residential. We went over the Peters River, turned onto Wood Ave, and went over the river again. This street was lined with dense houses and apartments.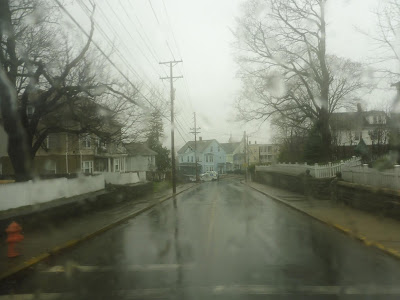 Houses.
Wood Street ended at Cass Street, which we used for a block to get onto Cumberland Street. We were also on this for a block, before turning onto Cumberland Street, which went over the Blackstone River and past the Woonsocket Middle School. We crossed a railroad track, and it was residential once again.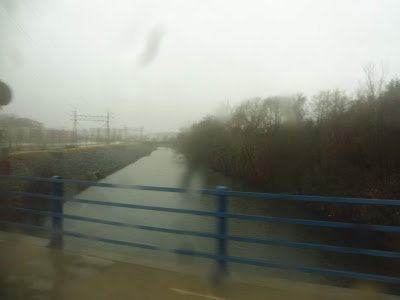 The bleak ol' river…
We turned onto the tiny one-way Greene Street, which ultimately merged its way into Park Ave. This was a long stretch of just dense houses and apartments, with a few businesses dotted in here and there. They became much more plentiful (as did their parking lots) when we came up to Smithfield Road, and this was where we entered the Stop & Shop. From here, the bus left to go lay over at a McDonald's parking lot. Typical Flex.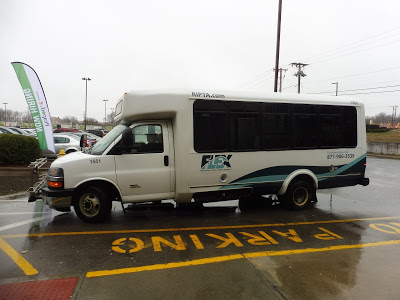 Bye!
RIPTA Route: 281 (Woonsocket Flex)
Ridership: Well…no one on our trip. Maybe it's better at other times?
Pros: Woonsocket is a dense, important city that's fairly inadequately covered by fixed route transportation. The Flex allows for the whole town to be covered by at least something that's open to everybody. It runs from 6 AM to 6:30 PM on weekdays only, which is the minimal coverage necessary, I suppose.
Cons: We're still doing the "call at least 24 hours in advance" thing, huh? We can't just have it be an on-demand service? After all, it only takes about 15 minutes to drive from one end of Woonsocket to the other. It seems like it wouldn't be too difficult to just make the service on demand. Hmm…
Nearby and Noteworthy: It's Woonsocket. There isn't much to see.
Final Verdict: 4/10
It's a Flex route with a 24 hours in advance call system, so there's no way I'm gonna give this thing higher than a 4. Yes, it's decent for what it does, but even when it's doing what it does, it has problems. For example, why is the Flex Zone confined to Woonsocket and Woonsocket only? I'll bet a lot of people would use it if the zone was extended to include the Walmart in North Smithfield. Plus, that would allow for a "transfer" to the 282, another Flex. Speaking of which…we're riding that one next time!