This is a big one! We're going from Providence to Woonsocket using the only public transit connection between those two cities. The 54 also runs mostly express, which is interesting, but I sure ain't complaining!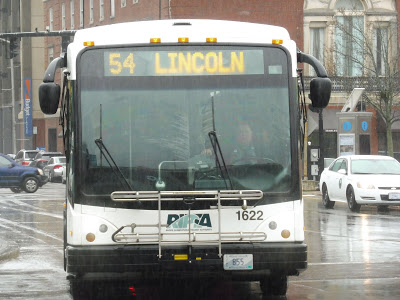 Woahhhhh, up close and personal…
The route wastes no time. It tells you right off the bat, "I am an express route." It goes straight onto Memorial Boulevard and onto I-95 right from Kennedy Plaza. It was pretty weird being on a RIPTA route travelling on I-95 north, but we soon took an exit onto Route 146, entering unfamiliar territory for me. This highway ran close to dense residential neighborhoods, but all we could see was trees for the most part.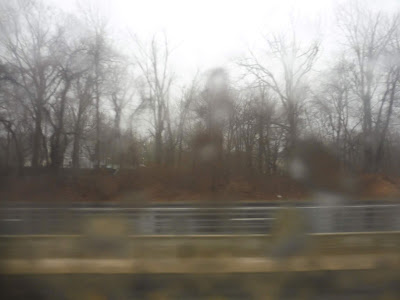 The rain allowed for some high-quality pictures, huh?
We made our way into Lincoln at some point, and soon we took an exit to do our first deviation. Yeah, it's not a true express, unfortunately – it has to do some off-highway deviations on the way to Woonsocket. This first one was to serve the Twin River Casino, and after passing some nice, rural-looking houses, we pulled into the monstrous parking lot for the gambling house. Yay.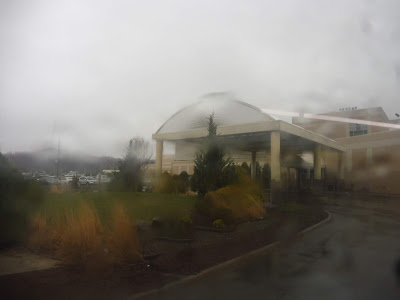 The casino.
We made our way onto Old Louisquisset Pike, continuing north past some leafy houses. We then made a deviation to serve CCRI, but after that, we only had to turn onto Jenckes Hill Road before getting onto an on-ramp again. More expressing through the woods!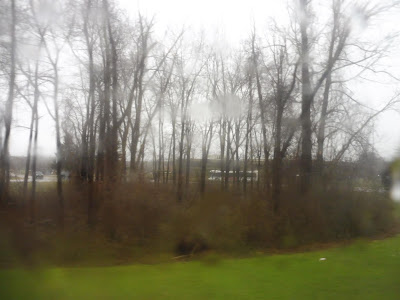 Another bus boarding at CCRI.
Our next deviation took us onto George Washington Highway, and we ended up at the Lincoln Mall. This is actually the only all-day bus route that runs directly from Providence to the mall, so this was an important deviation. It was also a mercifully short diversion, and we were soon back on Route 146, going through interchanges with I-295 and with a spur highway.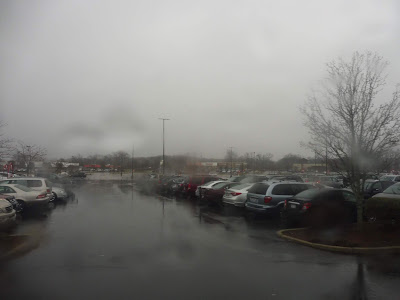 In the Lincoln Mall.
It was after that spur that we entered North Smithfield and Route 146 ceased to be a highway. Now it was your typical suburban road that was impossibly wide and lined with businesses with big parking lots and the occasional unfortunate house. There was a drive-in, though! This was also a short local section, because Route 146 soon became a highway again…but we didn't stay with it, taking the first exit onto Route 146A.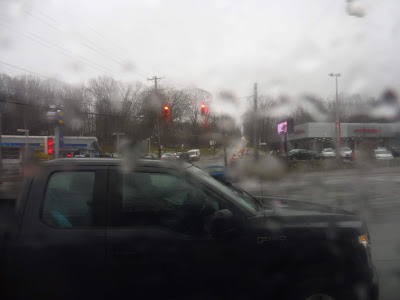 A characteristic intersection.
We turned onto Dowling Village Boulevard to do our next and final deviation, this time to Walmart. Dowling Village Boulevard also served other huge stores, too, so it was a real win-win! We returned to Route 146A (Smithfield Road), passing some more suburban businesses, including a Stop & Shop. Next, we entered Woonsocket and turned onto Providence Street, which was lined with dense, urban houses – a big change from before.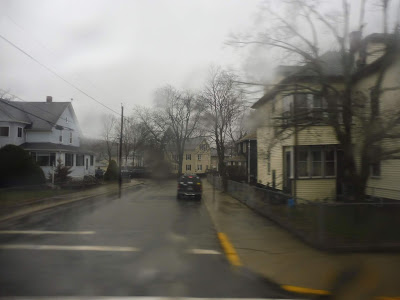 A side street.
We turned onto South Main Street, and this went over the Blackstone River. On the other side, South Main Street became just Main Street, and we entered…downtown Woonsocket? Unfortunately, it was just a bunch of drab, mostly vacant buildings. We had to merge onto the one-way Clinton Street, and that was more of the same. The older buildings gave way to newer ones with parking lots, and then we turned onto Cummings Way, reaching our last stop. The downpouring rain didn't help the charm of the area.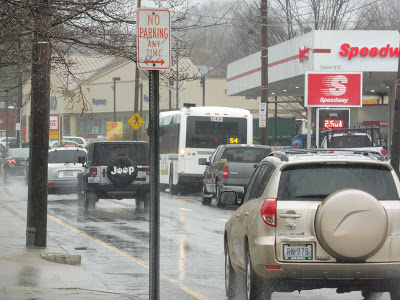 The bus on its way back to Providence.
RIPTA Route: 54 (Lincoln/Woonsocket)
Ridership: My trip had 18 people, and interestingly, a bunch of those people actually got on during the local section. So it gets a good amount of riders from Providence, and a good amount on its Woonsocket section! Seems like good ridership to me!
Pros: For the one connection between Providence and Woonsocket, the 54 does its job well. I like how it's mostly express, and the deviations all seem to get at least some people. The schedule is also great: every half hour on weekdays, every 45 minutes on Saturdays, and every hour nights and Sundays. Service runs late into the night, too, until midnight on weekdays and 11 PM on weekends.
Cons: Of course the route has RIPTA layover syndrome, amounting to 25-30 minutes on all days. This is especially funny on weekdays, when buses pull up to Cummings Way three minutes after the previous one to Providence has left! Also, the schedule has these trips that have always baffled me. For example, there are two 12:25 departures from Providence on weekdays, and both 1:13 and 1:17 trips from Woonsocket. Where are these buses coming from? As it turns out, these are pullouts and pullbacks of the 87 (Woonsocket's local circulator) that are going to or from Providence. I guess that makes more sense…
Nearby and Noteworthy: I wasn't impressed with Woonsocket's drab downtown, although in its defense, this is a city that's in pretty hard times right now. I guess there's always Walmart…
Final Verdict: 8/10
The 54 is a fantastic connector to Woonsocket from Providence, as well as from Woonsocket to places like Walmart and the Twin City Casino. It's pretty fast, it has a good schedule, and it serves some busy locations. Also, if you can get one of those weird 87 trips, I'll bet you'll have the bus to yourself!
Latest MBTA News: Service Updates