From the MVRTA 40 to the RIPTA 40! These routes are very, very different. I mean, we're going from inner-city Lawrence to the Providence East Side. You can't get much more different than that.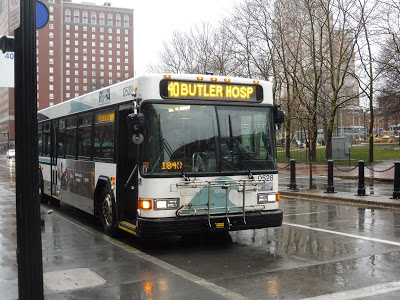 The bus boarding at Kennedy Plaza.
We of course began at Kennedy Plaza, and like I mentioned before, this is an East Side route. You know what that means? We headed up Washington Street, crossed the Providence River, and entered the East Side Transit Tunnel! YES!!!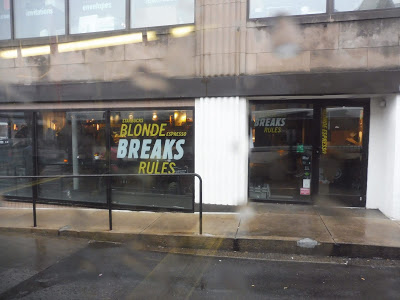 The first thing we saw upon leaving the tunnel. Hi, Starbucks!
We came out of the tunnel in the Thayer Street area, but we weren't able to experience its businesses for too long, since we headed onto the mostly residential Waterman Street. However, we did get to experience the businesses of Wayland Square, directly running through the heart of it on Wayland Ave. This was another quick retail section, though, as we soon made our way onto Elmgrove Ave, going by dense but very nice-looking houses.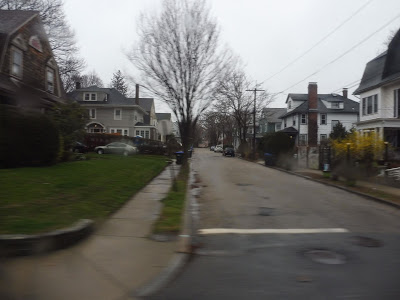 Some of those houses.
There was a small business block, then nothing new until the intersection with Sessions Street. That had Brown Stadium on one corner, a middle school on another, and a Jewish Community Center on a third. It was more houses from there and as we turned onto Rochambeau Ave, which had a really big mansion on it.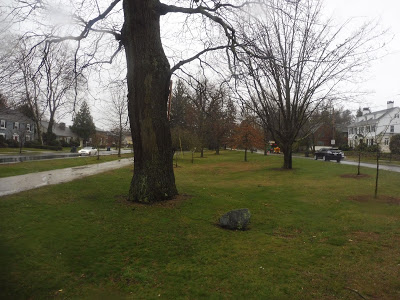 Widest median ever?
We turned briefly onto Blackstone Boulevard, which had a huge park median. then we headed down Butler Drive. This lovely, woodsy road took us to Butler Hospital, which was quite possibly the nicest-looking hospital I've ever seen. It was also our final stop, and I had 22 minutes of layover to kill.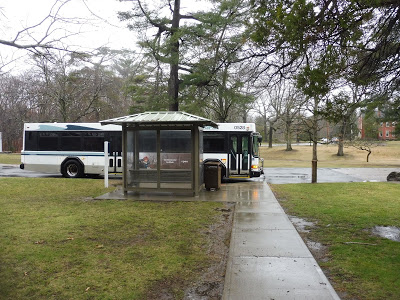 Hanging out at the beautiful campus.
RIPTA Route: 40 (Butler/Elmgrove)
Ridership: I rode this route in the morning rush. On the plus side, it got similar amounts of people in both directions. On the minus side, that equated to four riders going out and five coming back in. Ehhh…not great.
Pros: As beautiful as its campus is, Butler Hospital is quite isolated from the outside world, so the 40 is really the only way of getting there without using a car. Of course, like I mentioned, the ridership isn't great, but the schedule does at least match that: service is weekdays only, every hour. The schedule also touts the route's interline with the 18, and though the 18's neighborhoods couldn't be more different than the 40's, it's nice that they make it clear you can stay on to go across town.
Cons: The limited schedule isn't great, and this probably gets very few people middays. I'd imagine everyone who rides this route on the independent section is heading to Butler Hospital. I will say that this is far more useful than the 49, though, since it actually operates in areas that are far from other transit services.
Nearby and Noteworthy: Man, those 22 minutes were well-spent at the hospital. They have these walking trails that go around the whole campus, and although I wasn't able to do the whole circuit (the trails aren't signed too well…), I still hugely enjoyed the walk. I mean…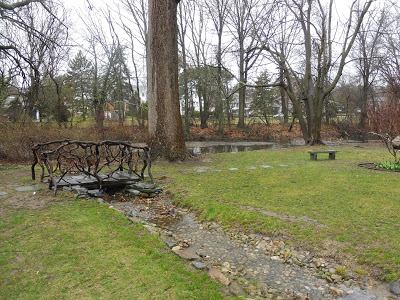 It's like something out of a fairy tale!
Final Verdict: 6/10
This one is okay. It serves its purpose. If you wanna go to Butler Hospital, you can if it's a weekday and you're willing to wait an hour if you miss the bus. But then again…it's not like it needs to run any more often than that.
Latest MBTA News: Service Updates