The 40 runs in a straight line up Broadway to Methuen Square and beyond. Sounds awesome. Oh wait, no one told me about the deviations…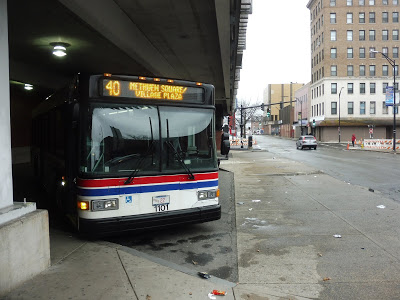 The 40 gets to board in the sunlight!
We went west down Essex Street, going by lots of retail, which continued as we turned onto Broadway. However, it started to get a little more mixed, with houses coming in between the businesses. For a bit, one whole side of the street was occupied by huge old factories, and then a new shopping plaza appeared as we entered Methuen.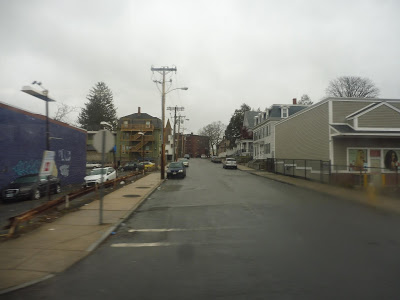 Just a side street.
We went over the Spicket River twice, passing more houses and businesses, then we entered Methuen Square, which was…a lot less exciting than I thought it would be. We turned onto Hampshire Street, beginning the route's long-winded outbound-only deviation – this was the square's main drag, I guess, but the retail ended quickly. Turning onto Lowell Street, we crossed the Spicket River again.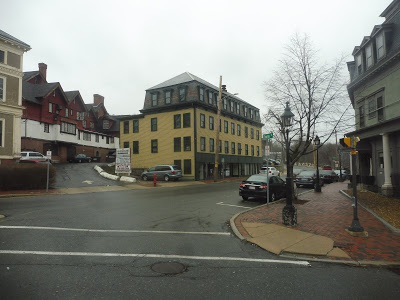 Methuen Square.
There were a few more businesses as we turned onto Pelham Street, but it very quickly turned to houses. We emerged in a strange area with an apartment development, a baseball field, pylons, an MVRTA commuter park-and-ride for its Boston express service, and some suburban businesses. We turned onto Mystic Street from here, and after going under the pylons again, it normalized back to houses.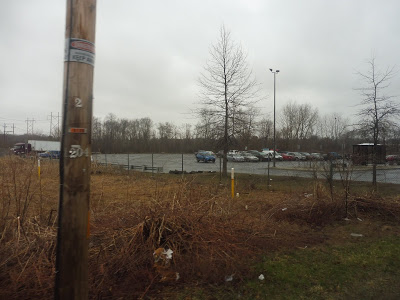 Question: why are people parked in the commuter park-and-ride on a Sunday?
We came back to Pelham Street, ready to finish the deviation, but…oh, there's a deviation-within-a-deviation onto Barker Street. This was just a little jog to serve some more houses and the Methuen Senior Activity Center. We turned onto Lowell Street, then it was a left onto Hampshire Street, and this finally took us back onto Broadway. We were only on it for enough time to go over Route 213, and then we pulled into Village Plaza, a thoroughly boring shopping center.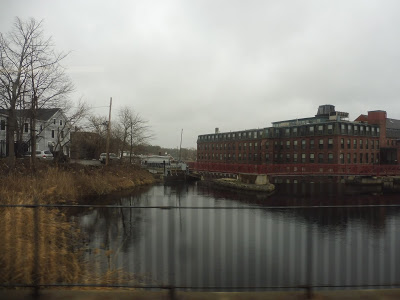 This is kind of a cool view, seen from the deviation.
So was that it? No, because the route has an inbound-only deviation too! It occurs a little south of Methuen Square, and the route is: right on Oakland, right on Union, left on Railroad, left on Oakland, back onto Broadway. What does it serve? I guess some houses? A few businesses? It's all within a less than five minute walk from Broadway, so it feels, uh, pretty darn useless.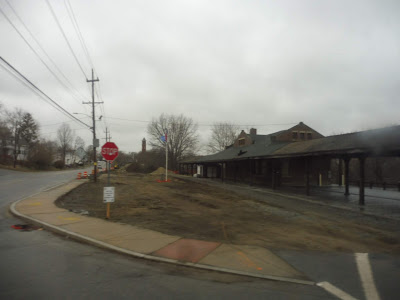 Oooh, an old railroad station!
MVRTA Route: 40 (Methuen Square)
Ridership: The 40 gets good ridership, with 403 passengers per weekday and 224 per Saturday.
Pros: This is the only route to serve Methuen's main drag and central square, and it's mostly direct. Also, it has the MVRTA pulse schedule of hourly service seven days a week with half hourly service at rush hour, so that's good.
Cons: Those darn deviations! The outbound-only one is fairly tolerable, since it does serve a lot and it's close to the end of the route, but even then, the jog in the middle of it is annoying. The inbound-only one just feels useless, and seems like it could be easily eliminated. Also, good luck trying to get to Methuen Square on time, because at almost every time of day, that trip is gonna take a heck of a lot longer than the scheduled ten minutes.
Nearby and Noteworthy: I'm sorry, but I really didn't see all that much along here! Maybe Methuen Square has some hidden gems, but it doesn't seem like a place where you could spend hours walking around in.
Final Verdict: 6/10
The route is…okay. Yeah, the deviations are annoying and the timing is off, but the bus does serve a lot and it seems to get a good amount of people. I can't hate it too much.
Latest MBTA News: Service Updates