Okay, time for a nice direct route to the North Andover Mall! Oh wait, I forgot the MVRTA is incapable of running direct routes. Okay, well, the 39A is still their straightest line to the mall…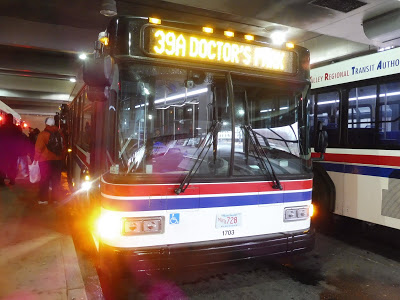 Boarding at Buckley.
We went straight down Amesbury Street from the Buckley Transportation Center, and it very quickly took us out of downtown Lawrence. We entered an industrial area as we crossed a canal, then we went over the Merrimack River and the road became Parker Street, then we crossed one more canal and went under the Commuter Rail tracks! Finally, past all those crossings, Parker Street now consisted of dense buildings – some houses, some businesses.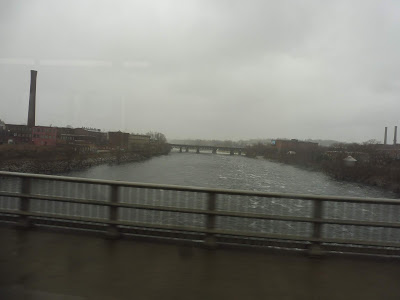 Talk about depressing…
Parker Street curved slightly southeast and became Winthrop Ave, and it was now mostly houses. We turned onto South Union Street next, then we deviated to serve Plaza 114. This was a clever deviation, though – since the plaza parking lot also goes back to Winthrop Ave, it would allow us to continue the way we were going…oh wait, no, we're looping around to serve the other side of the plaza. And now we're coming back onto South Union Street. Okay…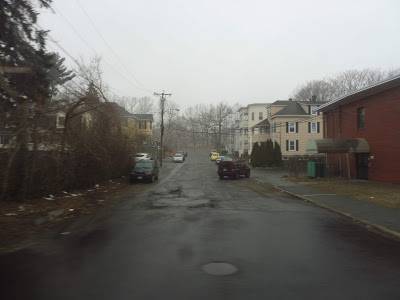 A foggy dead-end street.
We turned onto Marlboro Street, a tiny, sidewalkless road with suburban houses. Ditto as we turned onto Durso Ave. And where did that take us? Winthrop Ave, right next to the Plaza 114 entrance. GOOD! So we continued the way we were going, passing some businesses, Lawrence High School, the diminutive Stadium Plaza, and an abandoned Showcase Cinemas.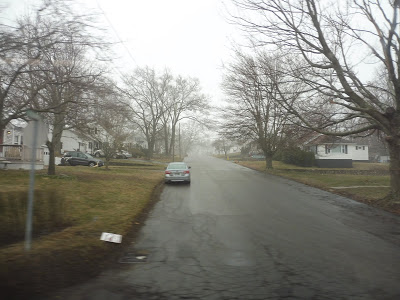 On the suburban houses jog.
We went under I-495 and entered North Andover on the other side, and voila, here was the mall! It took forever to do a deviation into it, and the route was not over yet. No, we still had to perform two extra deviations beyond the mall! We returned to Winthrop Ave and continued our way further into Andover.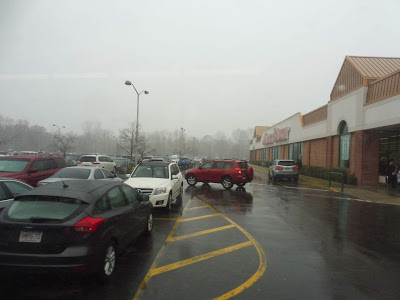 Inside the mall.
We turned onto Waverly Road, a street that entered Andover proper and became High Street. Soon after that transition, we deviated into Doctor's Park, a health complex, then it was back into North Andover on Waverly Road. We crossed Winthrop Ave, for our second deviation was on the other side: Woodridge Housing, an apartment development that the bus barely goes into. From there, it was back to Lawrence!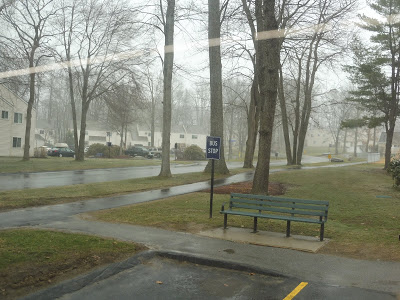 This is better signage than the entire rest of the MVRTA…
MVRTA Route: 39A (Colonial Heights/North Andover Mall)
Ridership: This is one of the system's higher-ridership routes, getting 478 people per weekday and 271 per Saturday. Why does it get so many people? Maybe because it does follow a somewhat direct route and runs the same way inbound and outbound!!!!!!!!!
Pros: Okay, well, that last sentence in the "Ridership" section has two of them. Of course, the 39A also has the MVRTA pulse schedule, meaning there's a bus every hour seven days a week, and added half-hourly service during peak times.
Cons: For one thing, that Plaza 114 deviation is executed horribly. I really doubt any of those suburban houses on that extra jog generate much ridership, so it would make so much more sense just to have buses travel through the plaza back to Winthrop Ave. Also, what's the deal with this 39A/39B business? The two routes really aren't all that similar! On that note, the 39A has a lot more on its plate than the 39B does – I think it would make sense for, say, the 39A to only serve Doctors Park and the 39B to serve Woodridge Housing. Currently, the 39B just ends at North Andover Mall, and it gets back to Buckley with plenty of time to spare as a result.
Nearby and Noteworthy: Two shopping plazas! Wow!
Final Verdict: 6/10
I…guess…it's…okay…? Hey, for MVRTA standards, running the same way inbound and outbound is certainly an achievement. However, they still don't know how to run a direct route. Ideally, the 39A would use Plaza 114 to get back out to Winthrop Ave, and that would be a really well-executed deviation! Instead, we have to do the weird jog on random side streets. Plus, the workload of the deviations after the North Andover Mall should really be split between the 39A and 39B – the 39B does nothing while the 39A does everything!
Latest MBTA News: Service Updates