Ah, it's the Pac-Man route! Seriously. Look at it.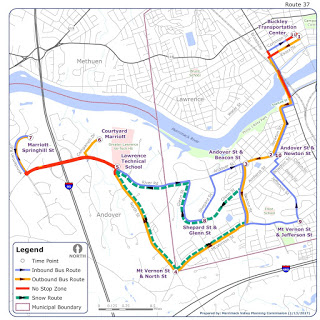 So yes, this is the 37, a wild snaking mess running aimlessly through southern Lawrence and Andover. It serves two Marriotts. Two!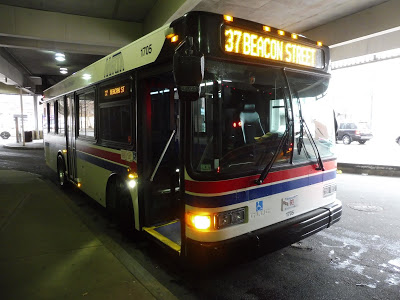 At least some light is shining in here.
We went down Essex Street from Buckley, passing brick buildings housing businesses. There were also some apartments where we turned onto Broadway, but this street became industrial quickly. We crossed over an abandoned railroad track after going over a canal, then we crossed the beautiful Merrimack River and its waterfall.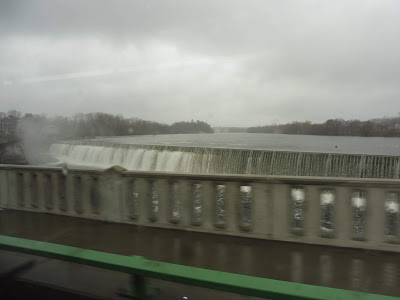 Awesome!
There were some businesses on the other side, but we made an instant right onto the residential Shattuck Street. That curved around to become Newton Street, and the scenery was all dense houses, aside from a school in the middle of it all. It was at the intersection with Andover Street where the inbound and outbound routings split up, and we would be apart for a very long time…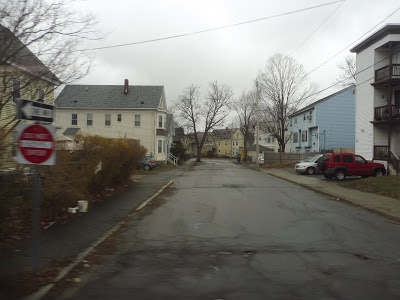 Some of the various houses.
We approached some suburban businesses at the intersection with Beacon Street, onto which we turned. This was technically joining the inbound route, but the 37 acts like a figure-8, so this was the "combined" middle portion of that loop. Beacon Street had housing developments on both sides, and a shelter outside of a white building attracted a few riders onto the bus.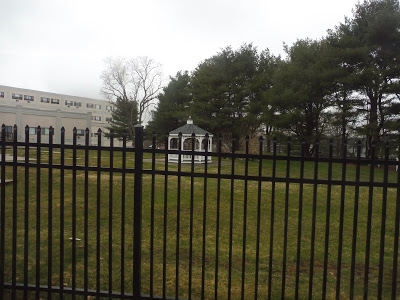 The white building. Google Maps won't tell me what it is.
Beacon Street's housing became more suburban after that, and it continued when we turned onto Mount Vernon Street, leaving the inbound route again. As we turned onto North Street and entered Andover, the houses got even bigger and further apart, save for a development at one point. We turned onto River Road at the Lawrence Technical School, rejoining the inbound route.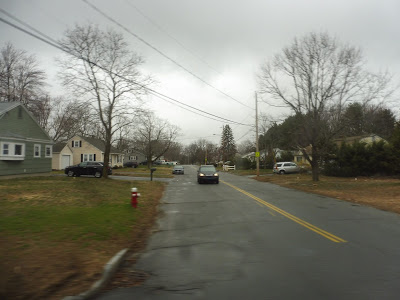 Not even sidewalks? Aw…
We went down River Road for a bit before turning onto Campanelli Drive. This took us through a marsh and up to the…uh…Courtyard Marriott. I see, so this was a deviation? Yup, okay, we're heading back to River Road now. Fun.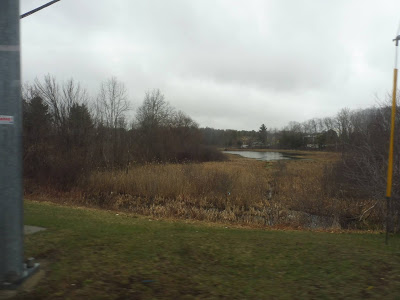 In the process of doing the deviation.
River Road got a heck of a lot wider as we crossed I-93, and there were lots of suburban businesses and office parks on the other side. We turned onto Minuteman Road, a street with a huge median serving offices galore that took us to…another Marriott. Okay, then, glad we've finished the hotel shuttle portion of the route.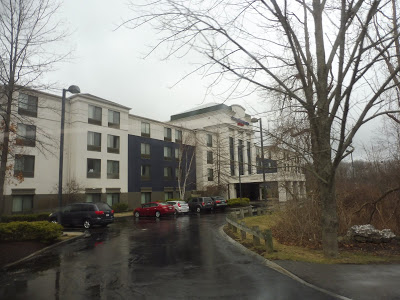 Yay, Marriott!
We were now heading back to Lawrence, but we stayed with the outbound route back to Lawrence Technical School (minus that first Marriott deviation). While the outbound route came up to the school on North Street, we stayed on River Road, which quickly got narrow and residential after the school. Once we came back into Lawrence, though, the road became Andover Street, and it was back to office parks.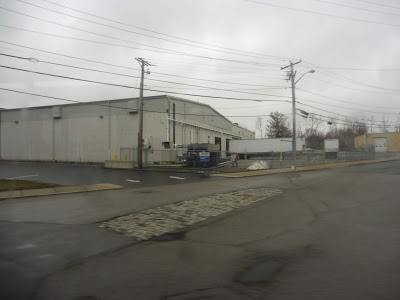 There's a particularly industrial-looking one.
The route used to do a jog via Glenn and Shepard Streets to serve some of the offices and warehouses, but the MVRTA got rid of it recently, even though it still appears on the map! So, we just stayed on Andover Street, and we soon reached the intersection with Beacon Street again. We turned onto it just like before, and once again, that white building generated a few more people (the ones who got on before had yet to get off).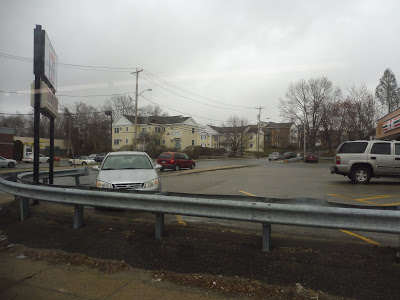 Onto Beacon Street again.
Whereas the outbound route made a right onto Mount Vernon Street, we took a left, passing two water towers and a bunch of houses. Those continued as we turned onto Jefferson Street…and Bowdoin Street…and Davis Street…and Amherst Street…and here we are back on the main route at Andover Street! What a ride, what a ride, back to Lawrence we go!
The imposing water towers.
MVRTA Route: 37 (Beacon Street)
Ridership: The 37's weekday ridership is well above the system average at 361 passengers, but it drops way down on Saturdays to 162 people…well below the system average. My Sunday trip got 6 total people, and they all came from that white building!
Pros: I'm sure the 37 gets lots of reverse commuters on weekdays to those office parks, and it seems to attract lots of residents from the Beacon Street apartments. Also, we've got the classic MVRTA schedule, with buses running every hour every day, plus half-hourly service at rush hour.
Cons: Other than the route being a loopy mess? I think the 37's biggest problem is that it serves so little that actually needs to be served outside of the peak. I mean, I doubt those sidewalk-less suburban neighborhoods are very transit oriented, and of course no one's going to office parks on a weekend, so Beacon Street is really it. If you're staying at those Marriotts, you've got a shuttle to Lawrence, not that the hotels make any effort to tell you that, or that anyone staying there would be inclined to use a bus, or that anyone staying there would at all want to go to Lawrence. Also, this one is minor, but the 37's snow route travels in the opposite direction of the regular route for some reason. Yeah, that's gonna end well!
Nearby and Noteworthy: This post is turning into a Marriott ad. But yeah…this bus serves two of 'em.
Final Verdict: 4/10
There has to be a way this route can be modified outside of the peak to not have to run out to the Marriotts and the office parks every single trip. Do those places generate any ridership middays or weekends? I doubt it! They certainly didn't on my ride! Of course, shortening the route would affect the pulse back at Buckley, so honestly, there might be nothing we can do. I guess buses will just keep running out to the Marriotts every hour, seven days a week. Gosh, they could at least tell their customers that the bus exists!
Latest MBTA News: Service Updates