Time for some loopity-loop-loop-loops on the MVRTA 36! Yeah, this one is rather crazy…as are most bus routes in Lawrence, it would seem.
We headed east from Buckley on Common Street, coming along next to Campagnone Common. We turned onto Jackson Street, then Haverhill Street, circling around the park. At the Lawrence Senior Center stop, we let someone off (a quick trip, but I suppose it's the senior center), then we reached the end of the common and turned onto Lawrence Street.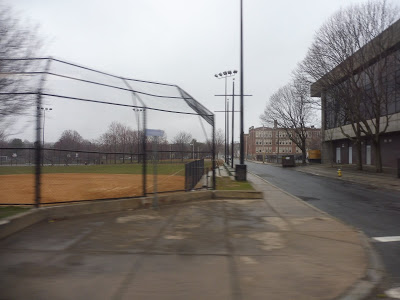 This is…bleak.
We weren't on this for very long, banging a left onto Maple Street, which had apartment developments on both sides. It curved around to become White Street, but then we turned onto Elm Street, going by more apartment developments. Next, we turned onto Hampshire Street, which went by the Central Catholic High School and one last apartment development.
Again…bleak.
We went over the Spicket River, and from there, Hampshire Street was lined with regular triple-decker apartments (none of that development stuff). I'm not sure why the route goes down Arlington Street just to turn onto Lawrence Street, which could be accomplished just by staying on Hampshire Street, but…yeah, so we did that. It's an outbound-only jog, no less!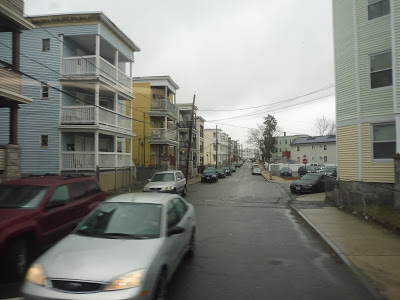 Apahtments.
We passed a park and entered Methuen, where though the apartments became houses, the actual spacing of the buildings was just as close. Next to a park, we turned onto East Street, which had some sort of…castle wall along it? It was really cool, and now we were suddenly in a really nice, leafy neighborhood!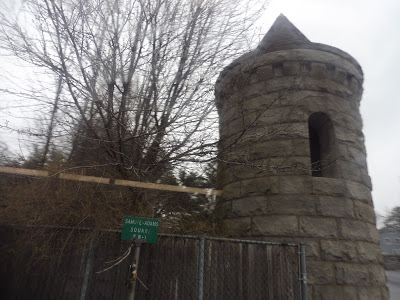 Entering the castle.
Alright, here we are at the Holy Family Hospital, are we gonna go in…oh, no, we have to do another loop first. So we turned onto the residential Berkeley Street, going briefly back into Lawrence as we served the Berkeley Retirement Home. After that, we turned onto Swan Street, then Jackson Street, reentering Methuen. There were suburban businesses along Jackson, but it turned back to houses when we made a left onto East Street, then deviated up into the Holy Family Hospital.
These are some nice houses!
So is that it? No! Because the 36 has an inbound-only jog! For one thing, the inbound route just goes right from Lawrence Street to Hampshire Street, rather than having to do that weird jog that the outbound does. However, it makes up for it later on when it suddenly makes a left on Alder Street, a right on Lawrence Street, and a left on Myrtle Street to get back to Hampshire Street. Why?? Yes, it got a person, but it's inbound-only, so it's basically useless! Just use the 85!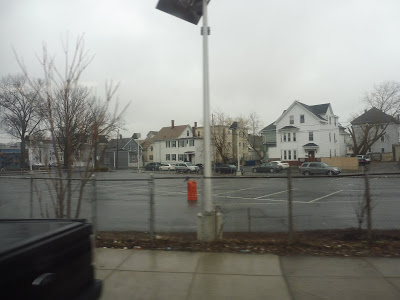 A parking lot.
MVRTA Route: 36 (Holy Family Hospital/Lawrence Street)
Ridership: Weekday ridership on this route is excellent for MVRTA standards, with 422 riders per day. On Saturdays, it drops down to 207 people per day, which is below the average for the whole system. I took it on a Sunday morning, and it got a round-trip total of 9 people, which isn't bad for a Sunday morning!
Pros: It serves quite a lot of Lawrence and, to a lesser extent, Methuen, and the 36 has big ridership anchors on both ends: Buckley, of course, and also the Holy Family Hospital. It runs with the MVRTA pulse schedule, meaning hourly service seven days a week, plus additional half-hourly service at rush hour.
Cons: Geez, can the route be any crazier? Actually, I shouldn't ask that question because I know what insane routes MVRTA is capable of, but still! I get the loop at the end and some of the jogs to serve apartment developments, but I just cannot get behind the inbound- and outbound-only deviations.
Nearby and Noteworthy: There didn't seem to be much on this route worth visiting. Maybe the castle??
Final Verdict: 6/10
I guess other than the weirdo route, this is a decent one. Still, like I said, this thing is crazy! At least it also serves a lot and gets good ridership – imagine if it didn't do either of those either.
Latest MBTA News: Service Updates