Ahhh, it's good to be back on a system I know and love! Yeah, you know, I always miss GATRA whenever I'm away from it for a while. It's so charming in its awfulness, and every GATRA route seems to be full of surprises. While the FAB wasn't as crazy as the…you know…it was still really, REALLY bad. Time for a FABulous trip!
The Franklin Line was running shuttle buses the weekend Sam and I rode the FAB, and as anyone who has ever taken it knows, that schedule is P-A-D-D-E-D. We arrived at Franklin quite early, and with nothing much to do, we walked around for a bit before hanging out on a street corner downtown waiting for the bus. Except…the 9:50 departure came and went. We made sure to pick a strategic point where we could see the bus do its deviation into Franklin Station and know when it's coming (because of course, the FAB is a "Give us a Wave!" route, so no stops), but nothing came by. All we saw was a lone dial-a-ride vehicle going the other way.
Well, we had been stuck in Franklin for well over an hour now – it was time to call GATRA and see what the heck was going on. As usual, the "fixed route" extension actually led to the "dial-a-ride" extension, so we had to be redirected. Then, the woman in the fixed route department said that they weren't responsible for the FAB, and we would have to call Kiessling, who runs the route. "Do you have a pen?" she asked before giving me the Kiessling number. Okay, let's call them.
ME: Hi, I have a question about the FAB.
MAN: Okay.
ME: I've been waiting in Franklin for over an hour now and the bus hasn't shown up. Do you know what's up with it?
MAN: Which trip were you waiting for?
ME: The 9:50.
MAN: Oh, it's a 9:10! That's the problem!
ME: No, it's definitely a 9:50. I looked at the schedule.
MAN: No, but we're running a Saturday service today!
ME: I know, it's on the Saturday schedule.
MAN: Oh…yes, I see. Okay, let me call the driver.
[unlistenable hold music]
MAN: She said she came through on time.
ME: Oh, really?
MAN: Oh wait, the normal bus wasn't available today! We had to use one of the dial-a-ride vehicles! Arghhhh, I knew this would be a problem…I'm very sorry. Can you wait for the next trip?
ME: I HATE YOU!
Well, I didn't tell him I hated him, but I was really upset. It had to have been that dial-a-ride bus going the other way, but why was it going the other way? Sure, the FAB route map is a complete failure in cartography that gives absolutely no indication of a road network, but we were using the map on the Transit App! It very clearly showed the bus deviating into the MBTA station and coming to exactly where we were standing! Same with Google Maps! What was going on?
The FAB runs every 80 minutes on Saturdays, so we had lots more time to enjoy Franklin, which is just not a very interesting town, I'm sorry. For this next trip, we decided to wait at Dean College, since there was a crosswalk right there in case the bus was coming from the other direction. Still, the Transit app clearly showed the route serving the college in both directions, so it seemed like we were good.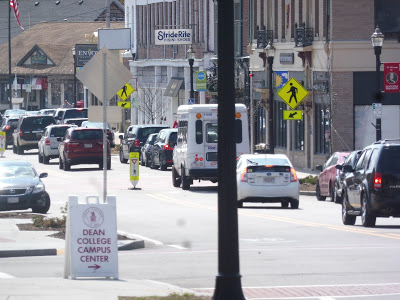 WAIT, WHAT???
HANG ON, WHAT'S THAT DIAL-A-RIDE BUS THAT JUST PULLED OFF OF THAT SIDE STREET DOWN THE BLOCK? "WE'RE GONNA GET THAT," I SAID TO SAM AS I STARTED TEARING DOWN MAIN STREET, TRYING TO CATCH THIS BUS THAT WAS NOT AT ALL FOLLOWING THE ROUTE IT WAS SUPPOSED TO BE FOLLOWING. IT'S A GOOD THING EVERYONE DRIVES IN FRANKLIN (PROBABLY BECAUSE NO ONE KNOWS WHERE THE FREAKING FAB GOES), BECAUSE THE BUS WAS STUCK IN TRAFFIC AND WE WERE ABLE TO CATCH UP TO IT!!!!!!!!!!
We paid our fares and sat down in the vehicle, struggling for breath. "Seatbelts please!" the driver yelled from the front. Sigh…okay, sure, seatbelts are now on. Let's finally review this stupid route. I don't know who's wrong about the routing, GATRA or the driver, but that was inexcusable.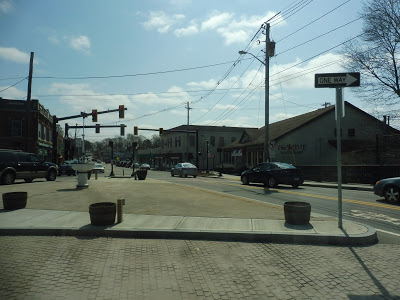 WE'RE FINALLY ESCAPING!
We looped around onto Central Street, then we looped onto Emmons Street. We then took a left onto Main Street, running through the Dean College campus before going by the Franklin Public Library, which is apparently the first in America! Next, we reached the Franklin Town Common, making a left onto High Street, then a right onto Union Street.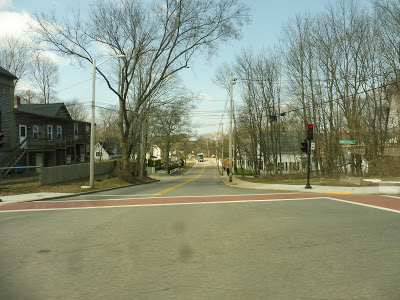 Looking down Beaver Street.
The road became Daniel McCahill Street for a block before becoming Oak Street as we passed the Franklin Council on Aging, strangely without deviating – it only goes in there on weekdays. Maybe the COA is closed on Saturdays, in which case that was a very smart move to not make it deviate then! We then passed the huge Franklin Middle and High Schools before turning onto Panther Way, which…yup, Franklin High School's sports teams are the Panthers.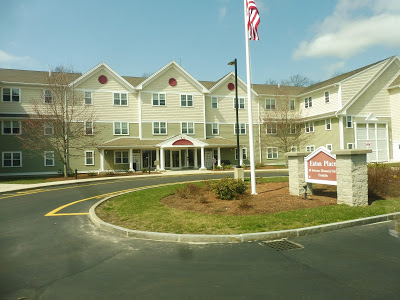 Yay!
We turned onto Veterans Memorial Drive, which took us to our deviation target, Eaton Place, which is only served in one direction that changes based on the trip. From there, we were supposed to go back to Oak Street, but we abandoned the written route again by continuing down Panther Way. We reached West Central Street and turned onto that, going by a bunch of suburban businesses.
WE ARE NOT SUPPOSED TO BE HERE.
We deviated into Village Plaza, a big ol' shopping plaza where weekday service terminates. However, there was a big reason I wanted to take this route on a Saturday: it has a huge extension to a few other shopping plazas all the way in Bellingham! So what did we do after the Village Plaza deviation? Oh, just hopped on I-495 for an express section!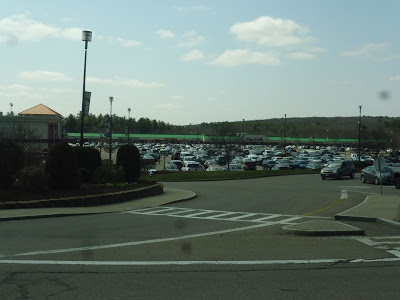 Looking out over Village Plaza's vast parking lot.
It only lasted for one exit and the scenery consisted entirely of forest, but it was a nice break from the slow-moving deviation-filled route from before. We got off at Exit 18 and headed down into a rather high-end shopping plaza (the timepoint was called "Whole Foods/Old Navy"). The craziest part? We picked someone up!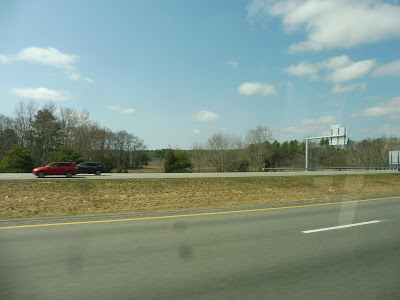 Get yer motor runnin', head out on the highway…
"I'm going to Walmart," the old lady who got on said. From that plaza (leaving three minutes early), we drove across the street to another plaza with Market Basket and…Walmart. "Thank you very much," the lady said as she got up. "Should I pay?" "You don't have to," the driver responded, "Paying is just a donation." UMMMMMMMMMM…okay, you know what, let's just gloss over that and let this lady get on with her extensive transit-based shopping trip.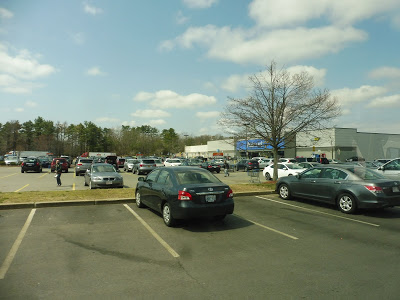 Coming into Walmaht.
It was here that we decided to wait the five minutes needed to get back on schedule, then we came back onto the highway to go back. A funny quirk was that on our way to the ramp, we came very close to the third shopping plaza in this cluster, which is served by a different GATRA route: the rush hour-only Bellingham North Shuttle. So if you wanted to take that out in the evening rush on a Friday and stay overnight, you could transfer to the FAB the next day!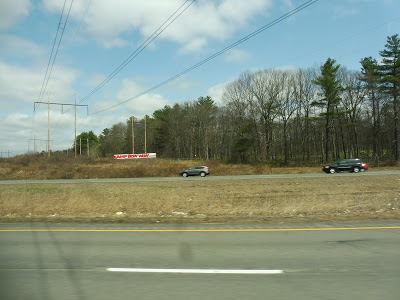 Ah! Ignore the ad!
We came back to Village Plaza, which I just realized is only about a mile away from Forge Park Station. Anyway, it turns out that this is where they give the route its main layover time, so we had to sit here…for ten minutes. At least we got music variety – the driver was obsessively changing the radio station, singing along when it was a song she liked.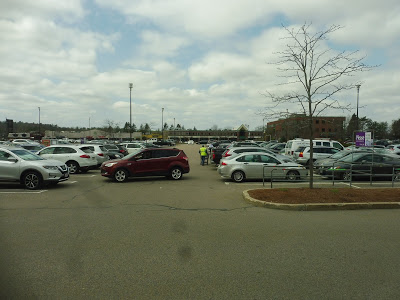 Back here again…
Okay, maybe now we would take the right route back. Let's see…it's supposed to go via Tri-County Drive, and- nope, okay, guess we're taking Pond Street instead. Geez, Louise! This was mostly residential save for a few office buildings, and at least it wasn't as big of a detour as before – the "real" route joined us only about 30 seconds later.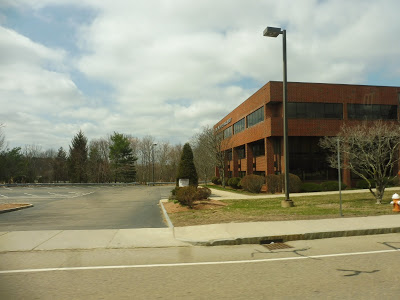 Again…WE'RE NOT SUPPOSED TO BE HERE!
It was all residential up Pond Street, and the houses continued when we turned onto Oak Street. We eventually passed the schools again and ended up back at Franklin Town Common. We made our way back onto Main Street via High Street, and again we went through Dean College's campus. However, the bus doesn't "serve" downtown going southbound, so we skipped it, turning right onto Emmons Street.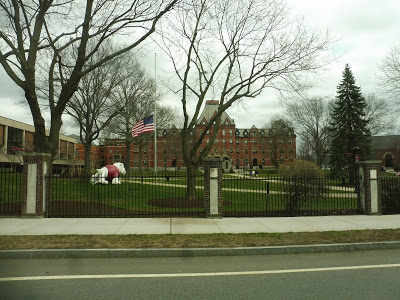 Go Bulldogs!
We went down Central Street for a block before turning onto Union Street at a cemetery. These houses were much denser than before, and there was some retail on the south side of the single Franklin Line track. We turned onto the residential Arlington Street, and then it was a flurry of twists and turns: Wachusett Street, North Park Street, West Park Street, Central Park Terrace, and King Street.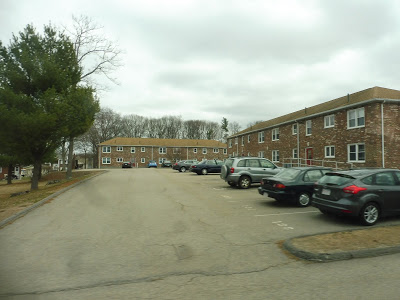 These turns were meant to serve some apartment developments like this one.
There were some suburban businesses as we crossed East Central Street, including Horace Mann Plaza, which is literally a shopping plaza built on the man's birthplace! Come on, that's awful! The bus only serves that in the other direction, though – we went down Chestnut Street, then we turned onto Glen Meadow Road to serve the speed bump-filled Glen Meadows Apartments.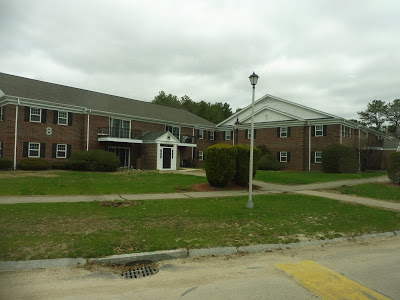 One of many speed bumps.
Finally, we hooked a left onto East Central Street and pulled into…BIG Y!!!!! Oh boy, gettin' some PVTA flashbacks!!! Also waiting here was…THE ACTUAL FAB BUS!!!!!! Yes, it had a FAB livery and everything! I mean, too bad its headsign wasn't working, but points for trying!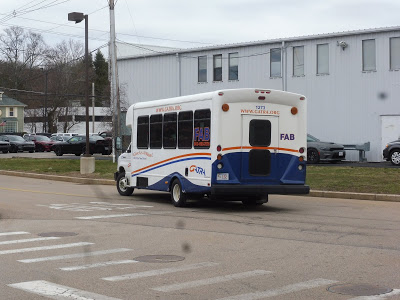 See ya!
GATRA Route: Franklin Area Bus
Ridership: *breathe*…*sighhhhhhhhhhhhhhhh*…33 people per day. 3.5 per hour. It costs GATRA $22.37 per passenger to run the route. My full round trip only got the one person doing her big shopping day. Yeah, so not a lot of people use this.
Pros: Franklin's a big-ish town. I guess it's nice that it has a bus route…
Cons: But Franklin's also a car-oriented town, and it shows in the way this route has to go loopy-looping around to serve everything. Of course, who cares about the route, because I guess that doesn't get followed! Regardless of whether the streets the driver took were more efficient or not (oftentimes they were), if the line is on the map, you follow that line. It doesn't matter that the Oak Street/Pine Street jog was all houses that will likely never generate ridership – you still have to serve them just in case. And just look at Sam and I downtown! We had no idea that the bus would travel the way it did because that was not the route that GATRA told us it would take! And the phone people were super unhelpful too…
But okay, let's also talk about the route itself and why it's bad. Not only are there weird one-directional deviations (downtown in particular), but how about that frequency? The Saturday schedule is just flat-out infrequent at every 80 minutes, and though that makes sense because of the route extension (which at least seems to get people), the route might get more time than it needs. I imagine that could be easily cut down to every 75 minutes.
HOWEVER, the funniest and strangest thing about the FAB is its weekday headway. I will never ever understand this: every 61 minutes. Every. 61. Minutes. And keep in mind, this is with ten minutes of layover at Village Plaza! Can that not just be nine minutes of layover? Is it really so imperative that buses get that extra 60 seconds of break time? I mean, COME ON! EVERY 61 FREAKING MINUTES?!??!?!?!?!?!?
Nearby and Noteworthy: I linked it already, but the first public library in America is pretty darn cool. Who knew Franklin had that as a claim to fame?
Final Verdict: 1/10
This is just yet another GATRA route that makes absolutely no sense. The routing itself seems to be up to interpretation, barely anyone rides it, and…EVERY 61 MINUTES WHY!?!?!?!?!?!?!? There just can't be a valid reason for why the route has to run like that! That has to be one of the stupidest headways I've ever seen, and that alone makes this route awful. Couple on everything else and, yup, we've got a 1.
Latest MBTA News: Service Updates