Ohhh…we get to go back to…Gardner! And ride a really long, deviation-filled bus route around the whole…city. My…favorite……place……….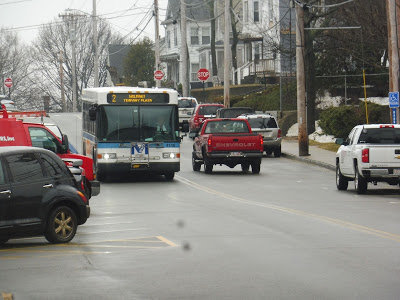 YAY! GARDNER!!!!
The bus was very nice, at least. It was that rear door-less Gillig that we had gotten before on the Intercity/MWCC route, and it was just as good of a vehicle as it had been then. A little strange on a city bus, but I'll take it! We left Gardner City Hall and turned onto City Hall Ave for a block before heading up Nichols Street.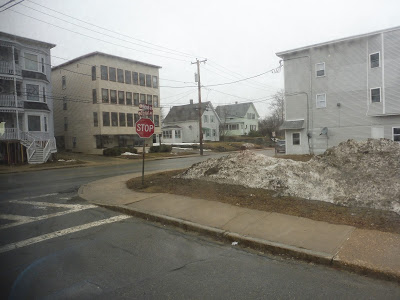 Gardner!
We were also on this for a block before turning onto Parker Street, but we were only on this for two blocks! Our next turn was onto the residential Greenwood Street for a block, then Moran Street for a block, then Marquette Street for a block, then Church Street for a block, then a deviation into Gardner Highrise, an apartment building. This route is insane already!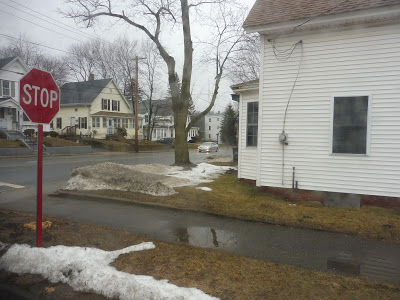 Some houses.
Church Street again for a block, Waterford Street for a block, Parker Street for…oooh, two blocks! It was all houses along here, save for a few businesses where we headed off Parker Street onto Robillard Street. We had to do a jog via Douglas Road to get onto Foss Road, but it was only for, yes, a block, before we turned onto West Street.
Heading onto West.
This took us back to the intersection with Nichols and Parker that we had already visited, and we merged onto Parker. We entered the main downtown of Gardner, which continued as we went down Central Street, and it was one of the most depressing downtowns I've ever been to. Turning onto Pine Street alongside a huge factory that has thankfully been rehabilitated, we went by the Heywood Memorial Library.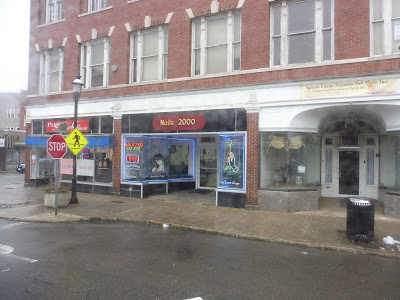 Scenes of downtown Gardner…
It was a left onto Cross Street next, which took us past houses, churches, a field, and another huge old factory. At the corner of Cross and Elm, Gardner's "famous" giant chair was visible as we turned onto Elm. This was a residential road, but we saw a huge church as we made our way around an oddly-shaped rotary onto Woodland Ave.
The lonely Pearl Street.
It was all houses along here until the Heywood Hospital, which we surprisingly did not deviate into! We turned onto Matthews Street instead, which was mostly forest aside from Gardner District Court and Mount Wachusett Community College's two huge wind turbines. Speaking of MWCC, we did deviate into that, and it was a lovely time indeed.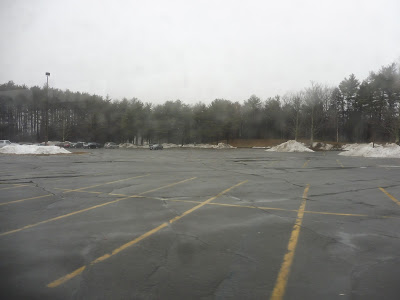 The empty MWCC parking lot.
We made our way across a field and turned onto Green Street, which led us back down to the Heywood Hospital. Past the hospital, we were in a residential neighborhood, and we made quick turns onto Bertha Ave, Becky Ave, and Blanchard Street, the last of which went through the Hillside Gardens apartment development. At the end of the road, it was a left onto Pearl Street.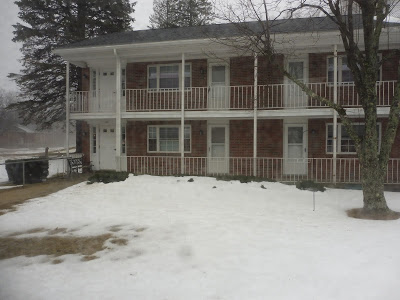 One of the snowy buildings of Hillside Gardens.
It turned out that this was a deviation, and possibly the weirdest one on the route; it took us to a place called Dunn Pond. Not a housing development called Dunn Pond. Not a shopping center called Dunn Pond. Literally just…a pond. Sure, it had a beach, but I rode this route in the winter! No one is going to the beach in the winter!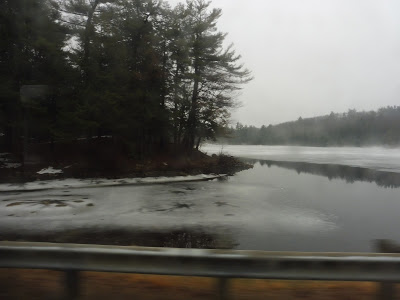 Get your swim trunks, the water's perfect!
We came back the other way down Pearl Street, running by lots of houses until we reached that oddly-shaped rotary from which we had gone onto Woodland Ave. We went back down Elm Street, and if you remember going the other way up that street from, like, 50 paragraphs ago, that makes everything we had just done a mega-deviation! Luckily, we hit new territory when we made our way onto Chestnut Street.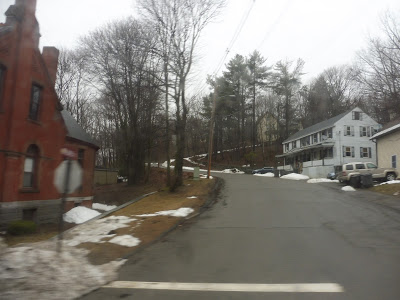 Looking up a hill.
There were some industrial buildings and suburban businesses where we turned onto Main Street, crossing a decrepit railroad track. We then deviated into Price Chopper, truly a magnificent institution of a supermarket. After that, something really weird happened: the driver said there was a problem with our bus, so we had to drive across the street to the Gardner ITC to get a new one. Would the new bus be just as good as the current one?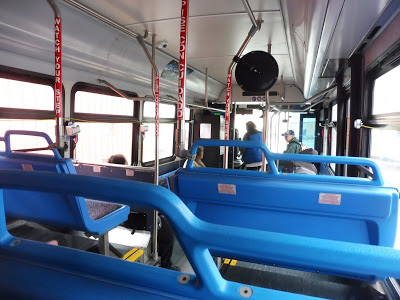 Awww…
Nope, it was an awful 30-foot Gillig. Way less fancy than the 40-footer with cushy seats that we were on before. Oh well…we headed back down Main Street and turned again onto Chestnut Street, passing various suburban businesses. We deviated into Gardner Plaza, a bland and boring shopping plaza, then we went under Route 2 via a big rotary.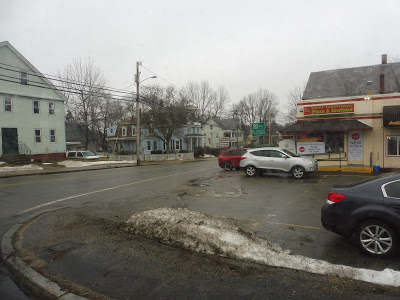 Some houses and a pizza joint.
It was more suburban businesses on the other side, but it changed to mostly dense houses as we turned onto South Main Street, which merged into East Broadway at "South Gardner Center." We passed a small school, a church, and a few industrial buildings before turning onto Waterview Drive. It went over Mahoney Brook and entered the Heritage Village housing development, but we turned right around upon entering and headed back.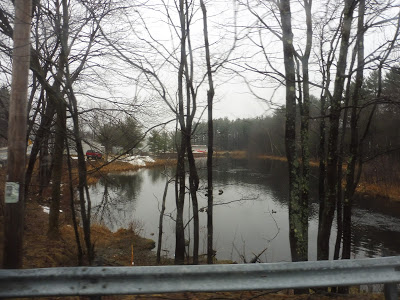 Crossing the brook.
We went through "South Gardner Center" again (I put it in quotes because there isn't much there), but this time we continued down West Broadway. After a level crossing with a railroad track, we crossed over Travers Pond and went by a few homes. It became suburban retail at the intersection with Timpany Boulevard, though, and we turned straight onto that.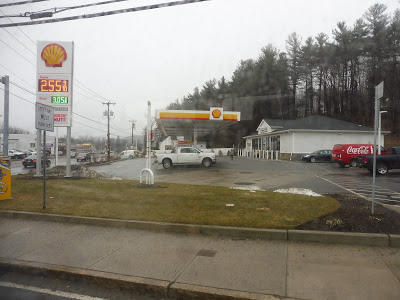 The intersection with Timpany Boulevard.
The scenery quickly thinned out into forest, until…hallelujah, a Walmart!!!! We did a wonderful deviation into there, then it was straight back down Timpany. Back where the suburban businesses were clustered, we did an additional deviation into Timpany Plaza, which was, as usual, thoroughly boring.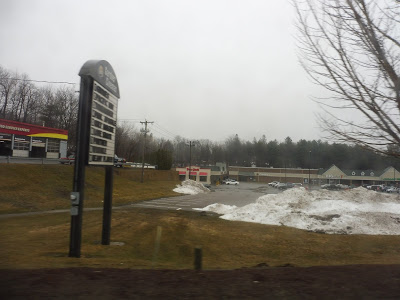 At least it had a movie theater!
Back at that same intersection, we now had to do another deviation, continuing west on West Broadway. It became residential quickly, but there were many industrial buildings around as we turned onto Manca Drive. There was a stretch of forest, then we looped around at an apartment development called Olde English Village. And then…then it was time to go back up to that same intersection for the third time.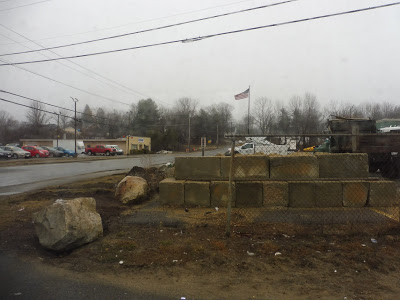 Some industrial stuff coming out of the Olde English Village deviation.
Now we went north on Timpany Boulevard, having traversed every stretch of road at that four-way intersection. We passed a few suburban businesses and a few houses, then we went around another Route 2 rotary, returning to the north side of the highway. We looped around a Hannaford onto Main Street, and there were a few more businesses before we turned onto Willow Street. Entering a residential neighborhood, it was just a few more turns before…City Hall! WE MADE IT!!!!!!!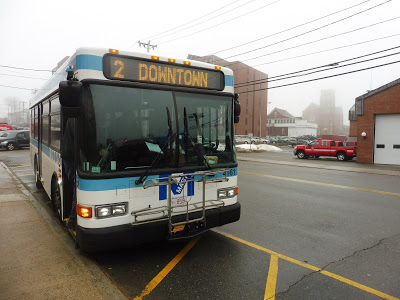 GOODBYE FOREVER!!!!!!!!!
Oh wait, there's also a 1. Luckily, there's very little difference between the two routes – the 1 does the exact same loop except counterclockwise. Later in the day, Nathan, Sam, and I took a 1 from MWCC to downtown Gardner (possibly the most direct trip one can take on this circuitous route) for one reason and one reason only: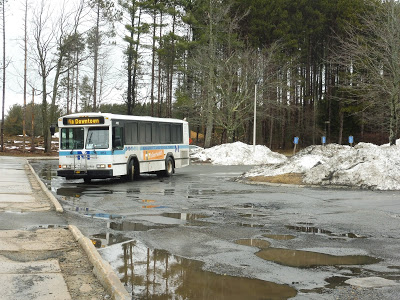 Dear Lord, what is that?
Yes, the 1 was operating with that…thing. We had seen the Gillig Phantom running around on it earlier in the day, and we knew we had to ride it! It was about what you would expect on the inside: high-floor, loud, and not a pleasant ride at all. Granted, it felt like heaven compared to the bus we had ridden before that, but let's not get ahead of ourselves. We'll talk about that a few reviews down the line…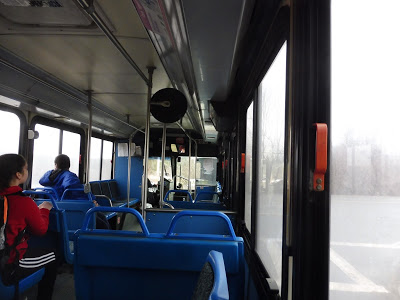 Inside the beast.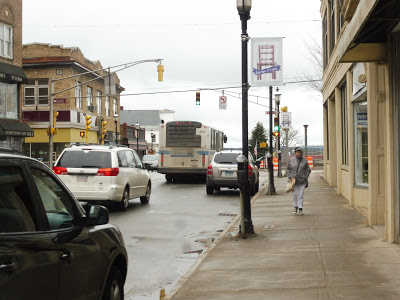 Man, that bus is dirty!
MART Route: Gardner Route 1/2 (Counterclockwise/Clockwise)
Ridership: Well, there's no denying it gets people. Our full ride on the 2 had about ten people in total, which about fits with the route's 9.7 passengers per hour figure. Yearly, it gets around 47,548 people, which averages out to a little over 150 per day. I mean…it's not the worst thing in the world?
Pros: Gardner is a big(ish) city, and certainly one that deserves bus service. This one is all over the place, but at least it does serve a lot of the city. The bidirectional service is nice, since you theoretically never have to take the long way around the loop.
Cons: You read the post. It's just deviation after deviation after deviation, and while most of them get people (not all – I'm looking at you, Dunn Pond), it makes getting around town take forever. Also, the routes run every 65 minutes (six days a week), which is such a bad frequency! It seems like a few substantial deviations would have to be cut to get it down to clockface hourly service, so I'm not sure if it could be done with this current setup.
Nearby and Noteworthy: You know, I was inclined to just say Gardner is a boring town with nothing of note in it and move on, but I did find a nearby and noteworthy! How about a freakin' HAUNTED HOUSE?!??!??! This is right in South Gardner Center, and it's supposedly the 9th most haunted house in America!!!!!!!! Too bad it doesn't seem to be open right now – it's been undergoing renovations since 2015. Maybe the ghosts scared away the construction workers…
Final Verdict: 4/10
Look, this loop thing? Yeah, it's not working out so good. It's functional, but I don't think it's the best way to serve the town in the most direct and simple way possible. What if, for conversation's sake, we used the two buses in Gardner to run two linear routes instead?
Here are links to the full map and the full schedule. I created two north-south routes in Gardner, and in each direction, they have a timed transfer with the other route. All of the same deviations are covered (except for Dunn Pond), except now buses are able to run every 60 minutes instead of 65, which is much simpler. The hard part was making sure they would have enough to "do" in order to get back to the timed transfer at the same time. Thus, the 2 is loopier on its northern leg than I would want it to be, but the alternative was giving it 20 minutes of layover at Gardner Highrise – I figured it might as well serve the library while the 1 runs straight up towards MWCC.
Latest MBTA News: Service Updates