The Devens Regional Shuttle recently celebrated its one-year anniversary, and MART threw a lovely party for it at one of its stops, with free swag to boot! I didn't attend the party, and I have no idea how many people attended it, but my guess is not too many. Why? I mean…we're talking about a route that runs six times a day here!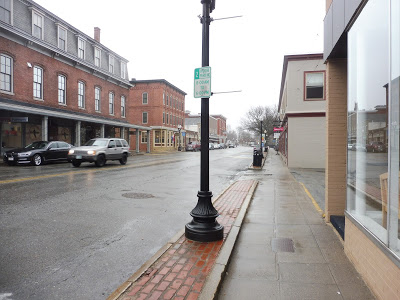 The "stop."
According to Google Maps, the bus stop is right here. Hmm…yup, I don't see anything. I guess we'll just wait here until the bus comes. Will it be early? Will it be late? Will it come at all? WHO KNOWS??? I'm glad MART spent its budget on an anniversary party instead of on a bus stop sign.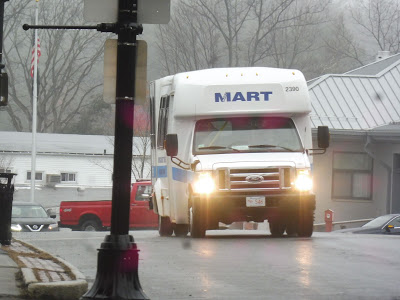 Hooray, it exists!
The bus didn't have a bike rack, even though MART assures us on the Devens Shuttle schedule that "MART has bike racks on all our fixed route buses and shuttle vans." More importantly, though, the bus went against MART's claim that "MART buses and shuttle vans accept the CharlieCard." Nathan, Sam, and I got a free ride!
Some Ayer houses.
We continued through the short strip of downtown Ayer on Main Street before crossing over the Commuter Rail tracks. There was a library and a district court building on the other side, but beyond that, it was a bunch of dense houses. We came to a giant rotary and looped around to Barnum Road Liquors, which is technically a request-only stop, but for some reason we had to wait there for six minutes. We were already late!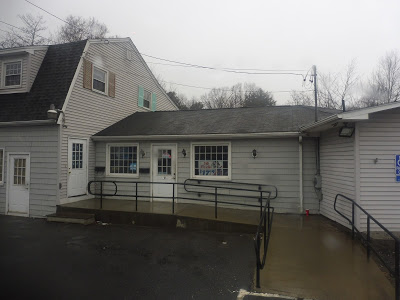 Any time to buy a six-pack?
We took Barnum Road over Bowers Brook, then one side of the road became occupied by a huge National Guard base with armored trucks and tanks everywhere. Yup, we were definitely in Devens now! There was a section of woods as we curved west under a railroad track, then we entered the Devens Industrial Park.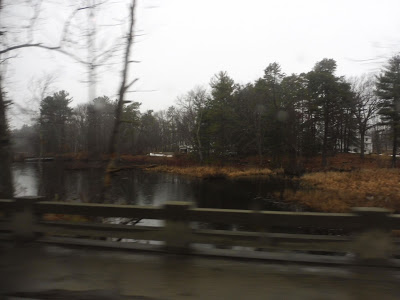 I don't wanna get arrested for taking pictures of the National Guard base, so here's a pretty river instead!
We deviated into an office building called Quiet Logistics, then it was more of that type of scenery until we turned onto Jackson Road. The Devens Fire Department was at that intersection, but there was a frighteningly utilitarian housing development as we turned onto Buena Vista Street, complete with the threatening "NO TRUCKS NO GPS NO EXCEPTIONS" sign at the entrance. We did a double-deviation to two offices across the street from each other: SMC and O-O-O-O'Reillyyyyy…Auto Parts! Ow!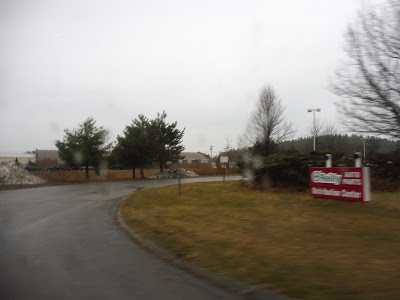 Darn it…now that stupid jingle is stuck in my head!
We came back on Antietam Street, going by random industrial buildings, a field, and a charter school. We turned onto Jackson Road, where the stop for the school actually had a sign, as do many of the stops along this route, although again…nothing for downtown Ayer. We were supposed to deviate into the Shriver Job Corps Center, but we just didn't. Instead, we banged a uey at West Main Street, making it out of the strange land of Devens for a brief moment before returning through a gate.
We've escaped!
We came back down Jackson Road, continuing to pass strange industrial buildings and housing developments. The only breaks from that were a small shopping plaza, the Fort Devens Museum, and the Mount Wachusett Community College Devens Campus. We were also supposed to do a deviation to some place called Devens Common along there, but that never happened…although I think that only happens on the other two morning trips.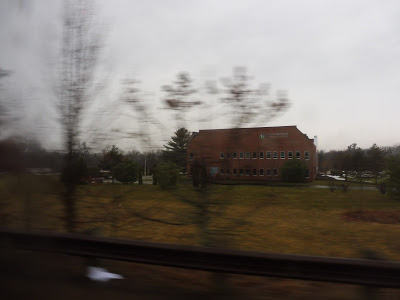 MWCC.
Past MWCC, we entered the woods before hitting a ramp onto Route 2. The highway was more or less in the woods too, but some houses and industrial buildings could occasionally be seen between the trees. We entered Leominster and got off Route 2 at Exit 31B, coming onto North Main Street. This is the classic MART "going to/from Route 2" street, so we've been on it a ton of times – it was lined with ugly suburban businesses.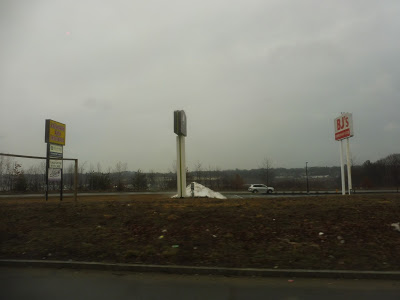 Right after getting off the highway.
Once we passed MART's garage, we entered Fitchburg and the street became Water Street. It also became primarily residential from there, although there were still pockets of retail here and there. The neighborhood eventually got really urban, run-down, and depressing, and that was the sign that we were almost there. We went over the Nashua River, passed the Central Plaza shopping center, went over the Commuter Rail tracks, turned onto Main Street, and finally, pulled into the Fitchburg Intermodal Center.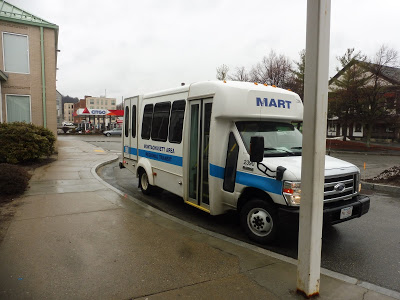 Darn pole in the way!
MART Route: Devens Regional Shuttle
Ridership: This is essentially a commuter route, and apparently it gets a decent amount of commuter traffic. We were going the wrong way (away from Devens in the morning peak), so we only got one other person, but the route does get busy in the peak direction.
Pros: Being the huge conglomeration of jobs that it is, it makes sense for MART to run a route out to Devens. It only runs in the morning and evening rushes, but it's not like the route needs midday service. The shuttle does get Saturday and Sunday service, though, in the form of request-only service from Fitchburg and Leominster to Devens and back, timing with the weekday trips. It's presumably operated with a dial-a-ride vehicle, and the request service means that the bus can do other things if no one wants to ride.
Cons: The schedule for this thing is crazy! Every run is almost completely different, and the timetable just has way too many oddities to mention. From stops that are only served at one time of day to random colors all over the schedule to the third morning departure that takes an hour longer than any of the other trips because it does so many extra deviations WHY?!?!?!? You can look at the schedule yourself if you want to see specifically what I'm talking about, but let me just say that this thing is crazy.
Nearby and Noteworthy: Devens is one of the most surreally awful places I've ever been in my life, and I was so happy to get out of there.
Final Verdict: 4/10
This route serves a hugely important purpose, and there should definitely be a bus to Devens. But a bus to Devens with this schedule? No, that's just awful. This route makes such little sense, and it needs a lot of tweaking to be improved. Ideally, each run would take the same streets and do the same deviations at all times of the day. HMMMMMMMMMMMMM.
Latest MBTA News: Service Updates