Ready for a super-short trip on the 3? This is gonna be a quickie!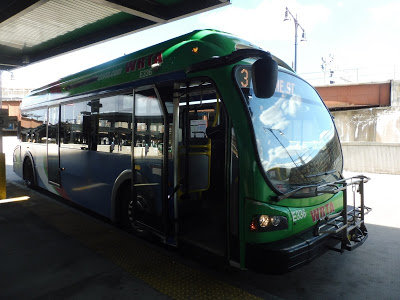 Sweet, a Proterra!!!
We cruised down Foster Street making those awesome Proterra all-electric noises, and we soon came into downtown Worcester. Once we crossed Main Street, the road became Maple Street and it did an s-curve up a steep hill around a parking lot. Next to the Worcester Historical Museum, we turned onto Chestnut Street, going by some apartments, offices, and parking lots, before heading onto Highland Street.
Bam! Gotta love that rear-view window.
There were lots of businesses along here, but they soon thinned out to be replaced by houses (and a side street to Becker College, not that its presence is at all obvious). At the intersection with Park Ave, there was a Price Chopper and a huge park, which continued as we went by more houses and a high school. We made our way around the Newton Square rotary onto the residential June Street, taking it down to Chandler Street, where there were some businesses. However, on Chandler, they went away past the intersection until we looped around onto May Street at the Worcester State University campus.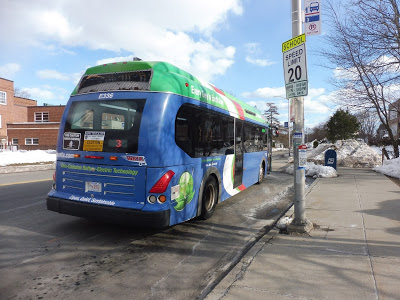 'Twas a quick trip indeed.
WRTA Route: 3 (Union Station Hub – Worcester State University via Highland Street)
Ridership: 245 people on weekdays and 67 on Saturdays…yeah, not too many people use the 3. My trip got 2 people.
Pros: The Highland Street corridor is certainly dense, and I imagine Becker College contributes to ridership on the 3. The route comes every hour on weekdays with an interline with the 30…
Cons: …but on Saturdays, it just runs on its own, so it's actually more frequent at every 45 minutes. Thus, this brings me to my next point: this route is so darn short! It's scheduled to take 22 minutes, but that's more time than it actually takes, and the unique section of the route more or less ends 10 minutes in. The route also serves some of the more well-off parts of Worcester, which in itself means that less people are going to ride it. I mean, the subsidies for this thing are through the roof…$5.79 per passenger on weekdays and $8.12 per passenger on Saturdays!
Nearby and Noteworthy: It's mostly residential, but some of the retail along Highland Street seemed pretty interesting – they draw a lot of people from the nearby Worcester Polytechnic Institute.
Final Verdict: 3/10
The 3 gets a 3! I understand why the WRTA wants to run a bus down Highland Street, but this route is just too short to be useful, and that's probably why its ridership is so low. I think a good course of action would be to combine it with the 6, but we'll explore that further in the next post.
Latest MBTA News: Service Updates