WRTA has an annoying policy where passengers can't "ride around" at the end of a route. This makes doing isolated routes like the 5 tough. Sam and I's solution was to get off a little bit before the end and just wait on the other side of the road. We missed a pseudo-express section from the horrible-looking Southwest Commons (a CVS, a Chuck-E-Cheese, a Little Caesar's, and an abandoned Big Y, probably because it was too far from PVTA-land), grabbing the bus on Grafton Street.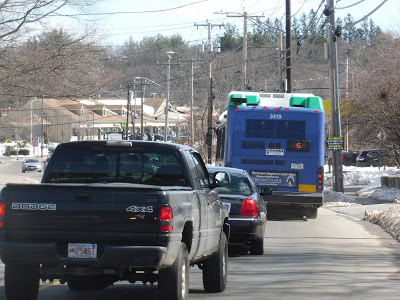 See you on the other side!
There were some businesses along Grafton Street, mixed with houses and an apartment development. Soon after passing an elementary school, we performed the inbound-only deviation into South Plaza, which was in much better shape than Southwest Commons. We picked some people up and returned to Grafton Street, passing more businesses and some houses.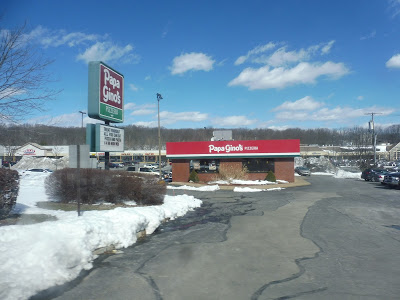 Looking at South Plaza…although one business is definitely front and center.
Grafton Street became twisty and entirely residential. It was all houses until some retail at the intersection with Massasoit Road, and again at the one with Hamilton Street. We went around an oddly-shaped rotary at that second intersection, and there were now lots of businesses between the apartments along Grafton Street. We went under I-290 and the road paralleled its bridge, then we turned onto Franklin Street and headed into the Central Hub.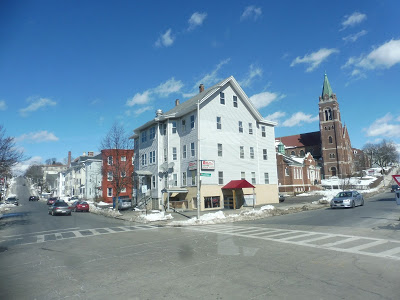 The intersection with Hamilton Street.
WRTA Route: 5 (Union Station Hub – Southwest Commons via Grafton Street)
Ridership: The 5 gets decent ridership, with 549 people per weekday, 153 on Saturdays, and 70 per Sunday. Those weekend numbers drop a lot, but since service also drops, the passengers per hour stay relatively stable seven days a week.
Pros: The Grafton Street corridor isn't served by other routes past Hamilton Street, and this short and sweet bus connects it to Union Station. The route has a good schedule, as well; service is every half hour on weekdays and every hour weekends.
Cons: Does service really need to go beyond South Plaza? Southwest Commons just seems like a dead plaza that isn't coming back anytime soon, so it's a waste to run empty buses there. That also ties in with fixing the route's rough 84% on-time performance rate. If buses terminated at South Plaza, they could lay over longer, so they would be far more likely to be on time.
Nearby and Noteworthy: South Plaza isn't an exciting mall by any means, but it's the best thing along the 5.
Final Verdict: 4/10
People seem to use the 5, but only up to a point, and that point is South Plaza. It shouldn't have to run empty buses beyond there, at least until Southwest Commons gets something to fill that Big Y spot. It doesn't help that vehicles are often late, and while that could possibly be attributed to the interline with the 27, terminating the route at South Plaza would help with that, too.
UPDATE 9/22/18: Well, the route doesn't run to Southwest Commons anymore! Now it goes to "Blithewood/Massasoit," a residential area. I think it'll only generate a tiny bit more ridership than the old Southwest Commons terminus, but at least it's an actual neighborhood and not an abandoned mall. The route has also been downgraded to an hourly schedule on weekdays, though. I think I'll keep the score as is, but it was worth mentioning the changes that were made.
Latest MBTA News: Service Updates