RTAs often end their routes at malls, but Showcase Cinemas is a new one! Unfortunately, Sam and I weren't able to catch the 14 from its true start point, so we began at its second stop, the Porter and Chester Institute. On weekdays, buses deviate directly into it, but this was a Saturday, so we picked it up on Brooks Street.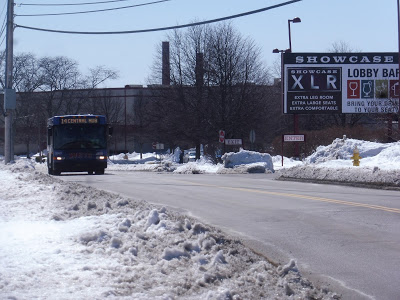 Well…close enough.
We were in a hardcore industrial area, running past tons of factories and warehouses as we turned onto Pullman Street. There was a Price Chopper as we turned onto Mountain Street West, and once we headed down West Boylston Street, there were now suburban businesses everywhere. We were on this until Quinsigamond Community College, where we went up a hill to serve the campus.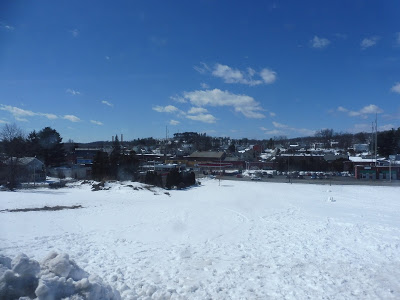 We've got a view!
We made our way out of the college onto Randall Street, a residential road that took us to Burncoat Street. Burncoat Street was lined almost entirely with houses, and it was up on a hill. A steep hill. We went by the Burncoat High and Middle Schools and later crossed over I-295 before joining up with Lincoln Street at Brittan Square.
I did say a steep hill.
Brittan Square was home to a hospital and some businesses, but Lincoln Street soon became lined with dense houses. We left the 23/26 by turning onto Gooseberry Street, which ran through a woodsy patch, of all things. Once it became Summer Street, we went by the Plumley Village Apartments, then there were a few office buildings before we looped around into the Central Hub.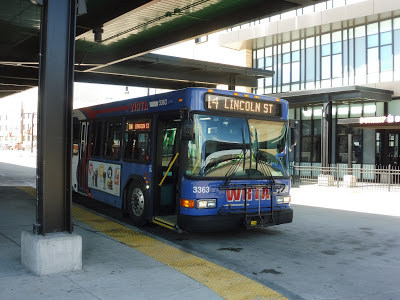 Stopped at the Hub.
WRTA Route: 14 (Union Station Hub – Showcase Cinemas/Holden via Burncoat Street)
Ridership: My trip got a total of 2 people. Aww…well, maybe the overall ridership is better. Let's see…on weekdays, the route gets 274 people on average, while on Saturdays it's 75. Alright, so this is definitely a lower-ridership route.
Pros: Burncoat Street is a very important corridor to serve by bus; it's residential, it's dense, and most importantly, it's way up on a hill. The route comes nice and frequently too, with service every half hour on weekdays and every hour on Saturdays.
Cons: No Sunday service is a real letdown, but I could see ridership being incredibly low if it did run. Honestly, it's already pretty low, with some of the lowest productivity and highest subsidies on the WRTA – does this route really need half-hourly service on weekdays? Granted, the WRTA ridership counts were taken when the route came every hour, but I doubt the amount of people has gone up astronomically.
Nearby and Noteworthy: If you're looking to see a movie, you can use the 14 to get to Showcase Cinemas! Just make sure it's a matinee, since service stops at 9 PM…
Final Verdict: 4/10
The 14 seems like it runs too often for the amount of ridership it gets, but maybe that could be alleviated if it was combined with the 30! The 31 could cover service along West Boylston Street, while the 14 could run from the Hub to West Boylston via Burncoat Street. I'm not a fan of the redundancy of routes along Lincoln Street from Brittan Square, but it's not the worst thing in the world.
Latest MBTA News: Service Updates