We're going to the West Boylston Walmart on the 30. Fun stuff.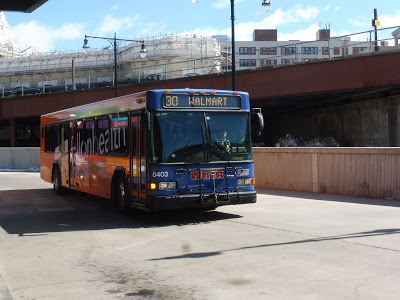 Nice wrap!
We headed out onto Foster Street from the Central Hub, then we turned onto Major Taylor Boulevard. There were lots of office buildings with parking lots along here, and they continued as we darted onto Grove Street for a brief independent section. After going by a repurposed factory, we passed some other industrial buildings, a field, and a cemetery.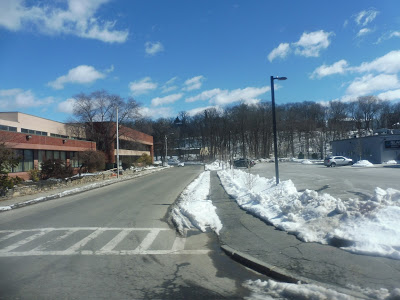 A few offices.
We turned onto Gold Star Boulevard, joining the 31 and running past more industrial buildings and some suburban businesses. Curving under I-190, we passed the Greendale Mall and the street became West Boylston Street. It came along a train track with a huge freight train parked on it, while the other side of the road had retail and houses on the side streets.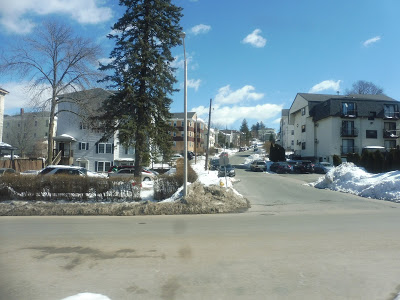 Some houses going up a hill.
Once the track got sufficiently far from the street, industrial businesses occupied both sides of the street. We passed the monstrous Quinsigamond Community College up on its hill. The 31 left us on Mountain Street East, so finally, it was just us on West Boylston Street. It was still a lot of suburban businesses, but they were interspersed with short residential sections.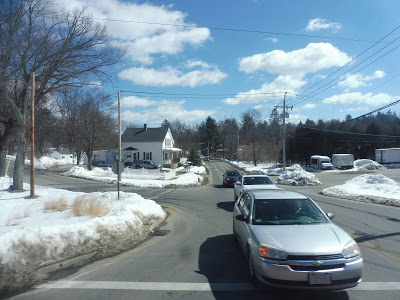 It's gettin' woodsy out here!
The street became State Road when we entered West Boylston, running past an interchange with I-190. It was still all businesses along here, with residential neighborhoods down side streets. Finally, we pulled into the West Boylston Walmart, the route's final stop. From here, we took the bus back a ways, and it's worth noting that it does an extra deviation into Wachusett Plaza coming back.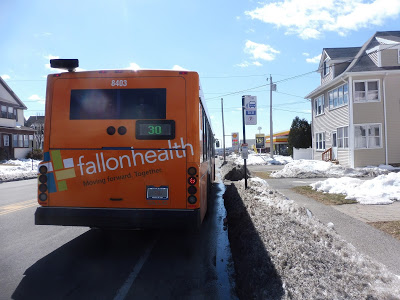 Have fun going back to Worcester!
WRTA Route: 30 (Union Station Hub – West Boylston Walmart via Grove Street and West Boylston Street)
Ridership: The 30 gets great ridership, averaging 929 people per weekday, 438 per Saturday, and 196 per Sunday. My trip only got ten passengers, but these numbers are great, so it was probably a fluke.
Pros: This is a direct trip running straight up West Boylston Street, and it comes at a great half-hourly headway on weekdays. That drops to every hour on weekends, but I think it makes sense. It's also worth noting that the route terminates at Showcase Cinemas on Saturday nights to cover for the 14.
Cons: Dang, this thing is really redundant with the 31! About a third of the route is with the 31, and a large portion of the 30's Worcester section runs with other routes, too. Also, does this thing have RIPTA-length layovers on weekdays? The schedule says nothing about interlining, which would mean that buses get 20 minutes of layover at the Central Hub! It's not a huge deal, but it might be an efficiency problem.
Nearby and Noteworthy: Walmaht! Price Choppah! Woostah!
Final Verdict: 6/10
As far as serving the passengers goes, the 30 does a great job. When it comes to overall efficiency, though, that's where the score drops. The route spends a ton of time with the 31, it doesn't have any substantial independent sections until the northern third of the route, and buses may be laying over for long periods of time. I'll discuss this more in the next post, but perhaps a cost-saving solution would be to combine it with the 14…
Latest MBTA News: Service Updates