There's a 23 leaving from the Hub in 9 minutes? Alright, let's do the 23.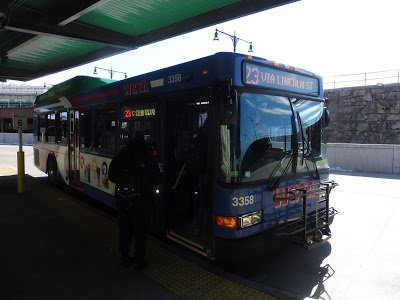 Excellent.
We headed up Foster Street, then we turned onto Major Taylor Boulevard. This was a wide road that passed a lot of office buildings with big parking lots, as well as the DCU convention center. We eventually merged onto Lincoln Street, which went under I-290. The tall buildings ended immediately; now we were passing dense houses and some businesses.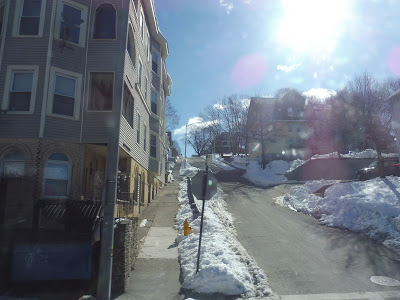 All of the side streets were steep hills!
There was some retail along the street as we reached Brittan Square. After a hospital, Lincoln Street curved to a northeast trajectory, and it was residential until we once again went under I-290. There was a huge office building on the other side, then Lincoln Street was lined with suburban businesses. One of them was the Lincoln Mall, and luckily, we didn't have to deviate!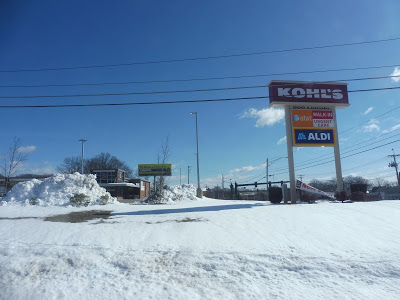 Not the Lincoln Mall, but apparently Kohl's!
We turned onto Country Club Boulevard, a wide street with an equally wide median. It took us through the Lincoln Village Apartments, a mixture of smaller apartments and big buildings. The road ended at the Worcester Art Magnet School (where the route terminates on its snow route), where we turned onto Saint Nicholas Ave. It became lined with houses as it went up a hill.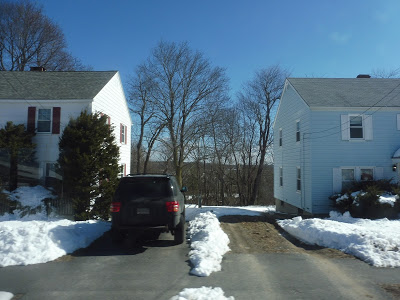 What a view these folks must have!
We turned onto Clark Street, which went down a steep hill – my ears popped! There were houses, apartment developments, and even a few office buildings along here, and it continued as we turned onto Mountain Street East. Coming up along a golf course, we reached our terminus, the aptly-named Fairways Apartments.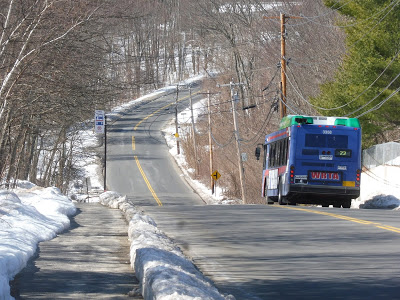 Heading back to Worcester.
WRTA Route: 23 (Union Station Hub – East Mountain Street via Lincoln Street)
Ridership: The 23 gets great ridership for WRTA, receiving 726 passengers per weekday, 257 per Saturday, and 137 per Sunday. My Saturday trip was interesting in that more than half of the 8 passengers (we were going outbound in the morning, so low ridership was expected) got on at local points past the hub. I love seeing routes that get local ridership like that!
Pros: The 23 is very direct, and it serves a dense corridor frequently; service is every half hour weekdays and every hour on weekends. On weekdays, it's even better, since the route is coordinated to run every 15 minutes with the 26 on Lincoln Street – they run together all the way until the Lincoln Mall.
Cons: WRTA…you're running 15 minute service on a corridor. ADVERTISE IT! Don't you think more people are likely to ride the bus if they know that the 23 and the 26 combine to create service that frequent on weekdays? There's no indication of this on either of their schedules! Other problems include the wacky Saturday service that's technically every hour, but it shifts around by five minutes all throughout the day (4:30, 5:25, 6:30, 7:20, etc.), as well as the route's strange service patterns. It can terminate in a few different places throughout the day: most of the time, it's at the Fairways, but three evening trips terminate at an office building on Century Drive (which is so close to the route that the workers there could walk to the closest stop in a few minutes), the second-to-last outbound trip on weekdays ends at the Great Brook Valley Community Center, and the last weekday and two last Sunday outbound trips end at Lincoln Plaza. This is displayed horribly on the route's map, too – service to Century Drive is displayed as a dotted line, which makes sense, but the Great Brook Valley routing is displayed exactly the same as the rest of the route. It looks like a deviation, but it's actually just one outbound trip on weeknights!
Nearby and Noteworthy: The route ends in a wasteland of forest and housing developments, so…no, not really.
Final Verdict: 6/10
The 23 annoys me to no end, but it's overall a good route. It runs frequently, it serves a major corridor, and it gets a lot of people. But boy, talk about cons! I don't want to repeat everything I mentioned above, but the most important change that can be made to the 23 is better advertising for the coordination with the 26. I'll discuss this more in the next review (which is of the 26), but it's absolutely insane that the WRTA doesn't push this, or at least give some indication of its existence!
Latest MBTA News: Service Updates
Wow, it didn't occur to me until just now to advertise this on the blog: come see me speak at TransportationCamp! I'm doing a presentation about the RTAs (of course), and there'll be a ton of other awesome sessions there. There are still tickets available, so get them while you can!
Also, the SL3 opens tomorrow, and somehow I'm gonna pack a review of that into the same day as the presentation. Boy oh boy, tomorrow is gonna be quite a day!