Yeah, this is technically a Logan Express, but they refer to it as the 99 on certain countdown clocks, so we're calling it a Logan Airport Shuttle. No, I'm not going to do the other Logan Express routes. Okay, let's go!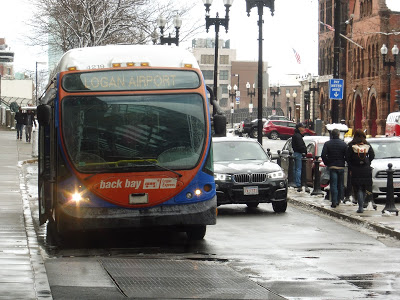 Boarding at Hynes.
The route starts at a drop-off area at the Hynes Convention Center, so that's where Nathan and I went to pick it up. I did a service change of this route back when it was free for CharlieCard users, but that has since changed. Now, the cost is $3.00 for people with CharlieCards and $7.50 for people without them…credit/debit card only. Yes, the driver literally takes out a handheld reader that he uses to swipe passengers' cards (and you get a weird little paper ticket). They already use specific buses to run this route – how hard would it be to put a farebox that also accepts cash on them???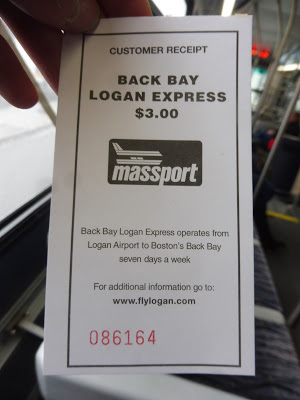 Nice!
From Hynes, we headed down Boylston Street, passing businesses, apartments, and the Prudential Center. We came into Copley Square, making a stop along the square next to the Boston Public Library, the John Hancock Tower, Trinity Church, and lots and lots of businesses. From there, we looped around onto Saint James Ave via Clarendon Street and made another stop on the south side of the square.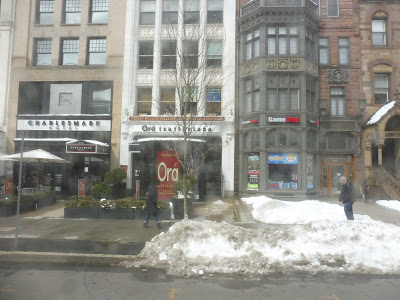 Interesting reviewing a route around here again!
It was straight onto I-90 West from there, which was running in its tunnel through the Back Bay. We surfaced at the Hynes Convention Center, and there were tons of buildings flanking the highway. Passing Fenway Park and Yawkey Station, we went through the BU campus and went onto a bridge alongside Storrow Drive and the Charles River.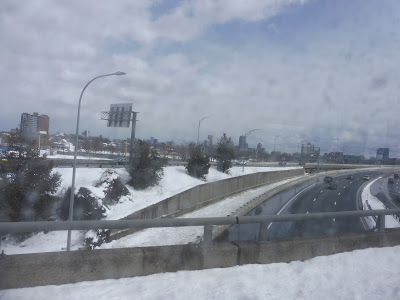 Time to turn around…
Now, of course, Logan Airport is east of Copley Square, but we were going west. It was time for that classic part of the route where it turns around and comes straight back the other way! Unfortunately, this is the fastest way to go, even though it feels super inefficient. So, we went all the way back to the Back Bay tunnel and came out on the other side.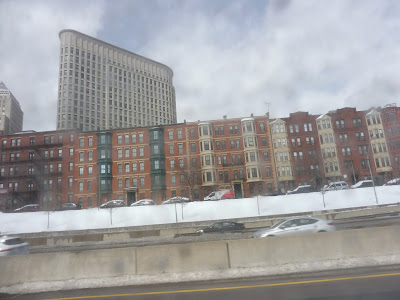 Hmm…not the straightest photo ever taken…
We were only out for a little bit before going underground again through the Fort Point Channel. The highway went under the Seaport District and then straight through Boston Harbor to get to the airport. Coming out at the airport, we looped around onto the departures level road and pulled into Terminal A to drop our one passenger off. Unfortunately, we had to serve Terminal B because of the road structure of the airport, but the driver knew Nathan and I were going to E – he had asked us when we got on. This meant we could skip C, and it was straight on to E.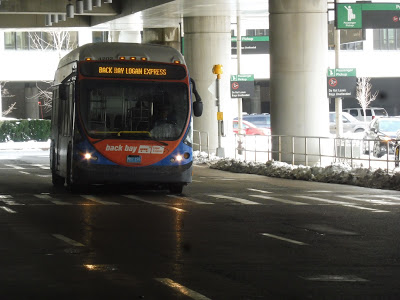 A bus going back into the city.
Logan Airport Shuttle Route: 99 (Back Bay Logan Express)
Ridership: Well, just one other person going to the airport. However, I've seen this bus plenty busy at other times – it never gets more than about a full-seated load, but for an airport shuttle, that's pretty good.
Pros: This is the fastest public transportation connection from the airport to the Back Bay area, and since it's nonstop, it's probably just as fast as a cab. It's much cheaper, though – $7.50 for non-CharlieCard users sounds expensive, but when you think about what a cab would cost, it's great! I also like how the outbound route only serves the terminals where the passengers want to go, and the route runs at a clean 20-minute headway.
Cons: Credit/debit card only? That's such a pain, come on! It wouldn't be hard to put fareboxes specifically into the buses with the Back Bay Logan Express paint scheme to allow travelers to pay with cash as well. Also, it's strange that the route the bus takes is up to interpretation: it mostly travels the roundabout I-90 way, but sometimes it uses local streets to get to I-93 in the South End, then it goes back up to the Ted Williams Tunnel. It's not a huge deal, but it would be nice if the alternative route got an announcement like the normal one does (it explains how the bus will go down I-90 and turn around).
Nearby and Noteworthy: Copley Square is awesome! Did you know that? I'm sure you didn't – Copley Square is really a little-known Boston secret that no one knows about.
Final Verdict: 7/10
If you're going from Logan to the Back Bay, this is the way to go. It's fast, it's nonstop, it's frequent, and it's pretty cheap. Just make sure you have a credit or debit card, because otherwise too bad, you can't get on. Seriously, Massport…FAREBOXES!
UPDATE (June 2019): This has been the case for a little while now, but it's worth noting that the route is now free from the Airport to Boston. The fare to the airport has been dropped to $3, but it's still credit/debit only. I think a 7 still seems reasonable here.
Latest MBTA News: Service Updates