So…a four-minute bus ride from Wyoming Hill to Oak Grove is the difference between spending $6.25 to get into Boston and spending $2.25 to get into Boston. Uhhh…well, if you really want to take Option 1, you'll be using Wyoming Hill.
Yup, it's another basic station.
Both platforms at Wyoming Hill have pleasant shelters with a few benches underneath. The inbound side has an additional shelter with walls, so it feels a little more cozy – too bad people seem to throw their trash in there a lot. The inbound platform also has bike racks, including some sheltered ones with a special spot for 3-wheeled bicycles (by the way, the bike ride to Oak Grove is only six minutes!). As far as car parking goes, there are 30 spaces here.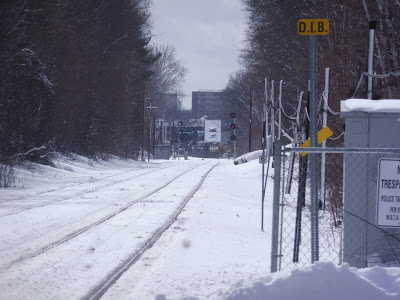 oh look its oak grove…………..
Station: Wyoming Hill
Ridership: I wonder what it feels like to be the least-used station on the Haverhill Line. Poor Wyoming Hill gets just 123 inbound passengers per weekday. Ouch…
Pros: The station itself is rather nice. Both platforms are sheltered, with a bonus shelter on the inbound side, and there's lots of bike parking. The lot for cars is small, but this is a super local station that doesn't need a big lot. Also, parking is free after 12 PM and on weekends, which is awesome!
Cons: It's so close to Oak Grove, where hopping on the Orange Line is so much cheaper. Yes, the subway is obviously slower, but not by more than about 10 to 15 minutes. Plus, the train takes you to far more destinations within Boston, and it's frequent, unlike the Haverhill Line! The 131, 132, 136, and 137 all go from here to Oak Grove and Malden Center, creating (relatively) frequent service on weekdays. There's just very little reason to use this station unless you really don't like crowds on the subway.
Nearby and Noteworthy: The station is technically in "Wyoming Square," which means there are plenty of businesses nearby. Downtown Melrose on Main Street is a quick walk away, too.
Final Verdict: 4/10
As a station, Wyoming Hill is definitely better than Melrose Cedar Park. The problem is that there's just very little point in this station existing! The fares are way too high and the stop is way too close to rapid transit to justify using it with its high Commuter Rail fares. At least it's usually a flag stop…
Latest MBTA News: Service Updates