Okay, this station definitely used to be called "Melrose/Cedar Park," with a slash. I guess we're not doing that anymore? Alright. Fine. Let's look at Melrose Cedar Park.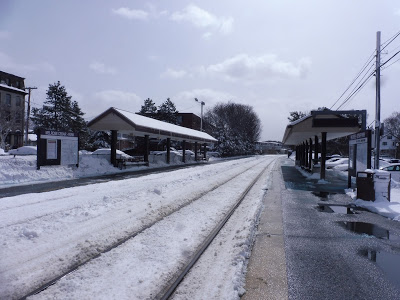 One sign says "Melrose-Cedar Park" and the other one says "Melrose Cedar-Park"! Nothing's consistent!
This is a basic station. We've got practically identical inbound and outbound platforms; each one has a shelter, some benches and wastebaskets, and schedule information. They're both low-level, and they both go pretty far south with nothing on them. There are 82 parking spaces, located in two small lots on either side of the station.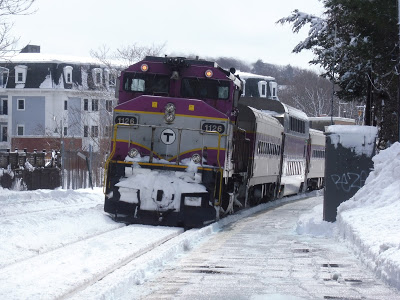 A Boston-bound train.
Station: Melrose Cedar Park
Ridership: I always thought this station got high ridership, but apparently not – it's just 223 inbound riders per weekday. This could be because it's so darn close to the other Melrose stations!
Pros: It's functional enough. Each side is adequately sheltered, and the station has your basic amenities. A nice bonus is that parking, while normally $3, becomes free after 12 PM and on weekends!
Cons: The station isn't wheelchair accessible, and it's so close to other stations. Come on, it's a ten-minute walk from here to Wyoming Hill! The parking payment seems like it can only be done by vending machine (no PayByPhone), but that is better than honor boxes. Yeesh…
Nearby and Noteworthy:
"Downtown" Melrose is more or less equidistant between this stop and Wyoming Hill, but it's a nice place. There are a ton of businesses lined up along Main Street, as well as some bus connections (the
131
,
136
, and
137
).
Final Verdict: 5/10
There isn't much to say about this one. It's not that great, but it's not exceptionally bad either. It's just a more-or-less functional station. I will say that the free off-peak parking policy is a nice bonus – the Commuter Rail needs some sort of weekend discount in general!