The Pawtucket Transit Center is a strange little place. It's not as raucous and busy as Kennedy Plaza, but it's not like it's an oasis from crazy occurrences. Case in point…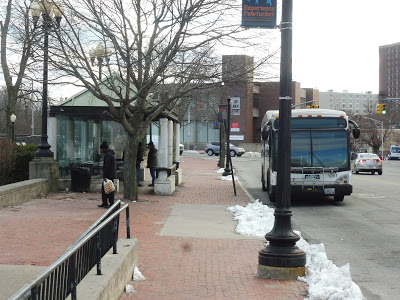 There was a fight going on at that shelter, so Sam and I hung back to get this picture.
The Pawtucket Transit Center is interesting in that it has two bus stops, but RIPTA doesn't tell you which routes stop at which. There's technically a "berth map" on the station page, but it only leads to a low-quality close-up of the Pawtucket section of the RIPTA system map. Well, let's settle this now: on the Slater Mill side, which has a big (and kinda sketchy) shelter, the 71, 72, and 73 board, as well as the 1, but only on South Attleboro trips. Not confusing at all!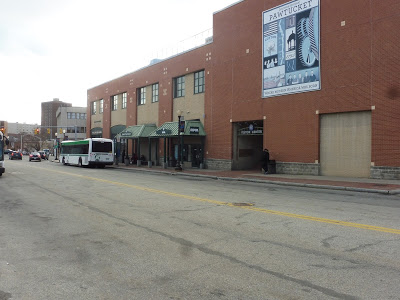 This is where the magic happens!
The other side feels a lot more like a transit center, with RIPTA-branded awnings sticking out from the building. There are benches underneath, as well as a system map and a list of the routes that stop at this berth (the 1 (southbound), 71, 75, 76, 78, 80, and R-Line). They really need to make it more clear where all the routes stop – an online map would be incredibly helpful, and it would be simple to make.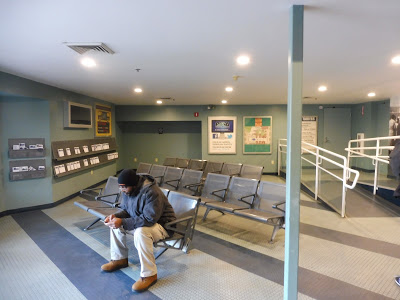 Inside the building.
There's an inside here, and it's basic. All it really has are some benches, some random posters all around the room, some cool floor-to-ceiling historical photos, and paper schedules along a wall. Also, there's a weird smell. Yup.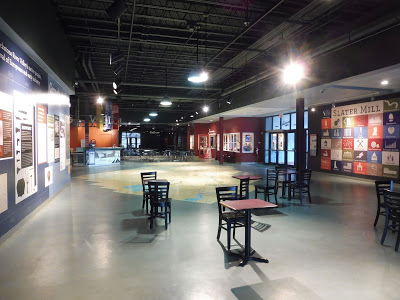 Well, this is a change!
I'm not sure if it's part of the "review" or not, but the transit center connects directly to the Pawtucket Visitor's Center. It's this huge majestic room with a ton of historical information and reasons as to why Pawtucket is a really noteworthy city in history…but the center always seems to be empty. I think people only go in here because this is where the bathrooms are, and they're in…uh…passable shape…?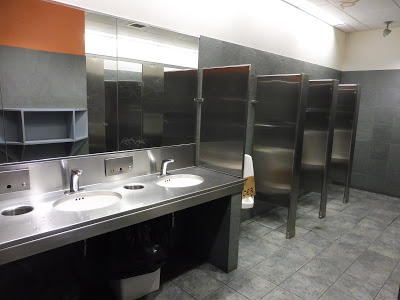 Ehhh…at least it didn't smell.
RIPTA Station: Pawtucket Transit Center
Ridership: This place has nowhere near the ridership of Kennedy Plaza, but it always has a good amount of people milling around. For some, it's questionable if they're waiting to ride the bus or not, but oh well…still people.
Pros: For all its flaws, it's nice that there is an indoor area. If it rains, I'm sure many people go in there, although people seem to choose to wait outside when the weather's nice. I like all the amenities it has, and there is outdoor seating and shelter for those who desire it.
Cons: That indoor area is only open from 10 AM to 4 PM, meaning it completely misses the rush hours! I mean, I don't know how many people are commuting from Pawtucket to Providence (or somewhere else), but it seems strange to have those be the hours with a system as big as RIPTA. Also, the whole thing feels dingy all-around, from the Slater Mill shelter to the weird smell in the indoor room to the questionable bathrooms. Finally, the whole two-berth thing works, but there needs to be better signage for it. All they need is a simple map!
Nearby and Noteworthy: The Slater Mill Historic Site looks like a really cool place. It captures the history of Pawtucket in a historic mill!
Final Verdict: 4/10
Yeah, not a big fan of this one. I'm glad it exists, but it has a lot of problems. The opening hours for the building are sad, the place is dingy, and there needs to be a map explaining which route stops where. The Pawtucket Transit Center is functional, but it's not a place I would want to wait at for very long.
Latest MBTA News: Service Updates