Want to get from Providence to Pawtucket? Well, don't use the 72! This route is all for the neighborhoods in between.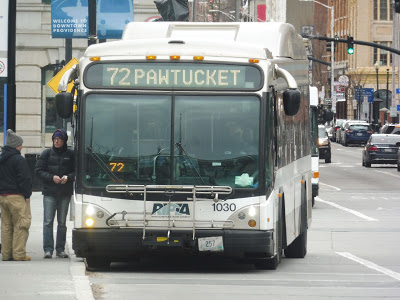 Not actually our bus – this was earlier in the day.
We left Kennedy Plaza on Exchange Street, which went over the Woonasquatucket River and led us to Providence Station. After doing a little jog to serve it, we crossed the Moshassuck River and headed up North Main Street. There was a lovely park on one side and historical houses on the other, then we merged onto Charles Street, weaving our way past apartments and office buildings.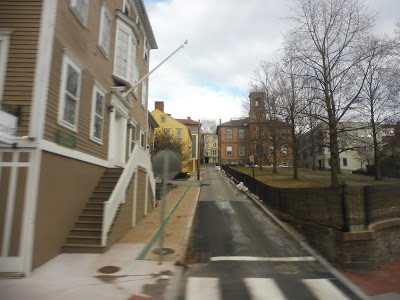 Man, the East Side is awesome.
We went under I-95 and it got industrial, including a huge post office. Once we crossed the Northeast Corridor, some suburban businesses came up along the road, all with huge parking lots. We turned onto Silver Spring Street, passing the granddaddy of all suburban businesses with huge parking lots, Walmart.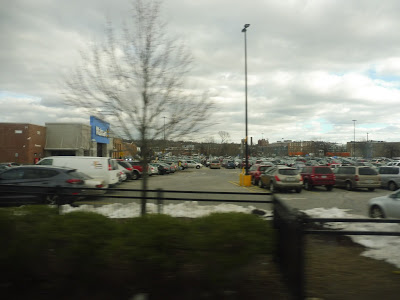 Bam!
It was lined with houses for a bit, but we came pretty close to the Northeast Corridor, and with it came industry. It morphed into suburban businesses when we entered Pawtucket and the street became Smithfield Ave, then one side of the road became occupied by a huge, dense cemetery. Past there, it became houses again, aside from an elementary school and a fire station right next to each other.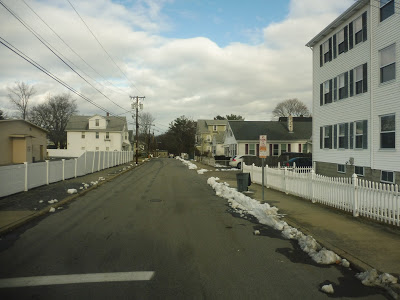 A short side street.
There were a few businesses where we turned onto Mineral Spring Ave, joining the 73. It was just for a mere two blocks, though, after which we were alone on Power Road. It was almost all dense houses, continuing as we turned onto Weeden Street (aside from some retail at the intersection with Smithfield Ave).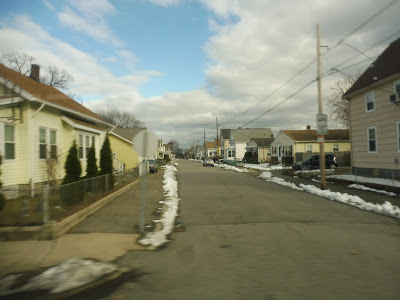 Houses, houses, houses.
There was a brief stretch of industry, but it was residential again after we went over a level crossing with a train track. We eventually turned onto Lonsdale Ave, which headed into Central Falls – it had some businesses between the houses. Reaching a church, we turned onto West Hunt Street, then we joined the 75 on Dexter Street.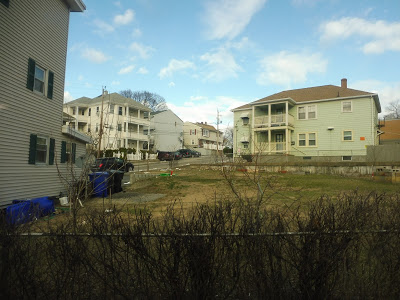 A slight hill.
This was a main drag of Central Falls, so it was lined with tons of businesses. We eventually went over the Northeast Corridor into Pawtucket, and everything got denser all of a sudden. Turning onto Main Street, we ran through Pawtucket's rather dreary downtown before turning onto Roosevelt Ave, finishing the trip at the Pawtucket Transit Center.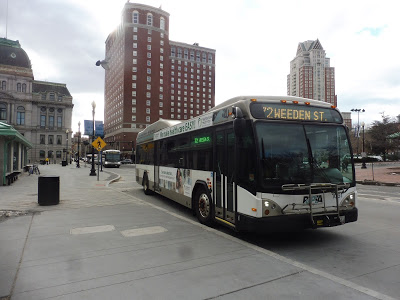 The bus turned off in Pawtucket, so here's one back in Providence.
RIPTA Route: 72 (Weeden/Central Falls)
Ridership: My trip got 25 people, so that's pretty darn good! Based on what the route serves, I would imagine it gets good ridership most of the time.
Pros: The 72 isn't a direct link between its termini, but the key is the places it serves in between. The route serves a ton of neighborhoods that aren't served by other routes, and it comes at pretty reasonable frequencies: every 30 minutes on weekdays, and every 45 minutes on weekends. Also, the route has normal layover times! It's scheduled to take a normal time to complete, and buses aren't sitting there for hours on end waiting for their next trip. Good for the 72!
Cons: Service stops at around 7, which seems a little early for an urban route like this. There isn't much else wrong with it, but it can feel unnecessarily twisty at points.
Nearby and Noteworthy: I wasn't very intrigued by the businesses along the 72. After all, Central Falls and Pawtucket aren't exactly tourist destinations…
Final Verdict: 7/10
The 72 mostly acts as a connector route between local neighborhoods to Providence and Pawtucket, and it does its job well. It comes on time, it doesn't spend too much time at its terminus, and it serves what it needs to serve. A fairly standard route, but a good one.
Latest MBTA News: Service Updates
Here's an awesome Facebook group all about funding the Massachusetts RTAs. In the wake of cut funding from the state government, they need all the support they can get, so join the group if you want to help.