Can the 50 really be considered a Key Corridor Route if only a third of its length gets the frequent service? And the rest of it is basically in the middle of nowhere? Well, I have to review it either way, so let's start at the brutalist outpost known as Bryant University way out in Smithfield, RI!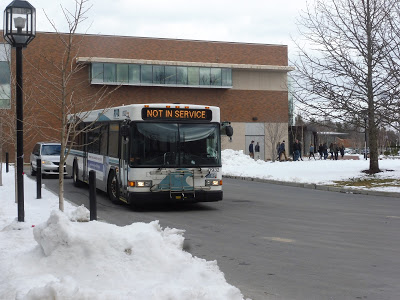 Not in service? Pah!
We left the university on the twisty and woodsy Jacob Drive – although in order to leave, we had to pass through a weird security gate. Upon our departure of the campus, we turned onto Douglas Pike, a wide and fast road through forests and fields. There were a few office parks around I-295, which we crossed over, but it was more or less the middle of nowhere again after that. We picked up two people at some random motel called Alpine, which was unexpected.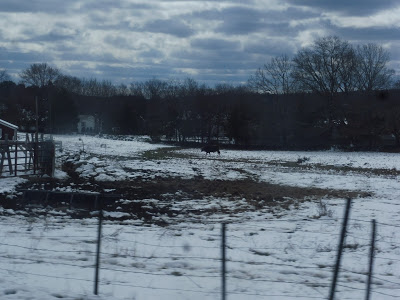 Is that a bull??? IS THERE HALF HOURLY SERVICE TO BULLS?!?!?!?!?
We continued past more forest, although now there were a few houses and even some industrial buildings and businesses, such as "JIM ANDERSON'S GUN SHOP." Fun stuff! Eventually, there was a really nice bit where we went on an isthmus through the Wenscott Reservoir, offering fantastic views on either side. On the other side of that reservoir, we were in North Providence, and it was much more urban now.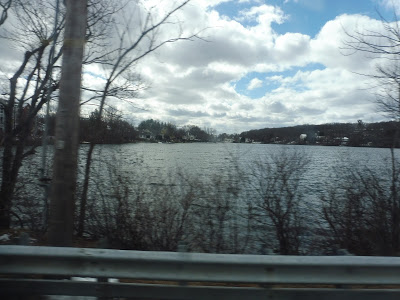 Wow!
There were a lot of apartment developments just over the reservoir, then there was a brief section of fairly dense houses. At the intersection with Mineral Spring Ave, there were a few huge suburban businesses (the biggest of which was a Lowe's), and then it was houses again. We suddenly turned off Douglas Ave in order to serve a Shaw's – this is where every other trip on weekdays begins.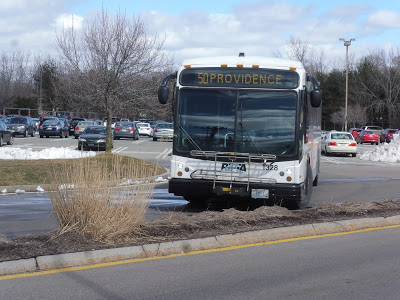 An earlier trip coming out of Shaw's.
We went down Admiral Street for a bit before turning onto the residential Burns Street. This led us back to Douglas Ave, which was mostly residential. There was an elementary school and a convenience store at the intersection with Veazie Street, and there were a few industrial buildings between the houses beyond there. We went by some more retail at the intersection with Admiral Street, which is served by the 55.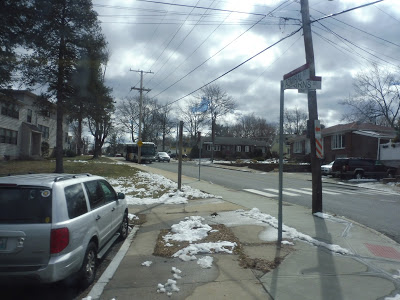 Speak of the devil, there it is! Although this is when we were turning onto Burns Street.
It continued to be mostly residential, but we did also go by a few businesses and a nursing home. We passed a cemetery, and there was another burst of retail around Chalkstone Ave. After one more round of houses, we merged onto Orms Street and went over I-95, then we made a right onto State Street.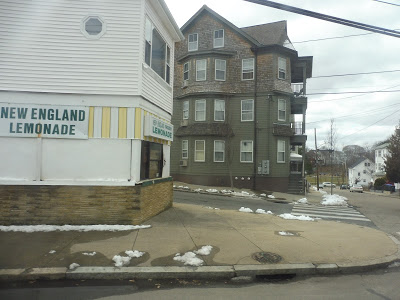 This is earlier in the route, but I just love this random lemonade store!
It became Gaspee Street and we came alongside the Northeast Corridor while the majestic Rhode Island State House was on the other side of the road. We went by Providence Station, then we turned onto Francis Street, going alongside the Providence Place Mall. Once in downtown Providence, it was a straight shot down to Kennedy Plaza!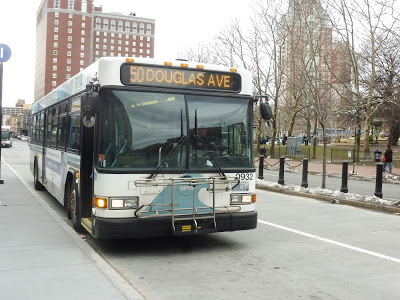 The original bus in Providence.
RIPTA Route: 50 (Douglas Ave/Bryant University)
Ridership: Our trip got 18 people in total – there were 8 on the "outer section" (north of Shaw's) and 10 on the "inner section."
Pros: Douglas Ave is an important and dense corridor through Providence, plus this route connects Bryant University to the city. It also has reverse-peak trips that serve Fidelity Investments, an office park near Bryant, which is great. The route runs every 20 minutes on weekdays, with every other bus terminating at Shaw's, then it becomes every 30 minutes on Saturdays and every 45 on Sundays. The service runs until 1 AM on Fridays where school is in session, which is an added bonus – normally it ends around 11, although that's fine too.
Cons: One little one and one big one: for the little one, why is "Smith and Gaspee" a timepoint instead of Providence Station? They're practically right next to each other, but the station seems like a way better timepoint than this random intersection! For the big one, does every bus have to go to Bryant University on Saturdays? It seems like buses spend a while trundling through the woods for not too many passengers.
Nearby and Noteworthy: Even within Providence, this is a mostly residential route. The best I can give ya is Shaw's…
Final Verdict: 7/10
For a Key Corridor route, the 50 is a little long and unwieldy, but it does its job well overall. The long woodsy section beyond Shaw's seems to be mostly to get to Bryant University and Fidelity Investments, so it feels far less used than the inner section – maybe there would be a benefit in only running every other bus up there on Saturdays, although I could be completely wrong.
Latest MBTA News: Service Updates