When riding RIPTA, it often seems like Providence doesn't have any…um…nice parts. However, it turns out that they just saved all those neighborhoods for the 92!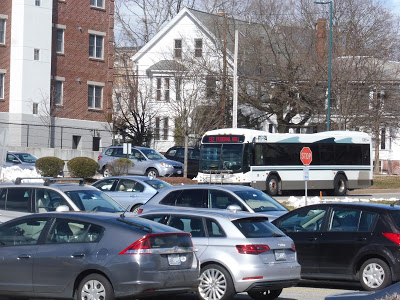 Takin' the layover.
The route begins at Eastside Marketplace, a supermarket that out-Whole Foods Whole Foods. Still, it had really cheap, really fresh bread, so the grotesquely hipsterish atmosphere is forgiven. At any rate, it's better than Trucchi's! We headed out from the supermarket's parking lot and headed down Pitman Street, which was lined with pleasant, dense houses. They continued as we turned onto the narrower Ives Street.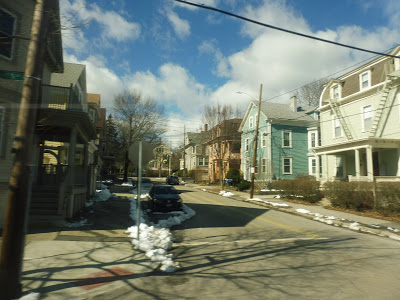 Bam! Houses!
Eventually, really diverse and quirky businesses began to occupy the lower floors of the houses. They only showed up here and there, but it felt like a new hidden gem every time one appeared. This was Fox Point, and it was a really charming neighborhood. There was a nice park as we turned onto Wickenden Street, and the awesome businesses continued.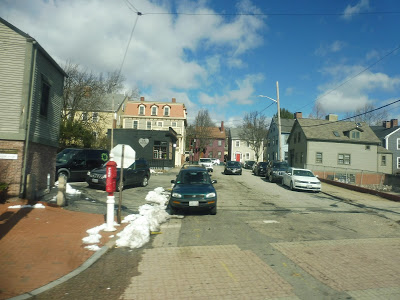 A cool little alley.
We eventually bursted out from the historical narrow streets and passed through an undeveloped piece of land between two streets. The street became Point Street as we crossed the Providence River, getting an awesome view of the Providence skyline. We turned onto Eddy Street on the other side, and we were in a mostly industrial area that seems to be on the rise: the Jewelry District.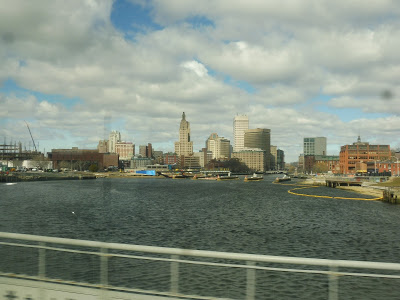 Oooooh!
It became Dyer Street, and we went through an undeveloped wasteland for a stretch. Dyer Street skirted downtown Providence, going through more of an industrial area to the east of the city, but once we came next to the Providence River, we were in the thick of things. We turned onto Kennedy Plaza, and came into…yeah, Kennedy Plaza!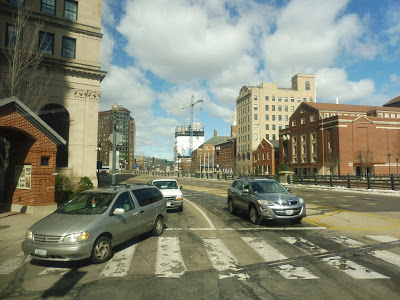 Turning to get into downtown.
This is one of the few RIPTA routes that travels through the plaza, though – we were less than halfway done! Thus, we forged on, making our way onto Sabin Street, which went by the Rhode Island Convention Center and the Dunkin' Donuts Center. We turned onto Atwells Ave next, going over I-95 and entering Federal Hill through a welcoming arch.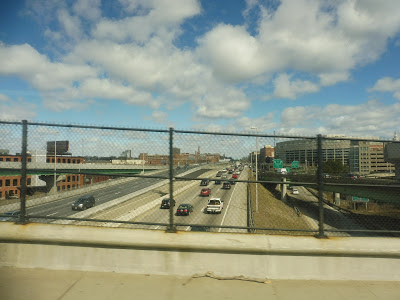 Up and over the highway.
As it turned out, Federal Hill was another gem of a neighborhood! There were diverse buildings lining the road, ranging from one to four stories, and many of them had retail on the ground floors. In particular, there were a ton of Italian restaurants, and based on the neighborhood's reputation, it seems like they're all great. It kinda felt like the North End merged with the architecture of East Boston!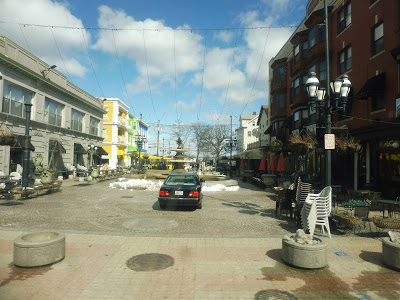 WOW, I wanna come back here!
We eventually went over Route 6 and the Northeast Corridor, and there was a definite change on the other side. This was Eagle Square, and it had more of a gritty industrial feeling, although there were still some nice businesses! It was a lot better than the Eagle Square in East Boston, that's for sure…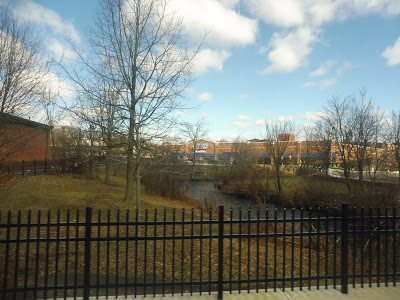 Going over the little Woonasquatucket River.
As we ascended a hill, the street became predominantly residential, with dense houses on either side. There was some retail when we turned onto Mount Pleasant Ave, but it was more locally-oriented – a laundromat and a hair salon, for example. Mount Pleasant Ave was almost all houses, not quite as bunched together as before, but still quite dense.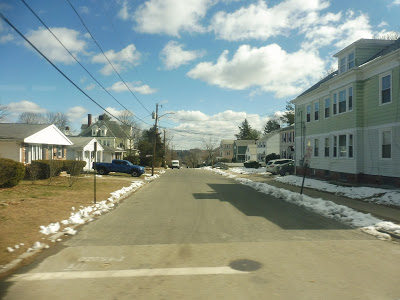 A side street.
After a baseball field, we crossed Chalkstone Ave, connecting with the 56. There were businesses there, but it was residential again as we continued. We went by the Mount Pleasant High School, after which we turned onto College Road, running along the north side of a golf course. We entered the campus of Rhode Island College, and that was the end of the route! Rhode Island college built a really nice shelter for people to wait at, with an enclosed area, pull-down seats, and a TV that presumably shows arrival times (but it wasn't working today).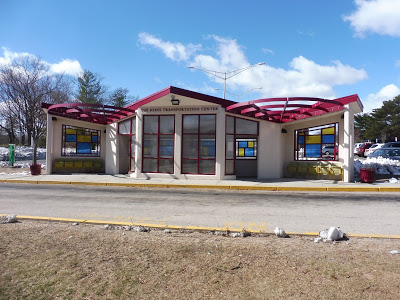 Check out that shelter!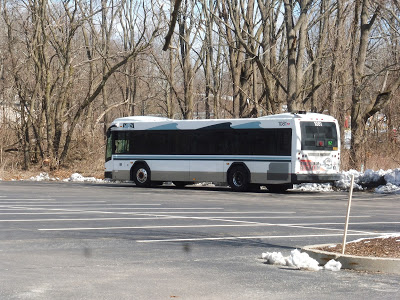 The bus in a parking lot waiting to head back.
RIPTA Route: 92 (RI College/Federal Hill/East Side)
Ridership: My trip got 15 people on a Saturday morning, which isn't bad! There was turnover at Kennedy Plaza, but a good amount of people rode through as well.
Pros: This is the closest thing Providence has to a tourist shuttle, and even though tourists don't seem to use it, the locals luckily do. It serves some of the densest and most interesting parts of Providence, plus there's the added bonus of Rhode Island College. The route runs super frequently, too: it's every 20 minutes on weekdays and every 30 minutes on weekends, plus it runs until around 10:30 Monday through Saturday! From an operational perspective, the 92 is the rare RIPTA route that gets a normal amount of layover time!
Cons: The route stops running at 6:30 on Sundays, which seems early for a route like this, but maybe no one would use it past then. Also, buses seem to arrive at some stops a little early, so the route could be given less time to get from end to end.
Nearby and Noteworthy: Everything!!!! Fox Point has tons of interesting and quirky stores and restaurants, the Jewelry District is super up-and-coming, and there's no better hub of Providence eateries than Federal Hill!
Final Verdict: 9/10
If you're new to Providence, the 92 is the route to take. It serves almost all of the places a tourist would find interesting, it comes frequently, and it's well-used (albeit mostly by locals). It might be hard to use to have Sunday night dinner and it might be a tiny bit early, but gosh, this one is fantastic otherwise!
Latest MBTA News: Service Updates