A route through the East Providence Transit Tunnel! YES, I love going through there! Where does the 33 go afterwards? Oh…a dead shopping plaza? Huh…I mean, alright, then…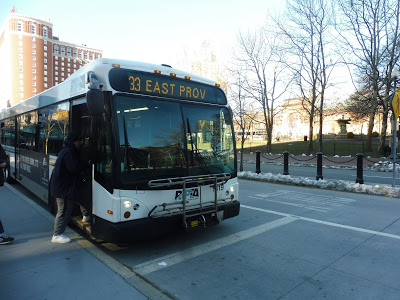 A hastily-taken picture while boarding.
We headed down Washington Street over the Providence River, and then it was straight into the tunnel! I always get a huge thrill going through that thing, even though the ride is only about 20 seconds long. We popped out at Thayer Street, where there were lots of student-oriented businesses and restaurants, but they thinned out as we made our way onto Waterman Street.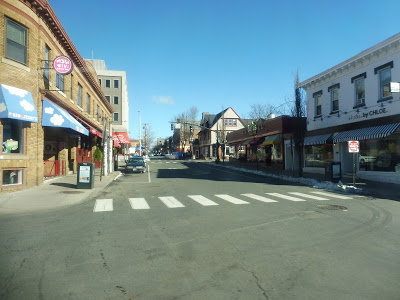 Thayer Street!
The street was overwhelmingly residential, but some of the houses had offices or businesses within them. We eventually hit Wayland Square, though, conveniently located on Wayland Street – there was more retail here. This was a quick burst, and after some houses and a nice park, we were heading onto the Henderson Bridge over the Seekonk River, into East Providence.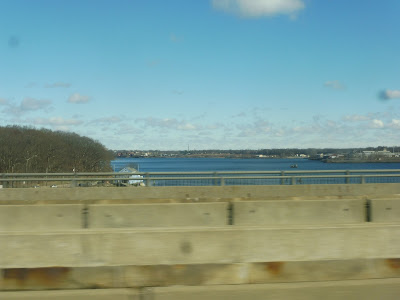 Nice view!
We took the first exit off the bridge, which led us onto Massasoit Ave. This industrial road curved eastward and started to gain dense houses and some businesses. Eventually, we arrived at East Providence's bowtie-shaped downtown, and we used its weird network of one-way streets to get onto Taunton Ave. This had suburban businesses along it, as well as…oooh, a deviation! Yes, we headed into Wampanoag Plaza to serve its Stop & Shop.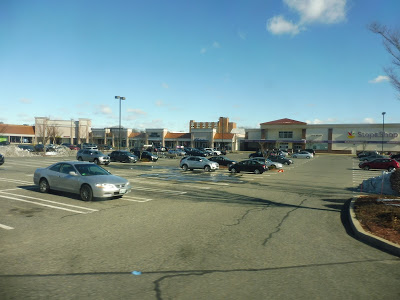 Fun!
We headed down Pawtucket Ave after that wonderful deviation, passing the East Providence High School and the local senior center. There were tons of industrial-type businesses along the road after we crossed Waterman Ave, but it changed soon after we crossed I-195. The street became lined with dense houses, and that continued until the retail came back around Martin Street.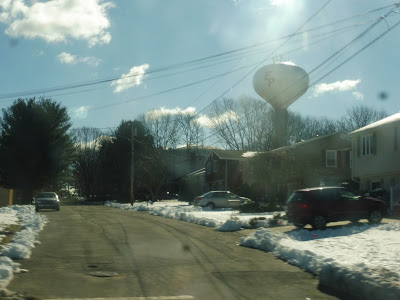 A water tower!
It was houses again for a stretch, but other attractions along there included Bradley Hospital and a Catholic school. We came up alongside a golf course for a bit, and then it got more industrial. The road became Bullocks Point Ave, and at this point, we were running by a little bit of everything. There were houses, apartments, businesses, industrial buildings, and the entrance to some sort of water filtration plant.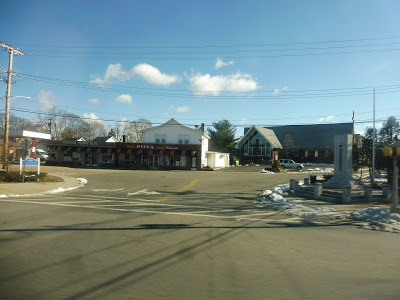 A little square of sorts.
It settled on houses with the occasional business eventually, and we turned onto Crescent Point Ave near an apartment development. We went over Bullock Cove, which was a lot less scenic than it sounds, then we went through one more residential area. After a small circle with some suburban businesses, we arrived at Shaw's, part of a terrible shopping plaza just next to the Barrington border.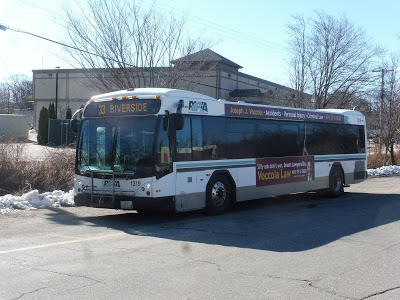 Have fun on your 26-minute layover!
RIPTA Route: 33 (Riverside)
Ridership: My Saturday morning ride seemed to get a good amount of people: there were 15 in total.
Pros: The 33 has a huge independent section, cutting straight down the length of East Providence. Also, it runs through the city, turning into the 17 to serve Olneyville Square, and passengers are free to stay on the bus – from what I saw, a good amount of people do that. The route runs every half hour on weekdays, every 45 minutes on Saturdays, and every hour nights and Sundays, which seems to make sense for the ridership.
Cons: The route seems to have some serious padding issues. For example, on the outbound trip, we had to wait for four minutes at Wampanoag Plaza because we were early. On the inbound, meanwhile, the driver left Shaw's five minutes late, but we still ended up being early at the plaza! This route also has a ridiculous amount of layover time, especially considering the padding – on weekdays, for instance, it gets 27 minutes of layover…with 30 minute headways, remember! That means that a bus is arriving at Shaw's just as a Providence-bound vehicle is leaving. And finally, RIPTA is really pushing the interlining here – would it solidify it better if the two routes were just combined? It would make no difference to how it's run, but it would make a lot more sense to passengers!
Nearby and Noteworthy: The retail comes mostly in the form of lifeless suburban businesses and shopping centers, so I can't say I have much to recommend here.
Final Verdict: 6/10
The most annoying thing about the 33 is its padding and layover time! I mean, they give the route enough time that they could shave off an entire bus but keep the same headways. I decided to reschedule the whole route, because I'm crazy:
You can also see it full-size here. My mindset here was getting rid of padding while still keeping the same frequencies. On weekdays, the trip time for most of the day is 67 minutes; I shortened it to 63 minutes, but there's still a total of 21 minutes of layover, so buses should be able to stay on time. The best part is that my schedule only uses five of them, while the current schedule uses six. I managed to get an hourly schedule weeknights, but that required shortening the running time and giving the route only 2 minutes of layover. This is the biggest flaw in the schedule – headways could be increased to 70 minutes if reliability is an issue, although the buses would admittedly travel much faster at night.
On Saturdays, things are almost as tight, with a total of just 8 minutes of layover. I think it would work for the most part, and it makes the route able to run at the same frequency with 3 buses instead of 4, but if something goes wrong, it'll have a domino effect. It might be worth reducing the Saturday frequencies to every 50 minutes, which isn't a huge loss, especially considering the cost savings to RIPTA.
Indeed, that's exactly what I did on Sundays, shortening the headways to every 50 minutes. It doesn't cut any buses off the route, but why run it with three buses if they're laying over for 56 minutes, which is the case in the current schedule? My schedule has 23 minutes of layover, but the route might even be able to run every 45 minutes if there's demand. And that's it! Just a few minor adjustments, and we get a route that runs just as frequently, if not more frequently, with fewer buses and mostly equal reliability! Sounds like a no-brainer to me!
Latest MBTA News: Service Updates