Well, well, well, we finally return to my first RIPTA route! I was super excited to ride the 35 when I first did my Service Change post on it, but what is the 35 like as a route? Only one way to find out…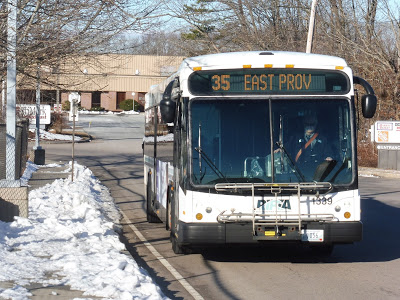 We're going all the way to Prov, not East Prov!
We began in Massachusetts – South Attleboro Station – but a quick jaunt on Newport Ave over the Commuter Rail tracks led us into Pawtucket, RI. Now, in my original 35 post, I talked about how I liked this neighborhood for some reason. Uhh…it was just a bunch of trashy businesses, at least along Newport Ave. No, I do not like this neighborhood anymore.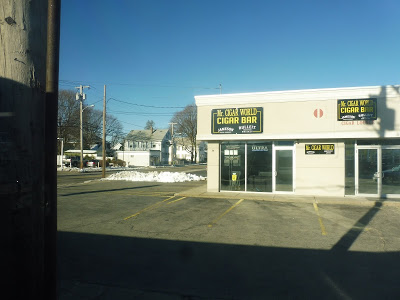 Cigar Bar, anyone?
Once the 1 left us to go onto Cottage Street and we were all alone, it started to get more residential. Newport Ave was now lined primarily with dense houses, but those businesses still showed up sometimes. Other points of interest included a church, a middle school, connections to the 76 and 80 on their respective streets, and Hasbro headquarters, which is in the most unlikely of places here in Pawtucket!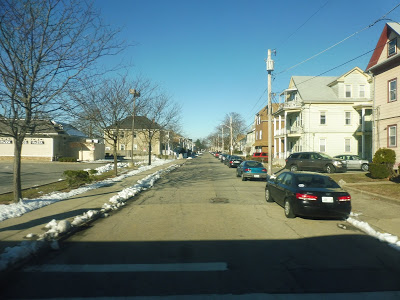 I was sitting on the wrong side for Hasbro, so have some houses instead.
After some retaily at the intersection with Armistice Boulevard, we went through a residential neighborhood before passing Slater Park and going under some pylons. There were a few dead shopping plazas where we were joined by the 78, and this is also where we entered East Providence. It was for a relatively short time, though; after we passed tons of gross businesses, we turned onto Wilson Ave, leaving the 78 behind.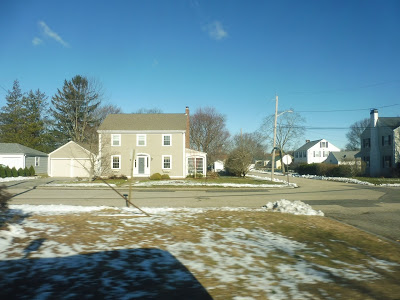 Well, this is different!
The character of the route completely changed. We were now in a pleasant residential neighborhood! Eventually, we turned onto Roger Williams Ave, which ran right alongside a lake. Once the lake ended, we went under a railroad bridge and over the Ten Mile River, then we turned onto North Broadway. The businesses were back…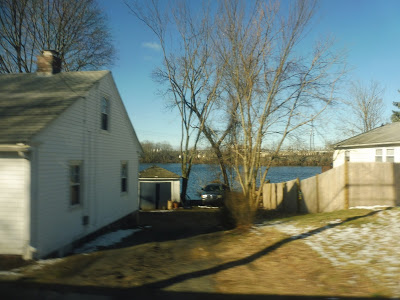 The lake, the lake!
We went through a half-interchange with the uncompleted Henderson Expressway, and soon after that, we arrived at the bowtie-shaped road arrangement of what I guess is downtown East Providence. Making our way around onto Taunton Ave via the weird one-way streets, we were going by mostly more businesses. We also passed East Providence City Hall, which was…uh…unimpressive.
Uncompleted highways are interesting!
When I previously rode the 35, it went through the East Providence Transit Tunnel, but since then, RIPTA moved it to take a more direct route. Thus, we suddenly got onto a ramp for I-195, which took us over the Seekonk River into Providence proper. We ran express through Fox Point before taking Exit 2, spitting us out onto South Main Street. There was undeveloped land for a bit, but then we travelled through one of my favorite parts of Providence, featuring historical buildings and quirky businesses. Finally, we headed over the Providence River on Exchange Terrace and came into Kennedy Plaza.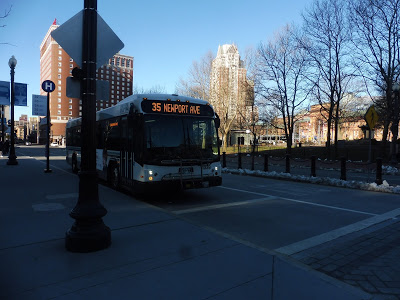 Time for a trip back out.
RIPTA Route: 35 (Rumford/Newport Ave)
Ridership: I took the first inbound trip on a Saturday, and it got about ten riders. Honestly, that's not bad, and I'm sure it gets busier later in the day.
Pros: This is the closest thing RIPTA has to an urban crosstown route, and I really appreciate it for that. It runs north-south through Pawtucket, which mostly has routes going east-west towards the downtown, so this crosstown bus is fantastic. On weekdays, its schedule is passable, with service every 45 minutes.
Cons: Woahhhhh, every hour and a half on weekends??? This is an urban route! Who the heck is gonna ride a route that runs that infrequently? Yeah, that's honestly my only qualm with the 35, but every 90 minutes is just ridiculously infrequent, and it's hard to get past.
Nearby and Noteworthy: Okay, I probably made it clear I didn't especially like the neighborhoods the 35 served. Sorry. But hey, Hasbro!
Final Verdict: 6/10
Almost everything about the 35 is solid. It's straight, it serves a lot, and it acts as a crosstown in a system with very few crosstown services. That weekend schedule, though…geez, it's so darn infrequent! It's painful to see a city bus route that only runs every hour and a half, and I'll bet there's enough ridership to support service every 45 minutes or even every hour.
Latest MBTA News: Service Updates