Well, this was a surprise! NBC was still with me, and I was worried that North Billerica was going to be boring – apparently, that is absolutely not the case!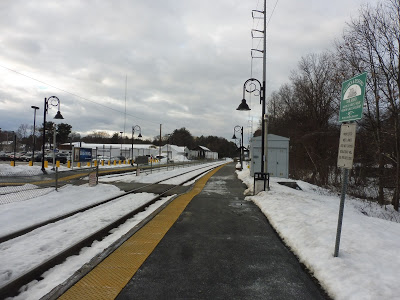 Looking down the ol' platform.
Okay, we'll start with the platform, which is the least interesting part of the station. There's a long low-level section with mostly signs and wastebaskets along it. There are mini-high platforms on the northern end of the station and benches underneath their shelters on both sides. The inbound side has some sheltered bike racks, which is a great place to put them.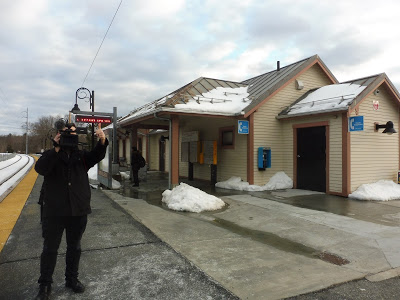 SHOOT, THE PAPARAZZI GOT ME!!!!
Ah, but here we have North Billerica's crown jewel: the inbound side has a building! Now, even from the outside, it's a nice structure. There are a few benches beneath its awnings for people to wait for trains, and it even has a payphone on the outside – too bad it's broken.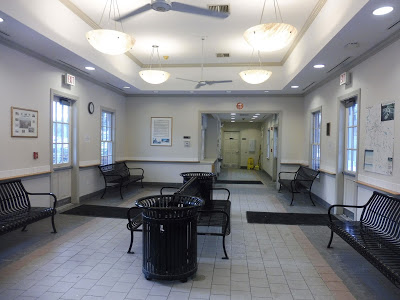 WOAH.
Now, most buildings on the Commuter Rail are only open for the morning rush period, BUT THIS ONE IS OPEN ALL THE TIME! AND IT HAS A TON OF BENCHES INSIDE! AND IT'S HEATED! AND IT HAS FREE WI-FI! AND THERE ARE VENDING MACHINES! AND IT HAS A WATER FOUNTAIN AND REALLY NICE, CLEAN BATHROOMS! SERIOUSLY, THIS IS SO CHARMING AND INCREDIBLE AND I LOVE IT TO AN INSANE DEGREE!!! I'M SURE NOTHING WILL COME UP TO SCREW THIS STATION UP!!!!!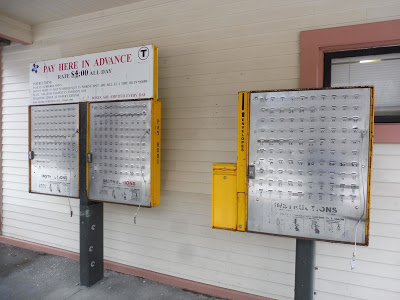 Ohhhhhhhh…oh nooooooo…
Excuse me, I'm just gonna read this sign here. Let's see, what does it say? *ahem* "The MBTA elimination of the honor box payment system does not effect the North Billerica train station. Payment for parking will continue to be as it presently is. Thank you, Lowell Regional Transit Authority." Okay, first of all, wrong form of "affect." SECONDLY, ARE YOU TELLING ME THAT PEOPLE WHO PARK IN NORTH BILLERICA'S 541 PARKING SPACES ARE STILL FORCED TO STUFF DOLLAR BILLS INTO THESE BOXES FROM HELL?!??!!??!?? WHY??? FOR WHAT POSSIBLE REASON IS THIS STILL A THING WHEN WE NOW HAVE PAY-BY-PHONE?????? HEY, LRTA, WE'RE IN THE YEAR 2018, NOT, UHHHH, CIRCA 1992!!!!!!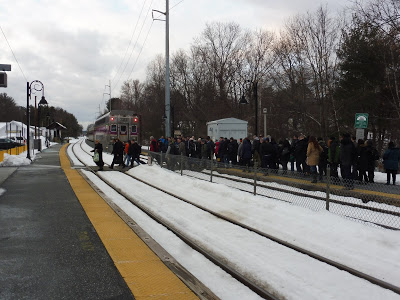 That's a lotta commuters!
Station: North Billerica
Ridership: With 1,076 inbound riders per weekday, North Billerica is the 16th-busiest station on the Commuter Rail! It's funny that this unassuming little station gets that many people.
Pros:
THE BUILDING IS INCREDIBLE! Seriously, it offers every amenity you could ever ask for, plus it has a ton of charm! Other than that, the platforms are fine, and they have good mini-highs. The station has bus connections to two LRTA routes,
the 3
and
the 13
, while residents coming in by car get half-off on the normal parking rate of $4.00.
Cons: Oh, there's just one con here. One. Little. Tiny. Unimportant. Problem. HONOR BOXES. JUST…NO! NO NO NO NO NO NO!!!!!!
Nearby and Noteworthy:
Have you ever wondered what the history of the Middlesex Canal is like? Neither have I, but apparently it's interesting enough to have a
museum
dedicated to it, and it's right next to the station!
Final Verdict: 8/10
This station could've been a strong 9. Heck, it might've even been a 10. But no. It just has to come in with its stupid honor boxes and ruin everything. Forcing people to stuff their dollar bills into little slots is sadistic, and everyone thought the Commuter Rail had moved past this dark history. And yet, it lives on here in North Billerica. At least the building is still the best thing ever…
Latest MBTA News:
Service Updates
A thousand posts???? Woah, okay, that's a lot of posts! Uhhh…wow, this really snuck on me. Thanks for reading all the tomfoolery I've been writing a thousand times over!