Cohasset. More Old Colony. Cool.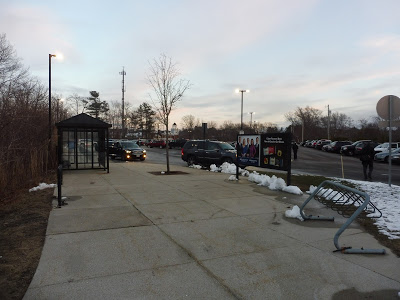 The parking area.
The high-level platform is completely and totally standard: it's long, with benches along the whole thing, with a higher concentration under the station's modern shelter. Some paths lead to the parking lot, which has 410 spaces, including another shelter at which to wait for pickups. There are some bike spaces here, too, while an alternative pedestrian exit goes to East Street.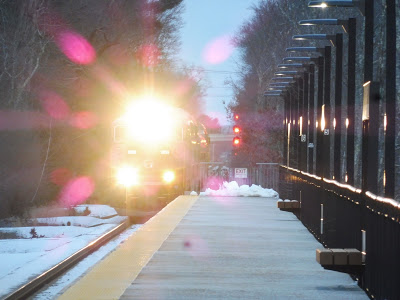 Oof, that's bright!
Station: Cohasset
Ridership: Cohasset's ridership is on par with the rest of the Greenbush Line, getting 391 inbound riders per weekday.
Pros: High level platform, shelter, and parking! Also, a TOD building, which is rare on the Old Colony, so that's nice to see.
Cons: Inbound trains cause two level crossings to go down when they board, which is annoying.
Nearby and Noteworthy: There's a rail trail from here that goes into the woods – it seems like a nice walk! Also, this is the Greenbush Line, so of course the station is right next to a golf course.
Final Verdict: 7/10
Yup, Old Colony. These reviews aren't too interesting, are they? But stay tuned for a HUGE VIDEO REVIEW tomorrow!!!
Latest MBTA News: Service Updates