This is the route I reviewed with Rob Michaelson from NBC! And of course, because we had a big camera, the 3 had to be using a minibus! Being crammed onto a tiny vehicle with a big news camera was interesting, but it was a great experience…too bad the route is fairly uninteresting.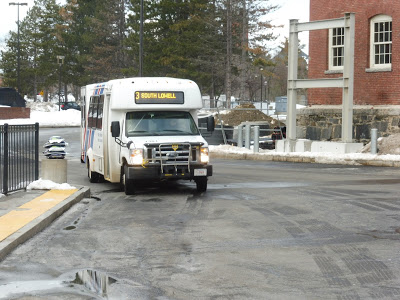 Of COURSE it's a minibus!
Our minibus left the Kennedy Center and made its way south down Thorndike Street. We went underneath the Lowell Connector, then we did a super sharp turn onto Gorham Street. This took us past the terminus of the Lowell Connector (since we were going north now) and some dense houses and apartments.
An apartment behind a small parking lot.
There were some apartment buildings as we merged onto Veterans Way, and as we turned onto Church Street, we skirted the charming brick buildings of downtown Lowell. We passed a shopping plaza, then we went south again by turning onto Lawrence Street. This was mostly lined with dense houses, save for some retail clustered around Rogers Street.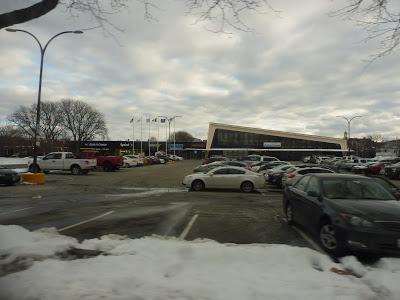 As far as shopping plazas go, this isn't bad!
We went by some brick apartments and old factories as the street made an s-curve, and we came up along the Concord River. There were some parks, then we went over the river and past a cemetery. We turned onto Woburn Street at an intersection with a few businesses, but it soon became houses once again. The road crossed over Marginal Brook, and a few seconds later, it went under I-495.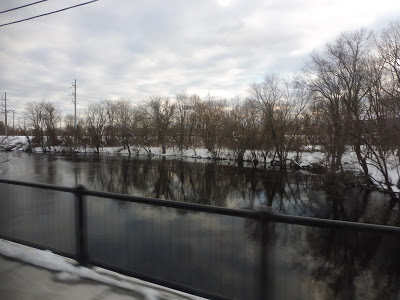 Nice view!
The houses were still dense, but it was starting to feel more suburban. Indeed, we left the city of Lowell, entering Tewksbury – once this happened, the scenery got industrial, with random office parks separated by tracts of forest. We once again entered a new town, Billerica, and the street became Billerica Ave.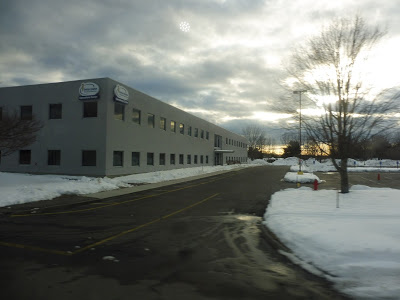 Some office building.
We went under a huge set of pylons, and the road was lined with suburban houses after that. Suddenly, along came a huge parking lot, marking our arrival at North Billerica Station. The bus pulled over at the edge of the lot, and we were let out straight into it. Not the best busway in the world…
Time for a long layover…
LRTA Route: 3 (South Lowell)
Ridership: The LRTA doesn't have publicized ridership data for the 3, which is too bad – we'll have to judge it based on our trip. We got a total of 8 people, and that's not awful for a minibus route. That being said, if it was using a full-sized bus (which it often does), it would've felt like less.
Pros: The route offers a relatively quick trip from Lowell to North Billerica, clocking in at just 16 minutes. It runs every hour on weekdays, with additional half-hourly (sort of) peak service. On Saturdays, the route is combined with the 4 to form a loop, which makes sense, and it's one of the LRTA's better "combination" trips.
Cons: Here's how to make it even shorter: don't have it do the weird jog to almost-downtown Lowell! But honestly, the route is so short that it should probably be combined with something longer – the LRTA suggested the 15, but combining it with the 13 would also work. Either way, it would be taking two routes that have excess capacity and putting them together at very little inconvenience to the passengers. Finally, the fares of the 3 really bother me: it costs 50 cents more to leave the city, even though it only takes ten minutes for the thing to leave Lowell! I guess that's considered "suburban" in the LRTA's eyes…
Nearby and Noteworthy: There were some local businesses along the way, but I'm not sure if any were gems.
Final Verdict: 6/10
Overall, the route is a nice connector from the southeastern parts of Lowell and North Billerica. It has office parks near the end, so there is potential for reverse-commute ridership, but the route is overall under capacity. Combining it with a long-distance route would make sense, and then the hiked fares for leaving the city would feel at least a little more justified. Also, making the route more direct would be a huge help.
Latest MBTA News: Service Updates
Hello to anyone coming from NBC! I hope you stick around – there's plenty of great stuff here, and more down the pipeline!