More Flex action! The 210 serves the URI campus, as well as some of the immediate surroundings, which presumably hold some off-campus student housing. Since our 62 would arrive a little later than the last timepoint stop on the route, though, Sam and I would have to call RIPTA to get the ride…
Unfortunately, this was easier said than done. RIPTA gives two numbers you can call: 1-877-906-FLEX, or 401-784-9700, ext. 200. The extension business seemed like a pain, so we tried the first number. Ringing. Ringing. Nope, doesn't exist. Alright, extension it is. We dialed 401-784-9700200. Ringing. Ringing. Doesn't exist. Maybe if we switch the phone we're using and try the first one again? Nope, didn't work.
Finally, I tried calling the number sans extension. "Please be advised that our extensions have changed to a four-digit system. Please add a 1 to the beginning of each extension to reach your party." OKAY, THAT WOULD'VE BEEN NICE TO KNOW BEFORE! Although now that I look online, apparently you're supposed to put a "pause" (*) to reach the extension, so our first dial wouldn't have worked anyway – but still, we wouldn't have known to put a 1 before it! Sorry, this is probably obvious to a lot of you older folks out there, but the younger generation has no idea how to use phones…
The call was positively painless compared to the Middleborough-Taunton Connection, though. All we had to give was our names. Oh, and the EXACT ADDRESS of where we were going. Even though "South County Public Safety Complex" appears right there on the route map, you can't take the Flex there unless you know the EXACT ADDRESS. Boy, couple that with the extension thing, and the fact that these reservations have to be made a day in advance, and I think we've got an uptick in college students taking Ubers on our hands!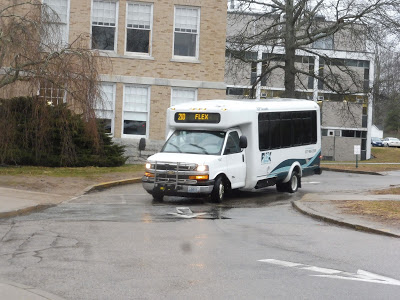 Coming into Memorial Hall!
The minibus arrived early at URI, which suited us just fine – less time to wait in the rain. The driver opened the doors and we stepped up to the bus. "Who are you looking for?" the driver yelled out the door. "The 210," I responded. "I'm Miles." "Oh, okay," the driver said. "Step on in!" We got on, and the bus headed out down Lower College Road.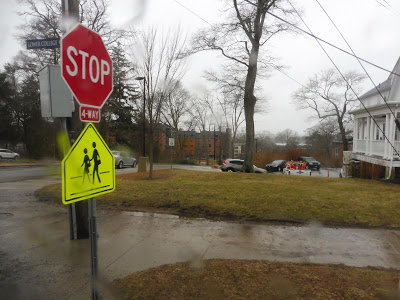 Stop! (says the sign)
"So what's your story?" the driver asked. "Did you leave your cars down at the police station or something?" "Uhhh…it's a long story," we replied. "Oh, that's okay," the driver said. "Sorry to get in on your business like that. I hear lots of stories. Where are you guys from?" "Cambridge," we responded. "Wow!" the driver exclaimed. "You have one HELL of a story!"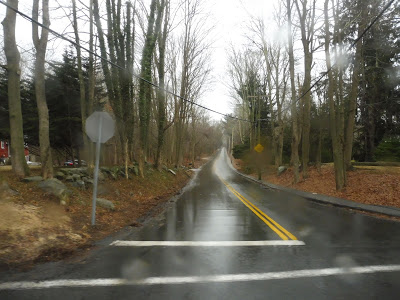 A woodsy road.
We entered into a long queue of traffic on Kingstown Road. There were some houses around the university itself, but as the road turned south, there were longer patches of forest. We passed through a section with some suburban businesses and then pulled into the South County Public Safety Complex. That was it!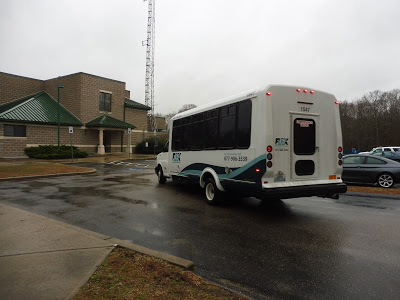 Off to do more Flex-y things.
RIPTA Route: 210 (Kingston Flex)
Ridership: For a Flex route, the 210 seems to get busy. The driver told us a few stories about riders he's gotten (including three girls who all broke their legs at a party – classic URI), so that seems to suggest that at least some university students rely on the route.
Pros: I think the Flex Zone is great, covering the university campus and some of the areas around it. It seems to get people, which is…rare for Flex services. It also runs seven days per week, making it even more useful for people living on campus.
Cons: What college student is going to call the route a day in advance to make a trip across campus??? That is absolutely ridiculous, especially with the whole "1 before the extension" thing! The route only makes timepoint stops once every two hours, and it stops running entirely at 5 PM. This is a party school! You're really only gonna run this thing until 5?
Nearby and Noteworthy: I mean, it's basically just URI, but that's all it needs to serve.
Final Verdict: 4/10
It works fine as a Flex route – indeed, it's one of RIPTA's better ones. But on a college campus in 2018, no one is willing to call in a day beforehand to ride the bus. The 210 (the other Flexes too, but this one in particular) needs to update to an app-based system. Since the Flex Zone is so small, it could just be an on-demand service whenever students need it. If this change was made, it might make sense for RIPTA to put even more resources into this service, and take some away from the university shuttle system…stay tuned for that.
Latest MBTA News: Service Updates