The 62 is a new route that was created to supplement the 66's service to URI. Can it do its job, or is it muddied up with useless deviations? Well, let's find out!
You're late!
Both the 62 and the 66 were extended to Providence Station as part of RIPTA's Downtown Transit Connector plan (I assume), but at the moment, neither route gets many people from there. Of course, Sam and I had to do the whole trip, though, so we boarded at the station and had the bus to ourselves until Kennedy Plaza (Exchange Terrace) a few minutes later.
The view crossing the Woonasquatucket River.
One of my favorite parts about the 66 is how it starts its express portion right after Kennedy Plaza, so let's go!! Oh…we had to serve something else first? Alright, let's go onto Dorrance Street, then. This took us through Downtown Providence past lots of commercial buildings, then we ended up in the Jewelry District. This extended local section was to serve URI's new Nursing and Education Center, so I guess it makes sense, but it was an annoying jog and no one got on or off there.
Finally, a highway!
We used Ship Street to get to Clifford Street, which led to I-95. Turning onto West Franklin Street, we merged onto the highway, and it was finally time for the express! The highway took us past the Rhode Island Hospital and into an industrial part of Providence, lasting for quite a while. It was broken by Roger Williams Park, and we entered Cranston soon after that.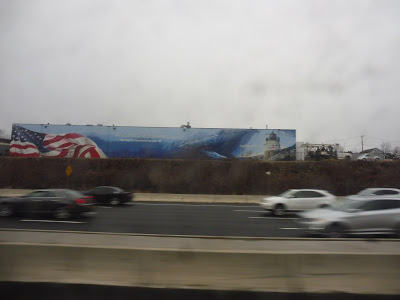 What a sight!
We came tightly between two roads at one point, and while there were houses for a bit, it eventually got industrial once more as we entered Warwick. We got to skip the 66's new deviation to TF Green Airport, which is really long and annoying, as I can tell you from experience. However, we still had to do the CCRI deviation, so we took the next exit, 12B, onto East Ave.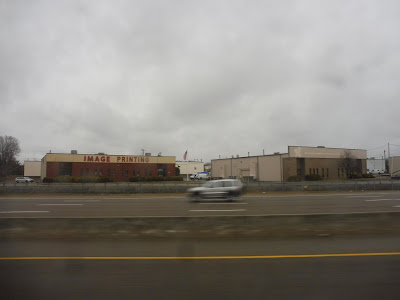 Some industrial buildings.
We weren't on East Ave for long, heading into the Knight Campus of CCRI. And, uh…boy, talk about a brutalist building. I mean, this was the absolute most brutalist building I had ever seen. Like, in a bad way. Oh well, we dropped someone off and made our way back onto the highway from there.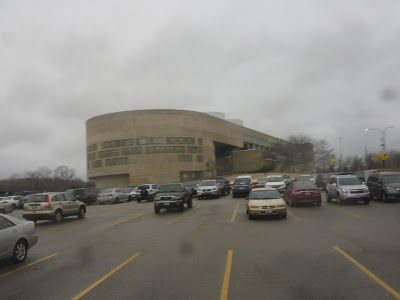 I wish I could've gotten a better picture, but GEEZ!
It was mostly woods south of there, continuing as we made the exit onto Route 4. Interestingly, though, while the 66 and even the 65x take Exit 6 to get onto Route 2, we were able to stay express for a little longer. Instead, we took Exit 5A to Ten Rod Road, where there were some suburban businesses. We had to deviate to Wickford Junction Station, and then it was the other way down Ten Rod Road, curving onto South County Trail into Exeter.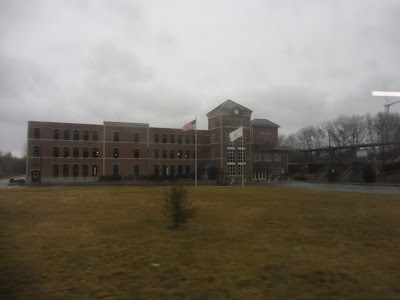 Wickford!
It was lots of farmland, houses, and forest along the ol' South County Trail. Eventually businesses came into the mix, but it was still quite rural as we entered South Kingstown. We turned onto Kingstown Road next, going over the Northeast Corridor and passing Kingston Station. While the 66 goes into the station itself, we were spared from that deviation.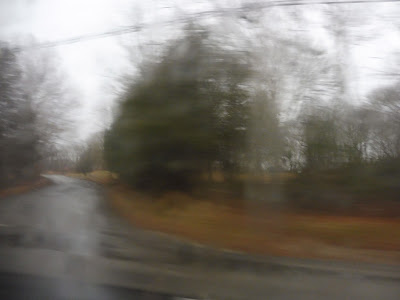 Middle o' nowhere.
There was some residential and retail development around the station, but we soon reentered the woods. This was a much shorter section of forest, though, and we soon came into the URI campus. Our final turn was onto Lower College Road, which took us to Memorial Hall, right in the thick of the university.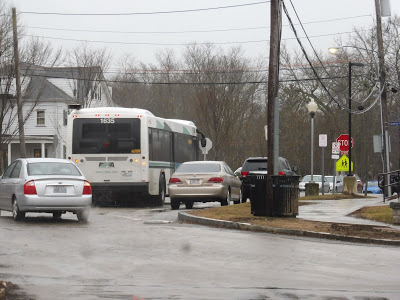 Going away, out of service.
RIPTA Route: 62 (URI/Providence Station)
Ridership: Ridership on the 62 seems to depend on the time of day and the direction. Our trip in the afternoon going towards URI only got four people, but there were plenty on our inbound trip later in the evening.
Pros: URI is a huge ridership generator, so it's great that RIPTA is using this to increase its service. Combined with the 66, service to URI is every 15 minutes at rush hour and every half hour middays! Keep in mind that the 62 is weekdays-only, but it's not like the university needs anything more than hourly 66 service on the weekends.
Cons: To me, some of the deviations inhibit the 62's usefulness. Instead of being just for URI, RIPTA has chosen to also serve the Nursing Education Center, CCRI, and Wickford Junction Station. Now, I understand the importance of having a connection between these places, but why not have only the 66 serve them? That route seems to be designed to cover everything, while I feel like the 62 should be more of an express just to URI, since that's where most of its ridership comes from.
Nearby and Noteworthy: Most of the 62's attractions are geared towards college students, so it's lots of…colleges!
Final Verdict: 7/10
This is a supplement to the 66. It is faster than the 66, but it still makes a few questionable deviations that it may not have to make. It also seems to have issues with on-time performance – every 62 bus I saw was late. That being said, it still does its job, and the added frequency to URI is great.
Latest MBTA News: Service Updates