It's another really short route that's marginally more useful than the 9, I guess. Not much else to say, let's look at the 1!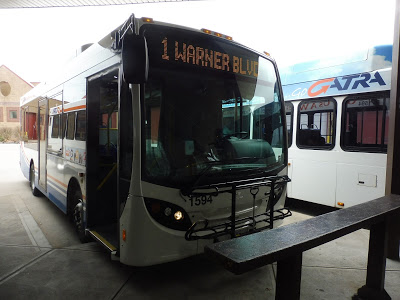 The bus at its berth.
We turned west out of the Bloom Terminal, skipping downtown Taunton entirely. As we merged onto Kilmer Ave, it was basically all houses. We ran by Bristol Commons, a modern housing development, and merged onto Smith Ave. This became Highland Street, but we soon had to turn back onto Oak Street and deviate into the apartment development at Richard Dewert Terrace.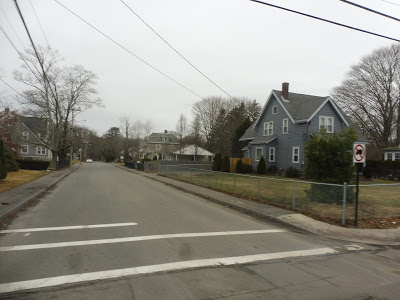 A typical view of the neighborhood.
We came back onto Highland Street and used it to get to Winthrop Street. As we entered an area of suburban businesses, we turned onto Warner Boulevard and deviated into a Hannaford Supermarket. Continuing south from there, it was…a pleasant jaunt through the woods, apparently! Alright!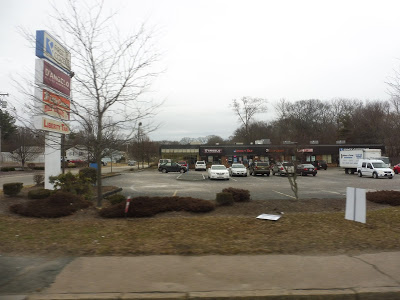 A shopping plaza.
That went on for quite a while, save for a few tiny residential roads and offices. We even entered Dighton, a town that I had never been to before! However, we reentered Taunton quickly by turning onto Spring Street, which led us past a few businesses and a factory, over a river, and into a residential area. We looped around via Railroad Ave, Somerset Ave, and South Street, and then it was time to head back.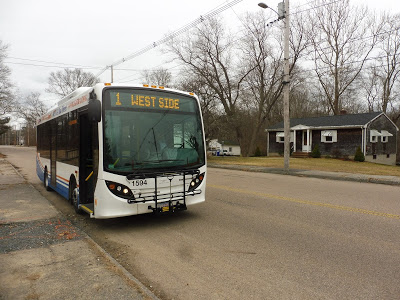 Weird place for a bus to end…
GATRA Route: 1 (Westside)
Ridership: This one gets 58 people per weekday and 44 per Saturday. So…yeah, it's pretty bad, too.
Pros: The 1 actually serves stuff that other routes don't serve, unlike the 9. I like how the two routes interline to provide every hour service..
Cons: The route's ridership is still really bad. Unlike the 9, though, there's no easy way of fixing the problem. The 1 should still run, of course, but there's no denying that very few people use this thing.
Nearby and Noteworthy: All there really is is Hannaford, and the suburban businesses around it. There was also this interesting place near the end of the route. Their website is…strange.
Final Verdict: 4/10
The route does its job and serves what it needs to serve, but it's not great. I don't think there are any good ways of increasing its ridership, so it might as well just go back and forth on its route and do its thing. Oh well.
Latest MBTA News: Service Updates