Oh thank God, it's a normal bus route. You don't have to call in to ride it. It uses a proper bus. The 9 is just a normal short, stupid, pointless bus route.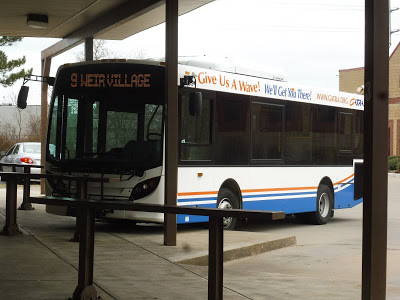 HALLELUJAH!
We headed out onto Oak Street from the Bloom Terminal, but we soon turned onto Frederick R. Martin Senior Parkway. For such a long name, the road was rather short, ending at Cohannet Street. We turned onto that, and it took us into downtown Taunton. At the Taunton Green, we turned onto Weir Street, which left downtown and became lined with dense houses mixed with businesses.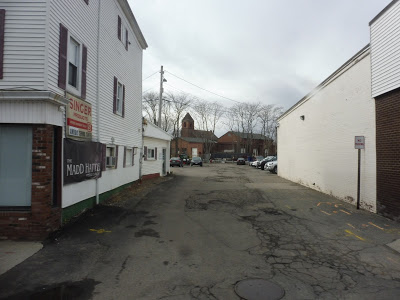 An alley downtown.
We crossed a single train track, and soon after, a big industrial building occupied one side of the road for a bit. There were more houses, then we turned onto 1st Street. Next, it was a left onto Presbrey Court (or Presby Court according to the bus's headsign, or Presbey Court according to the marquee inside), and the small apartment development there was actually our last stop. All we had to do was loop back around onto Weir Street via 2nd Street, passing some businesses before heading back the same way.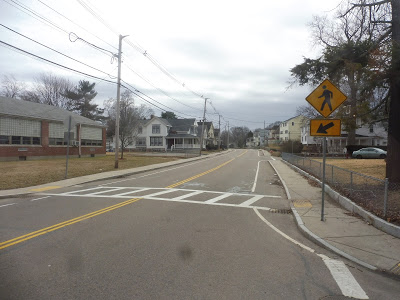 Some houses, seen from 2nd Street.
GATRA Route: 9 (Weir/Route 138)
Ridership: Ugh…30 people per weekday, and 15 people per Saturday. Ugh.
Pros: Weir Street is a corridor that could definitely use a bus. It's one of the denser streets leading out of Taunton.
Cons: This route is a ten minute trip. It gets hardly anyone. It costs GATRA $8.95 per passenger on weekdays and $12.17 per passenger on Saturdays to run. Point is, it's not a great route.
Nearby and Noteworthy: Once you get onto the independent section, there isn't much of note to see.
Final Verdict: 1/10
Look, just run
the 8
down Weir Street. Its current routing down Summer Street and Ingell Street is
much
less dense, and thus much less useful, and some 8 school trips
already
take Weir Street. The 9 is too short to be useful, and it doesn't really take people anywhere, but the 8 would allow residents of Weir Street to get to the Silver City Galleria, Walmart, and Target, while still going to Taunton. It's a no-brainer.