I…I'm speechless. I really don't know what to say. GATRA…out-GATRAed itself. I didn't think it was possible, and yet this route…defies explanation. Get ready for a crazy ride…

Okay, at first glance, this doesn't look so bad. It connects Middleborough to Taunton, thus bridging two separate entities of GATRA. That's good, because the system needs better connectivity. It's weird that it starts at the Council on Aging, but it still serves downtown, so it's fine. Now, this route has a higher fare than most other GATRA buses: it's $2.00 from Middleborough to the Raynham Walmart, and $3.00 to Taunton. Not sure why that is, but okay. Fine.
Wait, now I'm looking at the schedule, and I see it only runs three times per day: 10:00, 12:00, and 2:00 from Middleborough. Hang on, and what's this…"Operates Monday, Wednesday and Friday"? Oh geez…this is getting worse. But hey, at least on Mondays, Wednesdays, and Fridays, anyone can use this nice bus to get from Middleborough to Taunton. Let's go!

WHAT? No, seriously, WHAT???????? This is a call-in service?!!??!??!? But it's not a flex route! This is very clearly a fixed route with a fixed schedule that runs on fixed roads!!!!!!!!! WHAT THE HECK EVEN IS THIS AEIOGMGEEGMLANCNAELCNAELNAEINGEAGN????????? Okay, okay, okay, it's my duty as Miles on the MBTA to review the route. Let's just calm down and give GATRA a call. Oh wait, no, it's not GATRA, it's the Middleborough Council on Aging. *breathe*…AOHGAEIOGAEEGMEAGMAEGEGMKL!!!!!!!!!!!!!! Okay, let's call them.
Now, I had forgotten to call them by 1:00 PM the previous business day, so I left them a message at around 10 PM the night before Sam and I were going to ride the route. I assumed it was hopeless, but they actually called me back a little before 9 AM the next day, which was very nice. A pleasant lady answered the phone:
LADY: Hello, is this Miles? You left us a message last night saying you wanted to ride the 12:00 Taunton bus.
ME: Yes, I did, sorry about that.
LADY: It's okay, we can absolutely get you on that trip.
ME: Awesome, thanks! It's okay if I bring a guest, right?
LADY: We can accommodate a guest. Just make sure you get to the Council on Aging early – our driver likes to leave right on time.
ME: Will do. Thank you very much!
LADY: You're welcome. Bye!
I didn't need to get so worked up about that! That went very well. Cool, so now we're scheduled to get the trip! I…oh, hang on, my phone's ringing again.
LADY: Sorry, I just realized you're not in our system. Could we get some information from you?
ME: Sure.
LADY: Okay, what's your last name?
ME: Taylor.
LADY: Great. And what's your date of birth?
Wow, that was quite a jump in privacy level! Maybe they wanted to make sure I was over 18 or something. I gave her the DOB.
LADY: Okay. Now, what is your address?
Address? Why??? How does that affect my bus ride at all? Oh well, don't question it – I need to take this bus. I told her my address.
LADY: Fantastic. And can I have an emergency contact?
ME: A what?
LADY: An emergency contact. Name and number.
OKAY…THAT'S DRAWING A HUGE LINE. EMERGENCY CONTACT????? THIS IS A PUBLIC TRANSIT SERVICE WE'RE TALKING ABOUT! I DIDN'T REALIZE GATRA WAS A BABYSITTING COMPANY, TOO!!!!!!! WHAT COULD THEY POSSIBLY NEED AN EMERGENCY CONTACT FOR???? IF GRANDMA JUDY GETS A CUT ON HER PINKY FINGER, WILL HER EMERGENCY CONTACT BE WAITING AT THE NEXT STOP WITH A BAND-AID TO SAVE THE DAY????????????????? After giving Sam an incredulous look, I gave her my mother's name and number. Sam looked (rightfully) confused.
LADY: Okay, great! So, I think that's it. See you at noon!
ME: Awesome, you too!
LADY: Hang on, you said you were bringing a guest?
ME: Yeah, I am.
LADY: We're going to need all his info, too.
ME: Sure, just let me scream and bang my head against the wall a few hundred times.
Okay, I didn't actually say that, but I really wanted to. I passed the phone over to Sam with an expression saying I'm so sorry. I knew Sam got to the emergency contact bit when he had that same incredulous expression I made. Finally, after affirming one more time that we needed to get to the COA early, the lady hung up. After that ordeal…we were ready to ride this bus.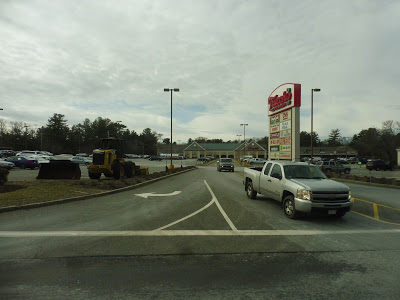 It all began at Trucchi's…
Having completed our wonderful ride on the Downtown Middleborough Shuttle, we were going to walk from its terminus at Trucchi's Supermarket to the Middleboro Council on Aging. The most direct route was an hour and fifteen minutes – not bad! Aside from a rather nasty intersection near the supermarket, the first leg of the walk on the residential Anderson Ave was quite pleasant. We turned onto Erica Ave eventually, which was a nice side street.
Google Maps then told us to take a right onto Route 44. This was a totally different beast – it was a wide road with a big median, nothing but woods along it, and a speed limit of 50. It was bordering on highway. "I wonder if walking along a street like this is illegal," I said. "Wouldn't it be funny if a cop car came along?"
*Beep beep!* Lo and behold, there was a Middleborough Police car pulling up behind us. A stern police officer came out. "Hi! What are you doing walking along a highway?" "Google Maps told us to walk on here," we explained. "Okay…where you guys going?" he asked. Oh God, we were going to the Council on Aging. We were two teenagers walking down a highway going to the Middleborough Council on freaking Aging. This would not end well…
"Why are you going to the Council on Aging?" the cop asked. We explained the blog and how we were getting a bus route from there. "Okay. I'm gonna need identification. Please stand to the side of the road and don't move." He got our IDs and disappeared into the car. Sam and I were making small talk, but he was in that car for what seemed like forever, and I was sick to my stomach. Were we going to get a ticket? Maybe even get arrested? I'm too young to get a blemish on my permanent record!!!
He came back out and handed the IDs back. "Okay, for future reference, don't walk down Route 44. I'll give you a ride to the Council on Aging." Oh, thank God! We were okay! He let us into the back of the car. My seat was hard and uncomfortable, and there was no handle on black door. Still, my situation was better than Sam's – he had the same conditions, but he was stuck in a plastic box! We talked for a little bit between the plastic barrier, but we were mostly silent. I was just so thankful we made it out of that situation without any consequences.
As we were running down Plymouth Street, the officer asked when the bus was leaving. "Noon," we said. "Huh." he said. "You might've made it." After just five minutes of driving, we pulled into the Council on Aging. We thanked the officer as he let us out, and we headed towards the front entrance. I was super thankful for the ride, but we were now incredibly early, so we just found a bench outside the building and sat down.
Under normal circumstances, Sam and I would've probably paced around the building as we waited, but the police car was just sitting there! I'm not sure if it was because they had nothing to do (Middleborough isn't exactly an eventful town) or if they were making sure we didn't do anything sketchy, but it restricted our movement to just the bench. By the time the car left, we had gotten comfortable, so I just reviewed the…uh…"bus stop."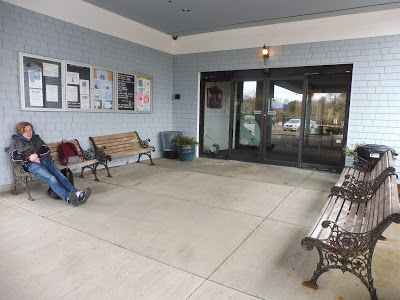 The only picture I got was the one where Sam was making the weird face…oh well.
It's funny that the Middleborough Council on Aging had better facilities than some Commuter Rail stations! I mean, the whole thing was sheltered, and there were four lovely benches at which to wait, as well as a wastebasket and some potted plants. There were tons of community flyers too, including one about the Middleborough-Taunton Connection, featuring an ancient GATRA dial-a-ride vehicle. There was one laying over right outside the building, so assuming that would be our bus, I snapped a picture of it.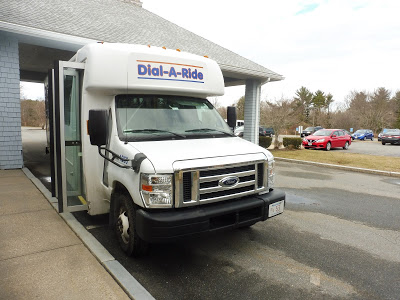 Seems reasonable enough.
I have to say, the Middleborough COA was a huge dial-a-ride hub! Those minibuses were coming in and out constantly! At one point, a driver went into the COA to drop off the fares he had earned, which were safely stored…clamped to a clipboard. Oh, GATRA…
Eventually, a different kind of vehicle came in – it was just a Middleborough COA van. An old man came out and walked toward the entrance. "You must be my 12:00 out!" he said to us – so he was the driver for the route. "Oh! Is that the bus?" I asked him, pointing to the van. "Yup!" the driver said as he entered the building. Sam and I looked at each other, then looked at the van, then looked back at each other…and started laughing uncontrollably. HOW MUCH CRAZIER COULD THIS DAY GET?????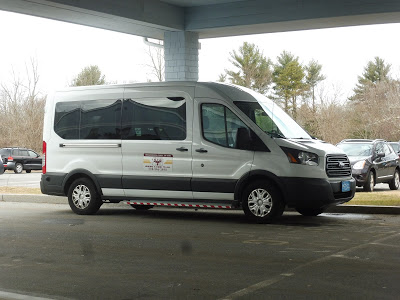 The…uh…bus?
The driver came back out. "Okay, you guys ready? Buckle up!" he said as he opened the van doors for us. And…yeah, it was basically a van in there. The one key difference was the inclusion of, of course, a jiggly wheelchair lift. Oh boy, who needs proper buses when you can have – literally – a van with a jiggly wheelchair lift in it?! Well…after all that, at least we made it onto the vehicle.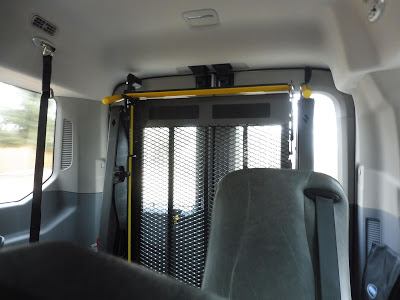 There it is!
Alright, over 1500 words in, and it's time to actually start the review! We left the COA on Plymouth Street before soon turning onto East Main Street. This was a residential road, but there were also sizeable patches of forest on certain stretches. Also, there was a place selling miniature horses, so if you want one, this is the route to ride!
Totally not sketchy at all!
After crossing the Nemasket River, the houses started to get denser. We turned onto North Main Street, which eventually led us into downtown Middleborough. After going by its boring, bland businesses and its admittedly beautiful town hall, the street became lined with houses again. There was some suburban retail at the intersection with Grove Street, which we were supposed to turn onto, but we just kept on going. Where were we going? I-495! Express section time!!!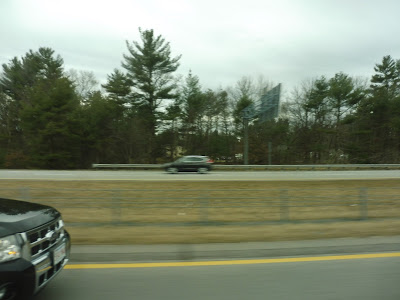 I just want to point out that we are currently on the highway in someone's van. This route can't get any weirder!
We were only on the highway for a bit, but it was fun while it lasted – we soon took Exit 6 onto the infamous Route 44. This was a really boring road, consisting of bursts of suburban retail, then sections of woods. We passed through sections of Lakeville, Taunton, and Raynham in quick succession, but nothing along Route 44 changed.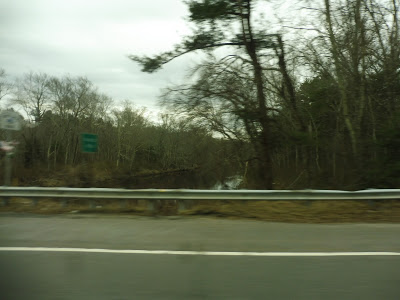 At least the Taunton River broke things up a bit.
After crossing Route 24, the suburban businesses were constant. Indeed, there were now a ton of shopping plazas along here, too! We also passed a small clinic that gets its own timepoint, for some reason – if you want to take the bus to "Route 44 Medical Walk-in," you can! We entered Taunton soon after, coming up along the Taunton River. The road became Dean Street.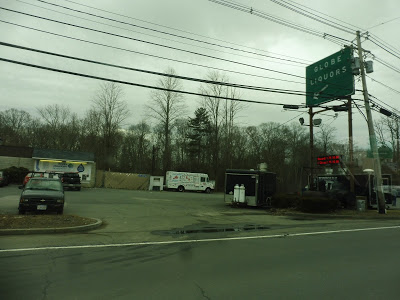 Can't say I'm a big fan of the neighborhood.
There was a mix between houses and offices, although not particularly big ones. Dean Street soon left the river, running along the lovely Church Green. Once it became Main Street, we were in downtown Taunton, running past tons of (mostly boring) businesses. Near the Taunton Green, we turned onto Court Street, which led us past some industrial buildings and a parking lot.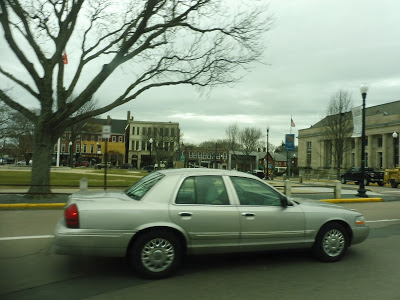 Going around the Green.
We turned onto Washington Street, going over the Mill River. There were some suburban businesses along here as it became Oak Street, and finally, we reached the good ol' Bloom Terminal. In a van. We pulled into one of the berths, and the driver opened the doors for us. "3 dollars each!" he said as he took out a ziplock bag. I don't know why he had us pay at the end instead of at the start, but at least the ziplock bag was better than the clipboard from earlier!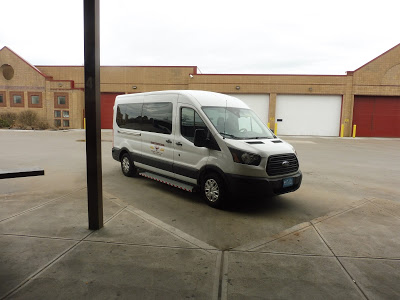 That just looks so weird…
GATRA "Route": Middleborough-Taunton Connection
Ridership: GATRA has no ridership information for this route online, and I can only assume it's low. I mean…our trip was just us! The woman on the phone did reference a "group" who was getting on at "Dunkin' Donuts," so maybe a few other people rode that day. Still, though – I'm very sure that ridership for this route is astronomically low!
Pros: NO NO NO NO NO
Cons: WHERE TO START? MAYBE I SHOULD JUST DO A BULLETED LIST…
IT ONLY RUNS MONDAY, WEDNESDAY, AND FRIDAY
IT ONLY HAS THREE TRIPS PER DAY
THE ROUTE IS VARIABLE – CLEARLY, IT CHANGES BASED ON WHERE PEOPLE ARE GOING
THE ROUTE MAP PUTS THE COA IN THE WRONG PLACE
ON THE GATRA WEBSITE, THE ROUTE IS CALLED THE "MIDDLEBOROUGH-TAUNTON CONNECTION" IN ONE PLACE AND THE "MIDDLEBOROUGH/TAUNTON CONNECTOR" IN ANOTHER
AT $3.00, THE FARE IS THREE TIMES THE NORMAL GATRA FARE
IT WAS COLLECTED IN A ZIPLOCK BAG AT THE END OF THE ROUTE
THE "BUS" WAS LITERALLY JUST A VAN
THE DRIVER GETS PAID TO DO NOTHING IF NO ONE CALLS IN
HECK, THE ROUTE HAS A TON OF LAYOVER TIME ANYWAY, SO IT'S STILL A LOT OF PAYING THE DRIVER TO DO NOTHING EVEN IF PEOPLE DO RIDE
IN ORDER TO RIDE IT, YOU HAVE TO CALL THE MIDDLEBOROUGH COA BY 1 PM THE PREVIOUS BUSINESS DAY (SO YOU GOTTA CALL BY FRIDAY IF YOU'RE RIDING MONDAY)
WHEN DOING SAID CALL, YOU HAVE TO GIVE THEM YOUR NAME, DATE OF BIRTH, ADDRESS, AND THE NAME AND PHONE NUMBER OF AN EMERGENCY CONTACT
THIS IS LITERALLY JUST A FIXED BUS ROUTE, WHY DOES IT HAVE TO BE SO COMPLICATED TO RIDE?
EMERGENCY CONTACT, I MEAN, REALLY??????? EGJAIGAEEGAIGGAE!!!!
There. I think I handled that well.
Nearby and Noteworthy: WHO CARES?
Final Verdict: 0/10
OH, I JUST DID THAT. I JUST PULLED THE 0 CARD! AND BEAR IN MIND, IF THIS WAS A REGULAR BUS ROUTE WITH A MINIBUS AND A NORMAL BOARDING PROCESS, IT COULD SCRAPE A 3 – THERE SHOULD BE A ROUTE BETWEEN THESE TWO TOWNS! BUT NOOOOOOOOOOO, IN ORDER TO RIDE THIS VAN, YOU HAVE TO SELL YOUR SOUL TO THE MIDDLEBOROUGH COUNCIL ON AGING, PLUS DEAL WITH EVERY OTHER HORRIBLE THING OUTLINED IN THE CONS SECTION! YEAH, IF ANY BUS ROUTE DESERVES A 0, IT'S. THIS. ONE. AND WE NEARLY GOT ARRESTED TRYING TO RIDE IT!!! GATRA, I'VE SAID LOTS OF TERRIBLE THINGS ABOUT YOU BEFORE, BUT I CAN NOW DEFINITIVELY SAY THAT YOU RUN THE ABSOLUTE WORST BUS ROUTE I'VE EVER RIDDEN AND EVER WILL RIDE. THERE CANNOT BE ANYTHING WORSE THAN THIS, AND IF THERE IS, THEN I MIGHT AS WELL CALL IT QUITS NOW LEST I GO INSANE. HAVE A GREAT DAY!!!!!!!!!!!!!!!!!!!!!!!!!!!!!!!!!!
Emergency contact…I still can't believe that…